With the Premier League only 10 days away from a start it is now time to familiarize with the teams.Barclays Premier League 2014-15 Team Preview will analyse two teams everyday to see how their teams stack up in the competition. Today we start of with defending champions Manchester City and one of last year's dynamic young teams Southampton.
Barclays Premier League 2014: Manchester City Team Profile
One of the biggest spenders in world football in the last 6  years, Manchester City's fortunes changed when the Shiekhs of Abu Dhabi bought the club in the August of 2008. To show their spending power they bought Robinho from Real Madrid on deadline day. While many criticized Robinho for choosing money over glory everyone knew that a huge force was about to be built in World football. Players came in and players went. But they had to wait three years to have their first taste of glory. Even Champions League football remained elusive till 2011-12 season when they qualified after securing the third spot under Roberto Mancini behind Manchester United and Chelsea. After that the trophies started coming in, even though they could not qualify past the group stage of the Champions League for two seasons.
The Citizens won the Premier League in the 2011-2012 season with their more decorated cross town rivals being the runner up, a fitting reply to United Manager's Alex Ferguson's "noisy neighbours" quip in 2009, during the times when Sky Blues were fighting to win trophies post their takeover.
This season considerably less activity has taken place at Etihad Stadium, after the team faced sanctions for falling on the wrong side of Financial Fair Play last season. Only four players have been signed this summer, with one of them (Bacary Sagna) being a free agent from Arsenal and another (Frank Lampard) being a loanee from Chelsea. Maybe, manager Manuel Pellegrini feels it is good not to tinker much with a Champion side. Hope the gamble pays off.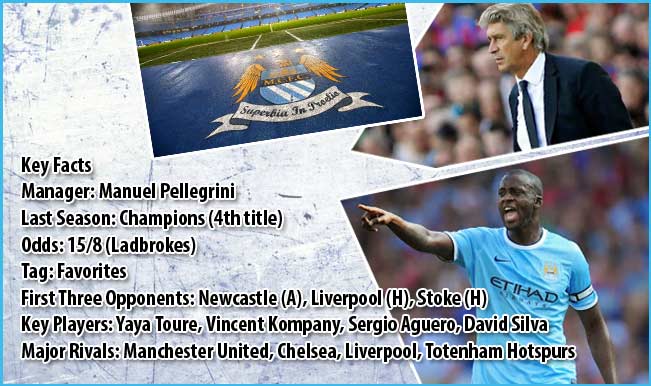 Barclays Premier League 2014: Southampton Team Profile
One of the surprise packages of last season with a energetic young side, their success in the league could possibly be their undoing this season. Having lost key players like their captain Adam Lallana, striker Ricky Lambert and central defender Dejan Lovren to Liverpool and star left back Luke Shaw to Manchester United, it may be difficult for them to repeat last season's result where they finished an impressive eighth for a club of their size, their best ever in the Premier League era. To make matters worse, their manager Mauricio Pochettino was poached by Hotspurs who were on the lookout for a new manager following the sacking of Andre Vilas-Boas in the middle of last season and interim manager and AVB's assistant Tim Sherwood at the end of it.
While they have lost many players this season they have signed only three, one of them being loanee Ryan Bertrand from Chelsea. One can only hope that new Dutch manager Ronald Koeman will stick to the attacking brand of football that his predecessor was lauded for.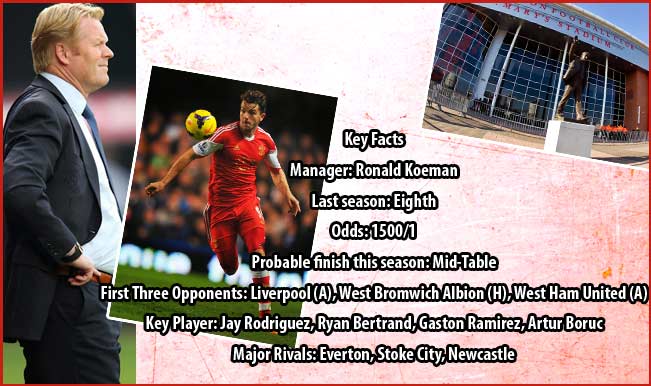 Other articles in the Barclays Premier League 2014-15 Team Preview series: