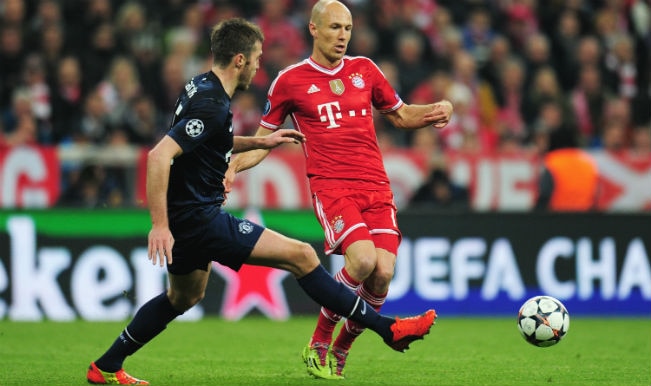 Manchester United travelled to the Allianz Arena with their head held high for the second leg after holding Bayern Munich to a 1-1 draw at Old Trafford a week back. But the English side's hopes of progressing to the semi-finals of the Champions League were soon dashed as Bayern beat them 3-1 in a superb match.
Manchester United were happy to defend in the first half which turned out to be a very cagey affair as they managed to keep Bayern Munich at bay and avoid letting them have any shot on target. An unfit Wayne Rooney had an opportunity to take United ahead but the forward seemed to have taken too long on the ball to either shoot at goal or pass to an open player in Shinji Kagawa.
The second half on the hand started off with a cracker. From out of nowhere, unlikely hero Patric Evra gave Manchester United hopes of a famous victory by blasting a fierce shot into the top corner to put the Red Devils ahead. Only 23 seconds after the goal Mario Mandzukic nipped ahead of Evra to head Bayern level.
The left-back was then seen turn into United's zero as he failed to block an Arjen Robben cross from the right which was slotted home by Thomas Mueller to give the second goal to the Champions League champions. Manchester United were pretty much still in the game as another goal on German soil would have given them an away goal advantage, but every efforts were dashed after Robben finished off the game scoring Bayern's third goal.
Bayern now go into Friday's draw with the dream of winning the Champions League for the second time running.