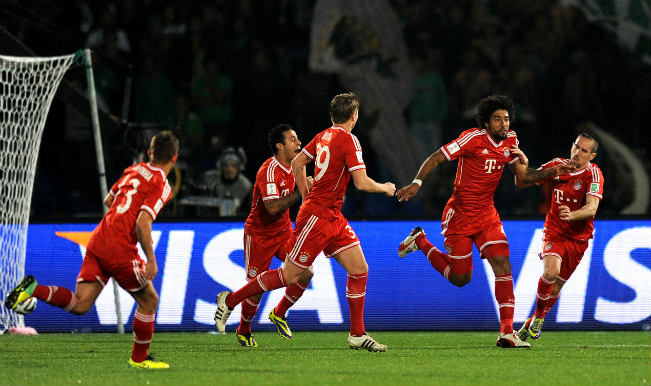 Arsenal face a huge task as they trail 2-0 against Bayern Munich in the Champions League. Arsenal lost 2-0 home at the Emirates Stadium but are going for the unthinkable at the Allianz Arena. Bayern Munich, the reigning European champions, have smashed almost every record you could think of over the last 18 months. To watch the Bayern Munich vs Arsenal Live Streaming, click here.
Pep Guardiola's men are in devastating form and will be even more dangerous as they come from a stupendous performance against Wolfsburg where they triumphed 6-1. Bayern Munich have won 16 consecutive matches and are unbeaten for 49 games. (Read: Arsenal vs Bayern Munich stats at the Emirates Stadium)
Arsenal can still hold their heads up as they were in the same situation in last year's edition of the Champions League. Arsenal were 3-1 down from the 1st leg but managed to snatch a 2-0 win at the Allianz Arena. Bayern Munich only progressed on away goals after the the aggregate score was 3-3 at Munich. A repeat this time around would send the match to extra time.
BAYERN MUNICH STATS
1- Bayern Munich set a Bundesliga record this weekend when they beat Wolfsburg 6-1. It was their 16 straight win in the German league
2- The German champions haven't lost in the league for 16 months, a run of 49 matches
3- Bayern Munich have not lost a home game in the Bundesliga since October 2012, when they were beaten 2-1 by Bayer Leverkusen. In the process they have scored 78 goals and conceded just 11.
4- They have scored at least once in their last 61 Bundesliga matches.
5- Bayern Munich are currently on a Bundesliga-record 16-game winning streak, last dropping points at Bayer Leverkusen on October 2013.
6- Only once all season have Bayern conceded two goals in a Bundesliga home match – in a 3-2 win over Hertha Berlin.
7- The Champions League holders are also on a run of 30 away games without losing.
8- Bayern Munich's goalkeeper Manuel Neuer has conceded only twice in 2014.
ARSENAL STATS
1- Arsenal have met Bayern seven times in the Champions League, winning two, drawing one and losing four of them
2- Arsenal won 2-0 the last time the two sides met in the Allianz Arena. Arsenal's then icon – Robin van Persie was sent off.
PAST THREE MEETINGS
2014: Arsenal 0-2 Bayern Munich (Kroos, Muller)
2013: Bayern Munich 0-2 Arsenal (Giroud, Koscielny)
2013: Arsenal (Podolski) 1-3 Bayern Munich (Kroos, Muller, Mandzukic)
Arsene Wenger will rely on his Arsenal side to repeat the same performance they put against Bayern Munich at the Allianz Arena. The manager only pleads for a 'fair chance' from the referee as he considers that Arsenal has been the victim of too many dismissals on critical European nights.
(Read the final match report of the Bayern Munich vs Arsenal match here)