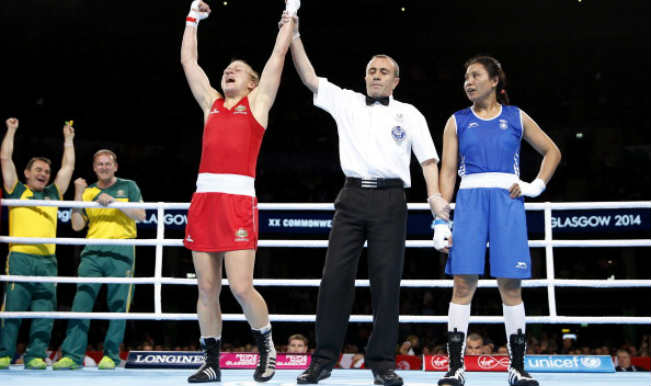 Laishram Devi who started the proceedings for the Indian boxers on Day 10 at the Commonwealth Games 2014 finished second and will have to be content with the silver medal in this edition of games. Australia's Shelley Watts won the gold medal with victory on points. The bronze medal went to Northern Ireland's Alanna Audley-Murphy and Mozambique's Machongua at the SSE Hydro.
Getting off to a good start, the thirty-two year old Laishram took the opening round against Shelley Watts with a perfect score of 30 from all the three judges as the Aussie struggled. But by the end of first round itself, Laishram Devi was seen heavy breathing. Coming into the second round, she looked lack lustrous and ineffective against gradually turning aggressive Shelley Watts who took the next rounds.
Laishram Devi was brilliant in her semi-finals match previous day. Mozambique's Maria Machongua was no match for Sarita who won all the four rounds of two minutes each in the women's 57-60 kg category semi-final. Not only that, the veteran had a perfect 40 points from all three judges while her opponent had to settle for the bronze.
This is second medal in boxing after Pinki Rani brought home India's first medal from the discipline at the 2014 edition of the Games. She lost her women's 48-51 kg semi-final bout but took home the bronze.
Get Commonwealth Games 2014 Complete Schedule of Indian Players Here