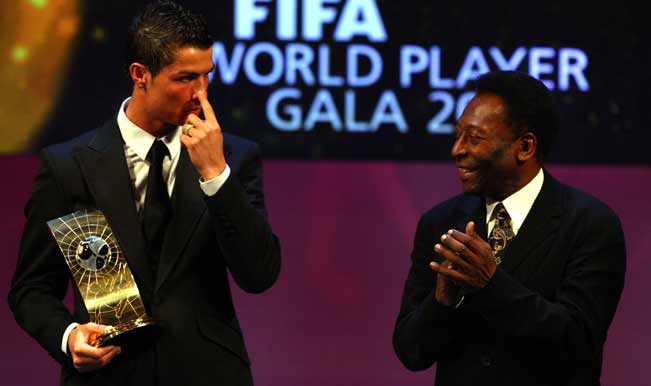 Rio De Janeiro, Feb 1: Football legend Pele has said Cristiano Ronaldo is now a better player than Lionel Messi. The Portuguese has netted 14 more goals than Messi in La Liga so far this season, and tops the charts with 22, and has won over the man widely considered to be the greatest player of all-time.
Pele, who played in three World Cup-winning teams for Brazil between 1958 and 1970, said Ronaldo's past two seasons had seen him eclipse the Barcelona striker, Xinhua reported. "I think, no doubt, two years ago the player that was in very, very good condition was Messi."
"In five years he became the best player in Europe, but in the last two years, and this year, he had a problem: he got injured, he was out this year and played few games," Pele said in an interview with ESPN. "Ronaldo has come through for the past two or three years and is the best in Europe. I think at the moment no doubt Ronaldo is the best."
Ronaldo has had a stellar year with 69 goals in 59 games and won the Ballon d'Or earlier this month, ending Messi's four-year stranglehold on the trophy also beating Franck Ribery to the prize.
The thought of playing with either player excites Pele, but when asked who he would rather have as a hypothetical teammate at his former club Santos, the Brazilian also chose Ronaldo as he deemed himself too similar in style to Messi.
"Messi used to do the same thing as I used to do at Santos: to come from behind," he added. "Ronaldo used to play more upfront, so I think for me Ronaldo is more important because he is the player who scores goals from the front.
"I would have to compete with Messi because we have the same game and do the same [on the field]. I think Ronaldo, for Santos [in Pele's time], would be better."
(With inputs from IANS)