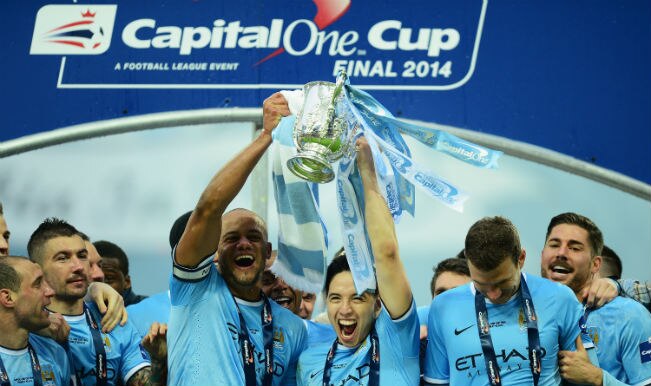 Manchester City staged a brilliant second-half comeback to beat Sunderland 3-1 in the Capital One Cup final on March 3. Exquisite goals from Yaya Toure and Samir Nasri inside two minutes sparking the recovery.
Manuel Pellegrini said, "To win the first trophy is important for us all. For the players, for me and for the staff. We are the only club with the chance to try to win all the competitions. We are going to try although we know it is not easy."
The Chilean manager has brought in a more dynamic style of play which has stabilized Manchester City, especially its strike force. The team of Edin Dzeko, Sergio Aguero and Alvaro Negredo has evolved to set-up a better strike force than a struggling Manchester United's Robin van Persie and Wayne Rooney.
Sergio Aguero was in superb form until his injury against Tottenham in January and his absence was felt in the loss at Etihad Stadium to FC Barcelona in the Champions League. With the task in the second-leg in Camp Nou high, Pelligrini will still go with his head held up. City have now held their first trophy of the season and are still out for it all.
The English Premier League title challenge has been very interesting this season. Manchester City are in fourth position with two games in hand. City have a meeting with Manchester United before a clash for the EPL title against Arsenal and high-flying Liverpool. The other teams that they play are sides in the bottom half of the English Premier League.
With Arsenal's latest setback at the Britannia Stadium, Manchester City are considerably stronger in mentality. Arsenal are drifting away from the top due to poor runs in the League while Manchester City are hungry for more glory. Liverpool will be their only major concern.
In the FA Cup, City face Wigan FC a side that beat them in the final last year under Roberto Mancini. The team from Manchester will not take a cautious approach, rather they'll try to annihilate Wigan for their misery last season. After which Manchester City will most likely be in the semi-finals with only Arsenal a top-four side left in the domestic competition.