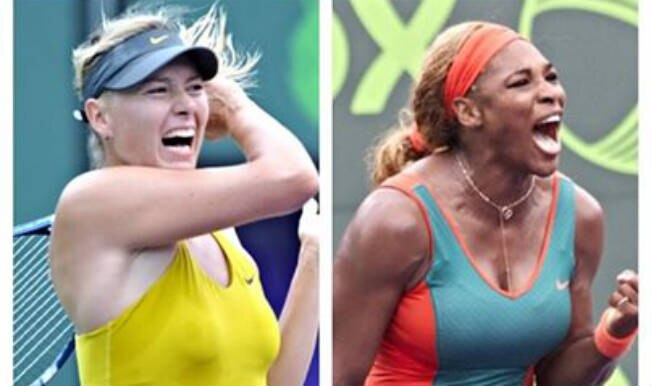 Maria Sharapova has been a five-time finalist at the Miami WTA here at Florida. An once again she has made to the semi-finals at Key Biscayne beating Czech player Petra Kvitova 7-5, 6-1. In her dream of capturing the first title at Sony Open Tennis is the same old foe and her nemesis, world no. 1 Serena Williams. Serena ousted German fifth seed Angelique Kerber 6-2, 6-2 to book her last four spot.
The first semi-finals of the women's singles will see the rematch of last year finals in form of Russian Maria Sharapova and American Serena Williams. Maria has last won against the top seed Williams way back in 2004 during WTA Chamionships and has lost consecutive last 14 matches. Last year in the finals of Sony Open Tennis, Serena Williams defeated Sharapova in three sets 4–6, 6–3, 6–0.
So the big question is can Maria Sharapova defeat her biggest nemesis or be once again dusted at her hands? She has been quite inconsistent during the entire tournament and is error prone. If she has to win the dual against Williams, she needs to cut down on her string of unforced errors and double faults.
Fourth seed Sharapova is coming off several tough matches be it against Safarova in third round or Flipkens in fourth round. She has shown grit in surviving these thee setters and as for Serena, the top seed has not been tested even once in the tournament of any tough match. This should really boost Sharapova's confidence coming into the match.
Serena Williams has won this title the maximum number of six times breaking Steffi Graf's record last year, while Sharapova is still in search of her first title at Miami.
Their matches become all the more exciting because of their not so happening history off the court. It will be quite an interesting dual to see who takes this round- Maria Sharapova or Serena Williams?
Photos: Sony Open Tennis Facebook Fan Page.