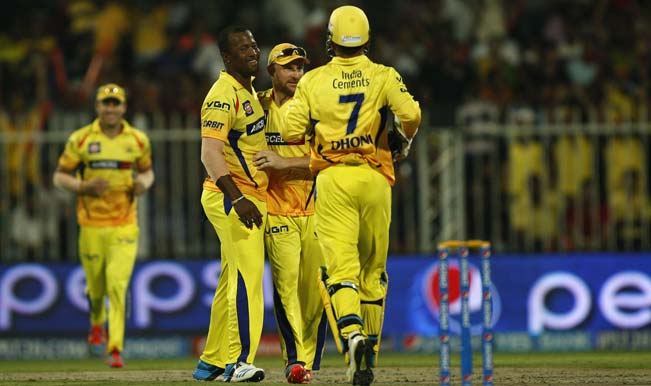 Chennai Super Kings will face the Sunrisers Hyderabad in the 50th match of the current edition of the IPL. Chennai Super Kings have not lost a match against the Hyderabad based franchise since the 2011 edition of the IPL and they would be keen to maintain that record after a couple of important losses against the RCB and KKR. Sunrisers on the other hand will be in a do or die situation as another loss would knock them out of the tournament. They have won 5 games in the season till now and they desperately need two more wins in order to even give themselves a chance to stay alive in the tournament.
Chennai Super Kings
X Factor: The team has the temperament for the big games an d MS Dhoni is one captain that can lead the side to a victory in highly unlikely circumstances. The team has qualified in each and every playoff round of every edition of the IPL and they already have qualified for the next round, hence there would be no pressure whatsoever.
Watch Out For: Suresh Raina, Faf du Plessis.
Weak point: The bowling hasn't clicked in the past two games. The opening bowlers haven't been able to provide the initial breakthroughs that they did in the initial matches. Also the departure of Brendon McCullum might shake up the balance off the team.
Sunrisers Hyderabad
X Factor: Their impact player, Shikhar Dhawan found some much needed form in the game against the Royal challengers. The team also seems to have realized their mistake by making the pair of Warner and Dhawan open in the last game, which worked for them immediately. The batting has finally seemed to have found the touch that was missing from it the entire season an things are finally looking good for them.
Watch out for: Shikhar Dhawan, Bhuvaneshwar Kumar
Weak Point: Dale Steyn hasn't been able to provide the initial Impact that has been expected from him and that he provided during the earlier seasons. He has been aggressive and has shown intent but unless he provides the wickets there is hardly any scope for success for his team. The Middle order also looks brittle to some extent, something that they need to be wary about.