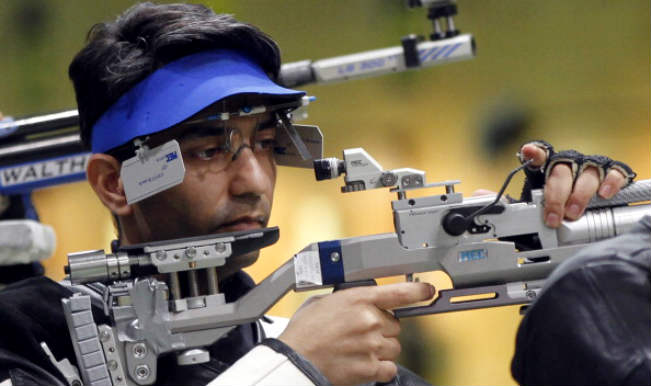 After a pulsating action on day one of the Commonwealth Games 2014, India claimed seven medals and are currently at number four in the medal table. Weightlifters Sanjita Khumukcham and Sukhen Dey won gold each to kick start the Indian campaign at CWG 2014. Now with day two of the games coming up here is a run-down about the Indians in action today. Read complete scheduled here: Commonwealth Games 2014: Complete Schedule of Indian Players at the CWG 2014
Badminton: Indian badminton team had a good start on the opening day defeating Ghana and then Uganda in Group B matches of the mixed team event. Indian shutters will now take their campaign forward with a match against Kenya today.
Shooting: All eyes will be on Indian shooting stars to bring in gold after their audacious performance in last edition in New Delhi. Olympic gold medallist Abhinav Bindra and world number one in women`s 10-metre air pistol, Heena Sidhu will be in action today apart from them  Ravi Kumar, Malaika Goel, Arti Singh Rao and Mairaj Ahmad Khan will also be shooting it out.
Hockey: After Indian eves 4-2 triumph over Canada on the opening day it is now men's turn to get into the action as they begin their campaign against Wales at the Glasgow National Hockey Centre.
Weightlifting: After the glory on the opening day weightlifters Rustam Sarang (62 kg) and Swati Singh (53 kg) in men's and women's competition respectively will be itching to do well at the Clyde Auditorium.
Judo: Navjot Chana and Shushila Likmabam both settled for silver in their respective men's 60 kg final and women's 48 kg final competition. Judokas Balvinder Singh (73 kg) and Vikender Singh (81 kg) will now be competing in today's men's events while Garima Choudhary (63 kg) and Sunibala Huidrom (70 kg) in women's category.
Boxing:  Parveen Kumar will take on Ross Henderson of Scotland in the men's +91 kg category while Mandeep Jangra will start his campaign against Augusto Mathule of Mozambique in the men's 69kg category.
Cycling Track: Manjeet Singh, Amit Kumar, Sombir will take part in the men's 4,000m individual pursuit while in the women's 3,000m individual pursuit Sunita Yanglem will be in action.
Table Tennis: Indian women's team will take on Kenya in group stages while the men's team will take on Guyana.
Swimming: Sajan Prakash will be in action in men's 200m freestyle while Sandeep Sejwal in men's 100m breaststroke.