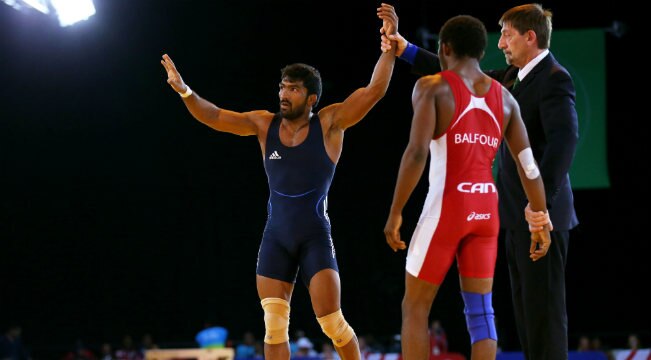 India moved up from sixth place to fifth on the medals tally at the 2014 Commonwealth Games after bagging six medals on day eight, taking their overall tally to 47 medals. Wrestlers Yogeshwar Dutt and Babita Kumari claimed Gold medal each and Vikas Gowda made sure India get their first Gold medal in the athletics event at this year's games.It is day 9 at the Games and India will aim for a prosperous outing.Here we bring to you the schedule of Indian players who will be competing Day 9 of the Commonwealth Games 2014.
Athletics: Sahana Kumari will be participating in Women's High Jump final. Krishna Punia, Seema Punia will be in action in Women's Discus throw final. In Women's 4x400m relay heat M.R. Poovamma, Tintu Luka, Ashwini Akunji, Ratandeep Kaur, Debashree Majmudar and Anilda Thomas will be seen in action. Competing in Women's 4x100m relay heat will beSaradha Narayan, H.M. Jyoti, Asha Roy, Srabani Nanda, Merlin Joseph, and Santhini Vallikkad.
In Men's category, Rajiv Arokia, Kunhu Mohammed, Sachin Roby, Lalit Mathur, Jithu Baby and Jibin Sebastianwill take part in men's 4x400m relay heat.  Arpinder Singhwill be in action in Men's Triple Jump Qualification. In Men's Javelin Throw Qualification Ravinder Singh Khaira will compete in Group A while in Group B Davinder Singh and Vipin Kasana.                    
Badminton: In Women's singles quarterfinal P.C Thulasi will be up against J.Y. Tee of Malaysia and P.V. Sindhu will face Anna Rankin of New Zealand. In Men's singles quarterfinal Parupalli Kashyap will play againstMalaysian Darren Liew,R.M.V. Gurusaidutt also against Malaysian Wei Feng Chong andK.Srikanth against Derek Wong of Singapore. Also in Women's Doubles QuarterfinalIndia will face Sri Lanka.
Hockey:India will play hosts Scotland in Women's 5th-6th classificationmatch.
Gymnastics: Ashish Kumar will participate in Men's Vault final.
Boxing: Pinki Jangra will face Michaela Walsh in Women's Flyweight (48-51) kgsemi-final while in Women's Lightweight (57-60)kg semi-finalLalita Devi will take on Maria Machongua. In Men's Middleweight (75kg) semi-finalVijender Singh will be in action against Connor Coyle, in Men's Light flyweight 49kg semi-finalDevendro Singh vs Ashley Williams andin Men's Welterweight (69kg) semi-final Mandeep Jangra vs Steven Donnelly.
Lawn Bowls:India will take on Australia in Men's Fours bronze medal match.
Table Tennis:In Men's Doubles Semi-final India will face Singapore and in Men's Singles third round Saurav Ghosh takes on H.Li and Sharath Kamal faces S.Toriola. In Women's Doubles Third round India will face Australia and Malaysia.