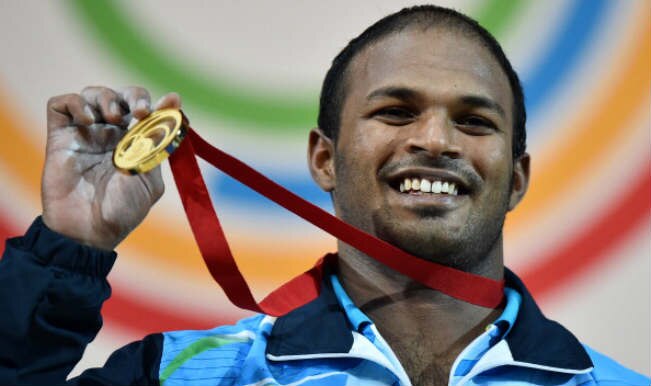 India started the Day 4 with the 5th ranking in the Commonwealth Games 2014 medal table but they were overtaken by New Zealand and pushed to sixth spot. It was India's weightlifters Sathish Sivalingam and Ravi Katulu that brought India back to the fifth rank and moved the medal tally to 22 medals as they won gold and silver medals respectively in the Men's 77 Kg Weightlifting. See the Medal Table with India ranking at 5th with 6 gold, 9 silver and 7 bronze medals.

India got its first medal of the Day 4 when Indian shooters Shreyashi Singh won the silver medal in the Women's Double Trap event and Asab Mohammed winning the bronze medal in Men's Double Trap. Later Punam Yadav won the  bronze medal in Women's Weightlifting 63 kg category. Overall India added 5 medals on Day 4 with few disappointments coming in from Badminton and Table Tennis teams who lost their respective team matches to England. They would be playing their Bronze Medal match on Day 5 of Glasgow 2014. Stay tuned and catch all the live updates of Commonwealth Games here on Monday, July 28, 2014.

SQUASH: India's Saurav Ghoshal lost his Men's Singles Semi-final 2 match to England's James Willstrop in straight games. He lost 11-8, 11-8, 11-5.
[1.40 am IST] TABLE TENNIS: Men's Team Semi-final 2: HR Desai will now play against Liam Pitchford in the reverse singles match. India is trailing best of five matches by 1-2. Desai lost the first game 5-11 and is trailing 2-4 in the second game. Pitchford takes the second game 11-6. India's Desai in the Match 4 shows one of the best comebacks as he takes the third and fourth game 12-10 and 12-10 respectively. The fifth game was stretched to the tee with Pitchford getting 11 match points before he converts the match point and beats Desai by 17-15. India lose against England in the Men's Team Semi-final 2. England will play Singapore in the gold medal match as Indian will take on Nigeria for the bronze medal.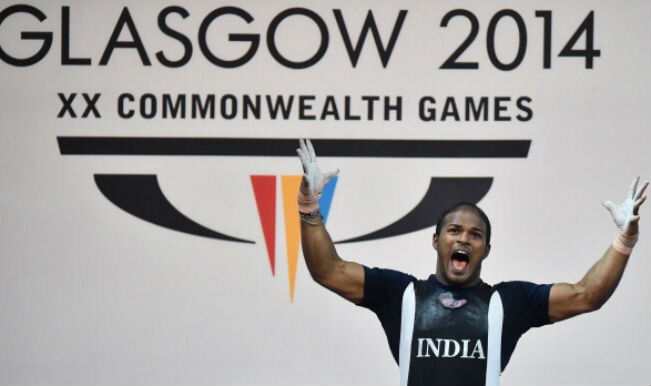 WEIGHTLIFTING: Sathish Sivalingam bags gold medal Weightlifting Men's 77 kg category. His compatriot Ravi Katulu took the silver medal at the same event. With this India are back on the 5th rank with 6 gold, 9 silver and 7 bronze medal. Sathish Shivalingam was brilliant in his snatch lifts with clean lifts of 142 kg, 146 kg and 149 kg in three attempts, never earning a fault. In the Clean and Jerk he lifted a magnificent 179 kg.
[1.00 am IST] BADMINTON: Mixed Team's Semi-final: Match 3: India's Akshay Dewalkar and Pranaav Chopra playing the men's doubles match against England's Andrew Ellis and Chris Adcock in the do-or-die match. They take the first game from England pair 21-12. Dewalkar and Chopra lose the second game to Adcock and Ellis 13-21. The Indian duo are trailing in the third game 10-11. Indian pair lose to English counterpart 21-16. India lose 0-3 to England in Badminton Mixed Teams Semi-final. England will play Malaysia in the Gold Medal match as India will take on Singapore in the Bronze Medal match.

SQUASH: Indian squash player Anaka Alankamony earned a 3-1 win over Mihiliya Methsarani of Sri Lanka to enter the women's plate final at the Commonwealth Games here Sunday. The 20-year-old Chennai girl won 11-4, 11-6, 11-7 to enter the summit clash where she will take on Welsh Deon Saffery.
[12.54 am IST] TABLE TENNIS: Men's Team Semi-final 2: In the Match 3, it is time for doubles match as HR Desai and Anthony Arputharaj taking on England's pair A Baggaley and P Drinkhall. The result is not very different from the singles matches as the England pair take the first game 11-7. India will have to win this match if they have to remain in the competition. Fantastic game by Desai and Anthony to take the second game 16-14. Desai and Anthony win the third game 11-8 and have a 2-1 lead in the Match 3. The fourth game goes to Baggaley and Drinkhall 11-7. Deciding game for both India and England, India wins – they survive, England wins – they take the match. India survives scare and win the game 3 by 13-11.
[12.54 am IST] BADMINTON: Mixed Team's Semi-final: Match 2: It is P. Kashyap from India taking on England's Rajiv Ouseph in the men's singles. At the end of 11 minutes Kashyap leads 11-10. England's Rajiv Ouseph takes the first games 21-16 in 22 minutes. Kashyap leads 5-4 in the second game. P Kashyap loses the second game 19-21 to Rajiv Ouseph in the badminton men's singles. [India trail 0-2 to England in the best of five matches]

[12.30 am IST] TABLE TENNIS: Men's Team Semi-final 2: In the Match 1 India's Sharath Kamal Achanta lost to England's Liam Pitchford in the Match 1 by 4-11, 11-8,11-9, 5-11, 6-11. In the Match 2 of the semi-final 2 India's Anthony Arputharaj loses the first game to England's Paul Drinkhall 5-11. Paul Drinkhall gives England a 2-0 lead by taking the second game 11-8. The England player wins the third game 11-9 to give an unbeatable 3-0 win. Paul Drinkhall beats Anthony Arputharaj by 11-5, 11-8, 11-9.
[12.30 am IST] BADMINTON: Mixed Team's Semi-final: Match 1: Indian badminton side in the Mixed Team event faces challenge from England. In the first match that is mixed doubles, India's most experienced campaigner Jwala Gutta along with Akshay Dewalkar takes on England's pair of Gabrielle Adcock and Chris Adcock. The Adcock pair takes the first game 21-16 as Jwala and Akshay comes back to level the Match 1 by taking the second game 21-16. The Indian duo are currently trailing 6-11 in the deciding third game. After a 13 minute play of badminton in the third game, India find itself trailing 11-18. Indian pair goes down to England's Adcock duo 16-21, 21-16, 11-21. [India trail 0-1 to England in the best of five matches]
SQUASH
Mahesh Mangaonkar suffered a 1-3 loss in the men's classic plate semi-final to Canadian Shawn Delierre who won 11-6, 11-4, 7-11, 11-8. Saurav Ghosal will play his men's singles quarterfinal later in the day against English James Willstrop.
HOCKEY
The Indian women's hockey team lost their second Pool A match of the Commonwealth Games 0-3 to New Zealand at the Glasgow National Hockey Centre here Sunday. After defeating Canada 4-2 in their opener, India could not even manage to score a single goal against the Black Sticks. Gemma Flynn scored the lone field goal for New Zealand while Anita Punt scored twice, once from a penalty corner and another from a penalty stroke. India will take on Trinidad and Tobago Monday. (IANS)
WEIGHTLIFTING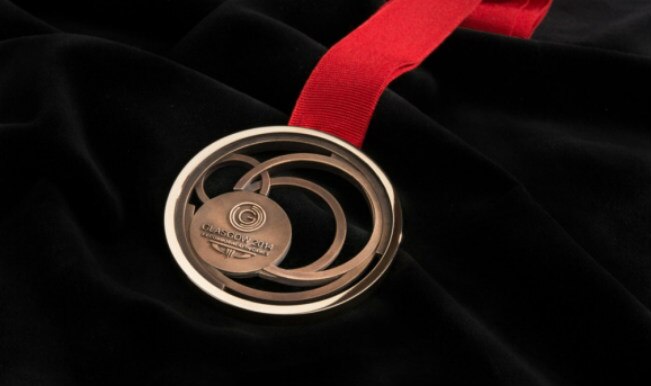 Punam Yadav wins bronze medal in Women's Weightlifting 63 kg category. She lifted a total of 202 kg to bag India's 7th bronze medal. In the Women's 63 kg Weightlifting Group A category, it was Nigerians who dominated the event as Olauwatoyin Adesanmi and Obioma Okoli took the gold and silver medals respectively. It wass heartbreaking for India's Vandna Gupta who finished fourth with a total lift of 198 kg.
TABLE TENNIS
Singapore beat Malaysia 3-0 in the women's table tennis final to secure a fourth straight gold in the event at the Commonwealth Games on Sunday. The strong favourites suffered a mild surprise when they lost their first match since their win in the inaugural tournament in 2002 in their semi-final win over India. Singapore's top player Feng Tianwei produced a controlled performance with an 11-8, 11-5, 11-4 over Lee Wei Beh. (AFP)
1000m Para Sprint
England's Sophie Thornhill and pilot Helen Scott won the inaugural Commonwealth Games women's para-sport 1000m time trial to go with the sprint title they claimed on Thursday. Aileen McGlynn of Scotland and pilot Louise Haston claimed silver while Australia's Brandie O'Connor and pilot Breanna Hargrave finished third. (AFP)
ATHLETICS:
Shot-put final: India's Om Prakash Karhana fails to qualify for shot-put final, finishing with a 5th in qualifying round Group B with a distance of 18.98 m. Jamaican O'Dayne Richards, South African Orazio Cremona and Canadian Tim Nedow qualified from Group B.
Heats of the Men's 100 m: Jamaican champion Nickel Ashmeade and British tyro Adam Gemili both sailed through their heats of the men's 100m at the Commonwealth Games on Sunday, but Trinidad and Tobago's Richard Thompson, the 2008 Olympic silver medallist, could only finish third in his heat.
BOXING:
Manoj Kumar beats Arthur Biyarslanov of Canada in Men's Light Welter (64kg) Round of 16. Manoj Kumar who earned a perfect score of 30 points in the last round from judges was given 29, 29 and 28 points by the three judges as Arthur Biyarslanov earned 28, 28 and 29 points.
SHOOTING:
In the Men's Double Trap event, the gold medal went to England's Steven Scott and silver to Matthew French. Indian shooter Asab Mohammed wins bronze medal in the Men's Double Trap event. He defeated Malta's Nathan Xuereb 26-24. Asab Mohammed could not qualify for the Double Trap's Gold Medal match against England's Matthew French and Steven Scott in the shootout. All three were tied and in the shoot-off Asab dropped out failing to hit the double trap. He now faces Malta's Nathan Xuereb in the Double Trap's Bronze Medal match.
SWIMMING
Good news for the India Swimmers after their continued dismal performance at the Commonwealth Games as India's Sandeep Sejwal has qualified for 50m Men's Breaststroke semifinals. Earlier he had to bow out the first semi-final of the 100m breastroke with a lowly 6th ranked finish. But hope he can make amends with this semi-finals.
RUGBY SEVENS
Four-time champions New Zealand moved into the semi-finals of the Commonwealth Games rugby sevens after seeing off Kenya 19-7 at Ibrox Stadium on Sunday. The all-conquering All Blacks will play Delhi silver medallists Australia, who secured a last-gasp 21-19 victory over 2009 world champions Wales. (From AFP)
SQUASH
India's 20-year-old Mahesh Mangaonkar defeated Nick Taylor in three straight 11-5, 11-3, 11-7 in the Men's Classic Plate Quarter-final 2. It has come as a good news for the Indian squash players as leading stars with the likes of Dipika Pallikal and Joshna Chinappa losing early. Mahesh Mangaonkar will next face Canadian Shawn Delierre in the Men's Classic Plate Semi-final 1 at Scotstoun Squash Campus. The match is scheduled to start at 10.30 pm (IST).
SHOOTING
Women's Double Trap: Indian shooter Shreyashi Singh wins silver in the women's Double Trap event at the Commonwealth Games. Delhi girl Shreyashi with the total score of 92 points took the second rank honour. It was not all rosy for her compatriot Varsha Varman who finished 5th with the total score of 88 points. Charlotte Kerwood who finished with 94 points took gold medal while her fellow countrywomen Racheal Parish bagged bronze medal finishing third with the total score of 91 points.
Men's Double Trap: Indian shooters continued their fine performance as double trap exponents Asab Mohammed and Ankur Mittal qualified for the men's semi-finals of the 2014 Commonwealth Games at the Barry Buddon Shooting Centre here Sunday. From the semi-final, they would subsequently qualify for the bronze and the gold medal match. Asab topped the qualifications, from where a total of six shooters qualified for the semi-finals. Asab had a score of 110 points and was followed by England's Steven Scott (108) and his compatriot Mittal (107). The other shooters to make the cut were England's Matthew French, Malta's Nathan Xuereb and Malaysian Seng Chye Khor. Men's Double Trap semifinals is scheduled at 6:45 pm.(From IANS)
ATHLETICS
Men's Marathon: Michael Shelley of Australia takes gold medal , Stephen Chemlany of Kenya takes silver medal and Abraham Kiplimo of Uganada takes the bronze medal in the Men's Marathon on the city marathon course during day four of the Glasgow 2014.
TABLE TENNIS

In the Women's Team Bronze Medal Match, Match 4: In the match number 4 that features reverse singles will have India's  Madhurika Suhas Patkar take on Australia's Ziyu Zhang. This is a do-or-die match for India as if they concede the match, bronze medal slips from the fingers of Delhi CWG silver medallists. The first game went to Ziyu Zhang 11-9. But Madhurika does well to come back with a befitting second game win 11-5. India's continued with her dominance as she took the third game 11-8. The fourth game is currently tied at 4-4. Another five game match on its way as Aussie Zhang takes the fourth game 11-8. Madhurika will have to survive and win this game otherwise all is over for India in this Bronze medal match tie. Madhurika could not help her team reach the Match 5 and lost the fifth game 11-9 to Zhang. She lost 9-11, 11-5, 11-8, 8-11, 9-11. With this India lose Women's TT Bronze medal tie to Australia 1-3.
In the Women's Team Bronze Medal Match, Match 3: In the Match 3 that is women's doubles match, the two competing sides are Madhurika Suhas Patkar and Shamini Kumaresan from India and Miao Miao and Jian Fang Lay from Australia. The first game seem to be intensified as India lags 15-16 behind Australia. All scores are now tied at 18-18 with India serving. After a long battle, the first game goes to the Indian pair Patkar/Kumaresan 21-19. The Australian duo are currently leading the second game 3-1. And the Australian pair Miao/Fang Lay come back strongly to take the second game 11-3. But it is the Indian girls who swing the third game back in their favour, they win 11-9. And it looks like a see-saw battle as Australia completely turnaround to lead 6-1 in the next game. And as this match goes to the last game as Miao/Fang Lay take the fourth game 11-4. Game 5 is tied at 2-2. The fifth and last game of Match 3 despite Indian pair's hard work went to Australia's Miao/Fang Lay 11-7. Madhurika Suhas Patkar and Shamini Kumaresan from India lose Match 2 by 19-21, 11-3, 11-9, 4-11, 7-11. [India trail 1-2 in the best of five matches]
In the Women's Team Bronze Medal Match, Match 2: In the second match of the Bronze medal event, young 19-year-old Manika Batra faces Jian Fang Lay. The first game of the match 2 went to Manika Batra from India 11-5 against Fang Lay. In the second game she is trailing 4-5 at the moment. Setback for the Indian side as Jian Fang Lay takes the second game 11-8. With two games tied at 1-1 and India trailing the tie 0-1, Manika will have to produce some quick works if they have to survive this match and tie. Game 3 of Match number 2 is all going neck-to-neck with scoreline reading 3-3 and Manika serving. The third game of Match 2 went to Manika Batra 11-8. India leads second Match 2-1 and trail the tie 0-1. The fourth game went to India's Manika Batra 11-7. Manika Batra of India won Match 2 by 11-5, 8-11,11-8,11-7 [India-Australia tied at 1-1 in the best of five matches]
2010 Silver Medallist Indian women's table tennis team who failed to qualify for the summit clash in the Commonwealth Games after losing their match against defending champions Singapore 1-3 are playin against Australia for the bronze medal match. In the Women's Team Bronze Medal Match, Match 1: [India trail 0-1 in the tie] India's Shamini Kumaresan is playing against Australia's Ziyu Zhang. In the first game of the match Australia's Ziyu Zhang defeated India's Shamini Kumaresan 11-5. In the second game, India's Shamini Kumaresan bounced back to take it from Australia's Ziyu Zhang 11-2. Ziyu Zhang takes the third and fourth game from Kumaresan 11-6 and 11-9 respectively. Ziyu Zhang of Australia won Match 1
The highlight of Day 4 of the 20th Commonwealth Games from the Indian perspective is the Indian badminton side's semifinal clash with England to assure India yet another medal. The Indian side led by the likes of Jwala Gutta, Ashwini Ponnappa, Parupalli Kashyap in the mixed team event defeated Canada 3-1 at the Commonwealth Games 2014. PV Sindhu lost her singles match against Hong Kong-born Michelle Li 15/21 22/20 21/17. The Commonwealth Games 2014 also went into tizzy and excitement as Jamaican super star athlete Usain Bolt joined the games on Day 3.
Great excitement from @usainbolt arriving at his first ever Commonwealth Games! #Glasgow2014 #pressconfrence pic.twitter.com/xyeHwDbZZB

— Commonwealth Games (@thecgf) July 26, 2014
From the boxing circuit, India's 2010 Commonwealth Games gold medalist Manoj Kumar will feature in the round of 16 match of the men's Light Welter (64 kg) category. The 27-year-old Kumar will face a stiff competition in form of Arthur Biyarslanov from Canada. Another Indian representation will be in form of young lad from Haryana, 21-year-old Sumit Sangwan will face Mohamed Hakimu Fumu of Tanzania in the another round of 16  match of  men's Light Heavy (81 Kg) category.
The following is the list of events in which Indian team will be taking part across various disciplines at the Commonwealth Games here on Sunday:
Commonwealth Games 2014 Schedule of  Day Four:  July 27, 2014 Sunday
Hockey: Indian women's team plays against New Zealand. The match is scheduled to be played at Glasgow National Hockey Stadium at 8.30 pm.
Badminton: Indian shuttlers face England challenge in the mixed teams event. The match is scheduled to start at 11.00 pm (IST) in the Emirates Arena. In the other semifinal Malayasia will take on Singapore.
Shooting: In the Women's Finals of Double Trap will see Indians Shreyasi Singh and Varsha Varman. It would take place in Barry Buddon Shooting at 2.30 pm (IST).
Table Tennis: The Indian women's team will fight it out against Australia in the Women's Team Bronze Medal match. The match will start at 2.00 pm (IST). Ankur Mittal Asab Mohammed will be in action in Men's Double Trap.
Athletics: Om Prakash Karhana will be in action today in shot put Group B qualification round. The event would start at 8.10 pm (IST).
Lawn bowls: India will take on South Africa in Men's fours Sec B, Round 1, Match 1 while in Men's singles Sec B, Round 1, Match 2: Sunil Bahadur will be up against Muhammed Hizlee Abdul Rais of Malaysia.     
Get Commonwealth Games 2014 Complete Schedule of Indian Players Here 
Get The Updated Commonwealth Games 2014 Medals Tally Here