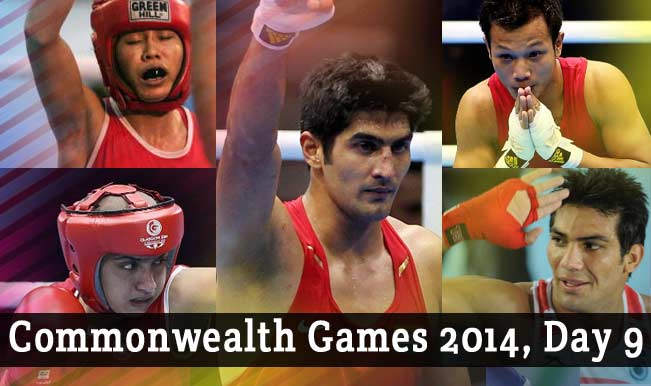 Glasgow 2014: Day 8 of the 20th Commonwealth Games proved to be quite fruitful for India as Discus thrower Vikas Gowda won first gold of 2014 in athletics and Dipa Karmakar winning bronze medal in Gymnastics Artistic. With India adding 3 gold medals on Day 8 of Glasgow 2014, India stands at 5th rank of the medal table taking their medal tally to 48 with 13 gold, 21 silver and 14 bronze.  Catch all the live updates Commonwealth Games here on Friday 1 August, 2014. See the Medal Table with latest rankings.
On Day 9 of the Commonwealth Games, India won a total of 3 medals – 2 silver and 1 bronze. Veteran Achanta Sharath Kamal and Anthony Amalraj picked up the silver medal in the men's doubles table tennis after they lost 1-3 to Singapore's Hu Li and Ning Gao in the title clash of the 2014 Commonwealth Games here Friday. Meanwhile  Indian discus thrower Seema Punia won the silver medal with her season's best performance while her compatriot and defending champion Krishna Poonia finished a disappointing fifth at the Commonwealth Games here Friday. Earlier, Pinki brought home India's first medal from the discipline at the 2014 Games when she lost her women's 48-51 kg semi-final to take home the bronze.
The day at the Glasgow Games also saw four Indian boxers — L. Sarita Devi, L. Devendro Singh, Mandeep Jangra and Vijender Singh — making it into their respective gold medal bouts after Pinki Jangra lost her semi-final to settle for the bronze medal at the Commonwealth Games here Friday.
BOXING
After the successful outing by three boxers Mandeep Jangra (69 kg), Devendro Laishram (49kg) and Laishram Devi (57-60kg), it was star campaigner for boxing, Vijender Singh made to his finals of Men's Middle Weight (75 Kg) event. He was hands down the chosen winner by all the three judges. He scored a perfect 30 in all the three rounds compared to his opponent Connor Coyle of Northern Ireland's 27 point. He assures fourth silver medal for India with his comprehensive win.
TABLE TENNIS
Unfortunate ending for the Indian pair Sharath Kamal and Anthony Arputharaj as they lost the Men's Doubles final match to Singaporean pair Ning Gao and Hu Li. They lost the match 3-1 and will have to be settled with silver medal. This is second silver medal of the Day after Seema Punia's silver in the Women's Discus Throw.
BOXING
Mandeep Jangra takes on Steven Donnelly of Northern Ireland in the Men's welter (69 kg) Semi-final 2. India's Mandeep lost the first round with 27 points by judges compared to Donnelly's perfect 30. He comes back well to take the second round by 29 points to his opponent's 28. But in the last round Mandeep was given a score of perfect 30 points to win the semi-finals match.
TABLE TENNIS
After a see-saw battle between the two pairs from India and Singapore, it was Singaporean pair Gao/Li who took the third game 11-9 to go up the Men's Double final match by 2-1. India trails Singapore 1-2 in the best of five gold medal match.
In the second game it was the Singaporean pair Gao/Li make a brilliant comeback with a solid crackling play of game. Dominating the entire game they led 7-2 against the Indian pair and wrapped it up as Sharath Kamal made a rash return. They won 11-7. India- Singapore tied at 1-1 in the best of five gold medal match.
Indian Paddlers Sharath Kamal and Anthony Arputharaj take on Ning Gao and Hu Li of Singapore in the Men's Doubles Final. The Singaporeans are the top seed while their opponents are the fourth seed. Sharath Kamal and Anthony Arputharaj takes the first game 11-8. India lead 1-0 in the best of five gold medal match.
Seema Punia's silver medal in the Women's discus throw along with back-to-back entrance in the final rounds of boxing, India have a total of 3 silver medals on Day 9 at Glasgow. Devendro Laishram entered the Men's Light Fly weight (49kg) final while Laishram Devi got into Women's Lightweight (57-60kg) finals to assure silver medals for India. Earlier boxer Pinki Rani lost her Women's Flyweight (48-51 kg) semifinal 1 match to Michaela Walsh, hence earning first bronze medal of Day 9 of 20th Commonwealth Games for India.
BOXING
After Laishram Devi assuring India the silver medal, it was India's Devendro Laishram who enters the Men's Light Fly weight (49kg) final and assures minimum of second silver for India in boxing. He plummeted his semi-final's opponent Ashley Williams of Wales to win with a perfect 30 points by all the judges.
ATHLETICS - Women's Discus Throw Final
2010 Commonwealth Games Bronze Medallist Seema Punia moves to the second place in the Women's Discus Throw Final to clinch the silver medal. Seema Punia threw her best in the fifth attempt to a distance of 61.61m Daniel Samuels of Australia won the gold medal with the massive 64.88m throw. As for the defending champion Krishna Punia, she finished with a lowly best of 57.84 metres to finish fifth in the ranking.
BOXING
In the semi-finals match of Women's Lightweight (57-60kg) Laishram Devi punched a perfect match throughout the four rounds to knock down her opponent Maria Machongua of Mozambique. In the Round 1, Laishram Devi won 30 points compared to Maria's 25. In the round 2, she scored another 30 to Maria's 27,  Round 3 saw 30 to 25 and Round 4 saw 30 to 25 again. It was an unanimous decision from all the Judges to declare Laishram Devi as the semi-final match winner.
ATHLETICS - Women's Discus Throw Final
Krishna Punia throws 57.84 m distance in the second attempt to find herself a fifth place. Seema Poonia clears the distance of 58.87 with her throw in the second attempt and is placed third. Krishna Punia throws a 52.70 distance in her first attempt.
ATHLETICS – Women's High Jump Final
Sahana Nagaraj Gobbargumpi failed to clear the 1.89 m in her last attempt. She cleared 1.78m in first attempt in the Women's High Jump final. Then she clears 1.82m as well in the Women's High Jump final and is tied for 1st position.
SQUASH
Australian pair David Palmer and Rachael Grinham won 11-6, 11-9 in the mixed doubles quarter-finals match to enter semis.  And looked like the quarte-finals match did not go the Indian pair's way as Saurav Ghosal and Dipika Pallikal lost the second game 11-9. And with the second game lost, was the ouster of the Indian pair of  Saurav Ghosal and Dipika Pallikal. Throughout the course of two games, the Indian pair has been upset over some of the calls made by the referee and not happy with some of the points awarded.
TABLE TENNIS
Achanta Sharath Kamal let go of the fourth game loss hiccup to come back strongly and take the fifth game 11-6. Achanta Sharath Kamal of India defeated Paul Drinkhall of England by 11-7, 11-6, 12-10, 9-11, 11-6 to enter the Men's Singles Semi-final.
TABLE TENNIS
Indian paddlers Sharath Kamal and Anthony Amalraj reached the final of the men's doubles event at the 2014 Commonwealth Games, securing a minimum silver medal here Friday. It was a facile win for the Indian team, who beat Singapore's Zi Yang and Jian Khan 11-7, 12-10, 11-3 in a little over 20 minutes. The Indian duo will face another Singapore team of Ning Gao and Hu Li later in the day in the match for the gold medal.
GYMNASTICS
Last edition's Commonwealth Games silver medallist Gymnast Ashish Kumar finishes a poor last rank out of the 8 gymnasts in the Men's Vault final. He finished with a score of 7.166 after 2 vault. He scored a great 14.333 after vault 1 but let go of the advantage with no score as he landed on the hip resulting in a no score.
BADMINTON
Completely dominating the rally of play, India's highest seed on tour at Commonwealth Games 2014 PV Sindhu enters the semi-finals of Women's singles semi-finals. She defeated Anna Rankin of New Zealand  in straight sets 21-10, 21-9. She took the opening game wins the first game 21-10 vs Anna Rankin (NZ) in women's singles quarter-finals match in 11 minutes.
BADMINTON
India's badminton ace Parupalli Kashyap defeats Daren Liew of Malaysia 21-13, 21-14 to reach the semi-finals men's singles. In the meanwhile PV Sindhu of India has taken lead in the first game against A Rankin of New Zealand by 17-7.
BOXING
Pinki Rani lost the Women's Flyweight (48-51 kg) semifinal 1 match to Michaela Walsh. She lost the match on point 2-0 to Walsh of Northern Ireland. She had already assured the bronze medal for India by qualifying to the semi-finals. Boxing event presents two bronze medal. This is first medal of the Day 9 at the Commonwealth Games 2014.
TABLE TENNIS
India's Sharath Kamal-Anthony Arputharaj defeated Yang/Zhan of Singapore 11-7, 12-10, 11-3 to proceed to men's doubles Table Tennis Final. They assure another medal for India. The Indian pair of Kamal/Arputhraj won first game 11-7 and took the second and third game 12-10, 11-3 to register an easy straight sets victory over the Singapore pair.

HOCKEY
The Indian team are officially 5th placed in the hockey event of the 20th Commonwealth Games 2014. They beat host side Scotland on their home turf to take the Women's Hockey Classification 5-6 match by 2-1. From India Anupa Barla and Poonam Rani scored the goals in the second half of the match while the sole goal from Scotland came from N Kidd.
Indian eves playing against host nation Scotland took lead in the second half of the Women's Hockey Classification 5-6 match with Indian player Anupa Barla scoring the first goal of the match but was levelled by Scotland's N Kidd taking penalty corner. India immediately fought back with another goal by Poonam Rani.
Day 9: All eyes on Boxer Vijender Singh and Co. to add more number of medals in India's medal tally of 48
After wrestlers perfect showdown at the Commonwealth Games 2014 with 13 medals including 5 gold, the focus now shifts to the boxing ring. Olympics and World Championships bronze medallist Vijender Singh (75 kg) along with four other boxers  Mandeep Jangra (69kg), L Devendro Singh (49kg), L Sarita Devi (60kg) and Pinki Jangra (51kg) have entered the last four of their respective events and assured India of five more medals. All eyes would be on them to make it last two and raise the value of medals for India.
The Day 9 of the Commonwealth Games is also going to be extremely important for the Indian Lawn Bowls team as they take on Australia in the bronze medal match. The paddlers Sharath Kamal and Anthony Arputharaj will also play their semi-final match today for a place in the finals. After the memorable feat by discus thrower Vikas Kowda in the athletics, India will expect to repeat the success from their other two athletes defending champion Krishna Poonia and Seema Punia who will be competing in the finals of discus throw.
Catch all the action of the Commonwealth Games 2014 here as India is ready for another brilliant outing on Day 9 of the Glasgow Games 2014.
Get Commonwealth Games 2014 Complete Schedule of Indian Players Here