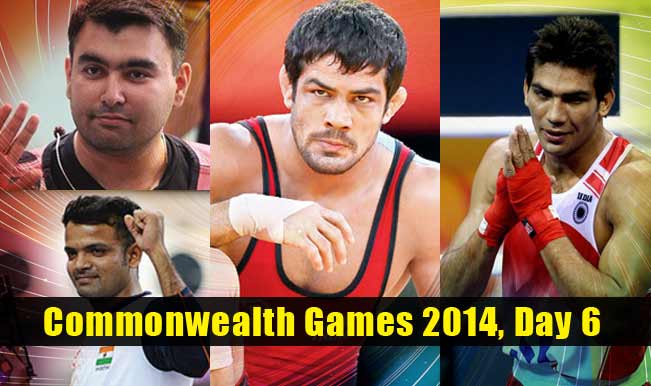 Glsgow 2014: India started the Day 6 with a medal tally of 26 and 7th rank in the medal table at Commonwealth Games but it was India's wrestlers in form of Sushil Kumar, Amit Kumar and teenager Vinesh that brought gold medal feast. The day 7 of Glasgow 2014 saw India add 11 medals (4 in wrestling, 5 in shooting and 2 in weightlifting). India are now placed at 6th with 27 medals (10 gold, 16 silver, 11 bronze). There will be more action with Indian boxers like Vijender Singh come into ring for their bout for gold on Day 7. Catch all the live updates Commonwealth Games here on Wednesday, July 30, 2014. See the Medal Table with latest rankings
WEIGHTLIFTING
India's Chandrakant Mali won bronze medal in the Men's 94 kg weightlifting. He scored a total of 338 points to finish third behind Papua and Guinea's SK Kari and Australian S Ribouem. India have now won a total of 37 medals with 10 gold, 16 silver and 11 bronze medals.
BOXING
Boxer Laishram Sarita Devi entered the semi-finals of Women's light (57-60kg) event. She defeated Kehinde Obareh of Nigeria in the quarter-finals.
BADMINTON
Kidambi Srikanth beats Duane March of Saint Helena to enter men's singles Round of 32.
WRESTLING
Sushil Kumar led the charge as Indian wrestlers put on a stunning show in the Commonwealth Games winning three of the five gold medals on offer here Tuesday. Amit Kumar and teenager Vinesh Phogat also bagged gold medals while Rajeev Tomar settled for the silver medal in what was a successful outing on the first day of the wrestling competition at the Scottish Exhibition and Conference Centre (SECC).
BOXING
India's Manoj Kumar loses to England's Samuel Maxwell in the first quarter-finals of Men's Light Welter (64 kg). He lost on the points by going down 0-3 against Samuel. In all the three rounds, Samuel scored a 30/30 while Manoj Kumar saw 27/30 points.
WRESTLING
Rajeev Tomar wins silver in Men's 125 kg Free Style match. Rajeev Tomar of India faced Canada's Korey Jarvis in this powerhouse match. All eyes on India's Rajeev as India has clean swept in the other three gold medal matches. He is currently trailing 1-0 to the Canadian opponent. Rajeev was constantly kept under pressure by Canadian Jarvis as he took the match 3-0 in the Men's 125 kg Free Style match.
SHOOTING
Lajja Gauswami won the bronze medal in the women's 50m Rifle 3 Positions event. She qualified sixth in the event as Elizabeth Koshy of India failed to qualify in the mains medal event. She adds to India's medal tally with another bronze with India's medal tally going up to 35 that includes 10 gold, 15 silver and 10 bronze. After three gold medal coming from wrestlers, great work comes from the shooting side.
WRESTLING
One of India's popular athletes Sushil Kumar took on Pakistan's Qamar Abbas and defeated him in style to take the gold medal in the men's 74 kg freestyle wrestling. The two time Olympics medalist had no trouble against the Pakistani counterpart. He won it 6-2  in the men's 74 kg freestyle wrestling . With this medal the Indian wrestlers have won 3 out 3 matches played on Day 6. Remarkable clean sweep by Sushil Kumar who once again proved his mettle in the wresting world.  
Vinesh takes the gold medal in the women's free style 48 kg category. Vinesh of India facing Yana Rattigan in the gold medal match of women's free style 48 kg category. Vinesh leading 6-2 in the end of first period looked composed in her final match. She looked stronger and aggressive as she extended the lead to 8-6 in the second period of the match. She completely impressed with her approach. England's Rettigan did good to make a comeback with 8-6 but Vinesh also got point lead to 11-8. This is second gold medal in a row after Amit Kumar took the gold medal.
WRESTLING
India's Amit Kumar bagged 8th gold for the country as he defeated Ebikweminomo Welson of Nigeria. Leading 4-0 in the first round of 57 kg freestyle category, Amit Kumar was at his sensational best against his staggering opponent. This is first of the four medals won by Indian wrestler on Day 6. Next in line is Sushil Kumar's match in 74 kg free style category.
SHOOTING
India's Sanjeev Rajput and Gagan Narang won the Men's 50m Rifle 3 Position with England's Daniel Rivers took the Gold Medal. Narang leading till the 44 shots before Sanjeev eliminated him with his 10.4 shot to take the second place. Daniel Rivers was winning it by a mile 452.9 points. Sanjeev Rajput finished with 446.8 and Narang with 436.8 points.
SHOOTING
This is back-to-back medal for India as Manavjit Singh Sandhu defeated Australia's M Diamond in the Trap Men's Bronze Medal match. Manavjit Sandhu and Mansher Singh had qualified for the semis before Maneshar faltered. With this medal India's medal tally shoots up to 29 medal including 7 gold, 14 silver and 8 bronze. This is 15th medal from the shooters.
SHOOTING
India's Harpreet Singh bagged silver in the 25m Rapid Fire Pistol Men's finals. The event that saw the major name Vijay Kumar failing to qualify for the main finals event found a new winner in Harpreet Singh. During the qualification round Harpreet had finished fourth with 281 points. This also adds to India's medal tally to 28. This is 14th medal from the Indian shooting camp. Australia's David Chapman who won the gold in men's 25m rapid fire pistol final.
WRESTLING
After Amit Kumar, Sushil Kumar and Rajeev Tomar's march into the finals, it was Vinesh who made it into the finals of Women's Free Style 48 kg gold medal match. In her gold medal match she will face England's Y Rattigan. Vinesh' final appearance has assured fourth medal in India's kitty at the Commonwealth Games 2014. The match is scheduled to start at 9.30 pm IST.
WRESTLING
India's Sushil Kumar continues with his red hot form as he beats Nigeria's Melvin Bibo 8-4 to enter the final of wrestling 74kg category. Sushil Kumar with his win assures a medal for India as he next faces Pakistan's Qamar Abbas of Pakistan in final for the gold medal. India vs Pakistan here at Commonwealth Games 2014! Perfect.
And as for Indian Wrestlers are concerned, it got a major boost as India's superstar in wrestling Sushil Kumar made his way to the semi-finals of Men's freestyle wrestling 74 kg. Meanwhile Indian cricketer Virat Kohli wished all the participating Indian athletes in the Commonwealth Games 2014 all the best wishes through his micro-blogging account, Twitter.
All the best to the Indian athletes for the CWG. Hope to you bring back a lot of medals.

— Virat Kohli (@imVkohli) July 24, 2014
WRESTLING
Indian World Champion wrestler Sushil Kumar beats Kushan Sandrage of Sri Lanka to enter the semi-finals of Men's freestyle wrestling 74 kg. He earlier defeated J Lawrence of Australia to enter men's freestyle wrestling 74kg quarters.
SHOOTING
Harpreet Singh finishes fourth with 281 points and qualifies for the 25m Rapid fire Pistol Men's finals but a major setback for his compatriot and India as London Olympics silver medallist Vijay Kumar failed to qualify as he finished eighth with 274 points.
WRESTLING
India's Sushil Kumar beats J Lawrence of Australia to enter men's freestyle wrestling 74kg quarters. Fellow countryman Amit Kumar defeated JG Bandoo of Mauritius to enter men's wrestling 57 kg quarters. But as for Indian women's wrestling was concerned,  Jyoti lost her match to Onyebuchi of Nigeria in women's freestyle 75 kg Nordic System wrestling category.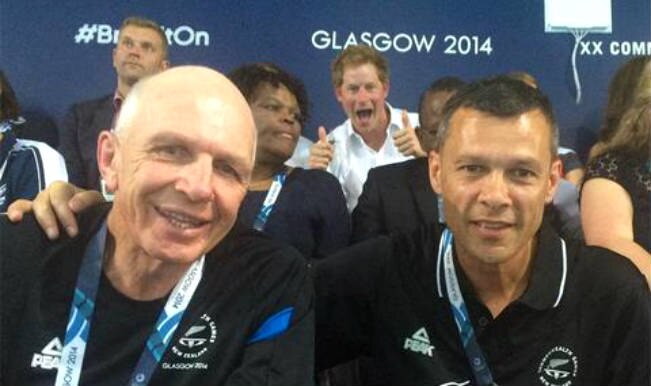 See this hilarious photobomb by Britain's Prince Harry: He has followed his grandmother Queen Elizabeth II into the photobomb craze, giving the thumbs up in an image of acclaimed New Zealand rugby sevens coach Gordon Tietjens at the Commonwealth Games.
Get Commonwealth Games 2014 Complete Schedule of Indian Players Here