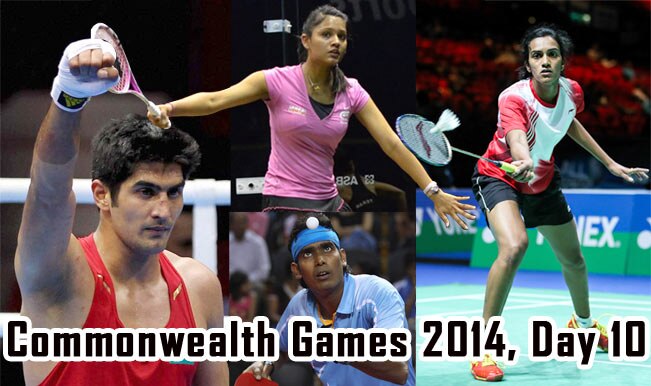 Glasgow 2014: India finished the Day 9 of the Commonwealth Games 2014 with the addition of 3 more medals including discus thrower Seema Punia's silver. India are currently placed at 5th ranked in the medal table and have won 13 gold, 23 silver and 15 bronze. India has assured a minimum of 5 silver with four boxers led by Vijender Singh and squash players Dipika Pallikal-Joshna Chinappa making to the women's doubles final. Catch all the live updates Commonwealth Games here on Saturday 2 August, 2014. See the Medal Table with latest rankings.
Day 10 of the Glasgow 2014 had been pretty fruitful for India as they bagged 10 medals (1 gold, 5 silver and 4 bronze). All the boxers Vijender Singh, Mandeep Jangra, Devendro Laishram follows Laishram Devi had to be content with silver medal as they lost all their bouts respectively. But the Indian ladies created history as Dipika Pallikal and Joshna Chinappa won the Squash Women's Doubles gold medal. Paddlers RV Gurusaidutt and PV Sindhu took bronze as the powerlifters Rajinder Rahelu and Sakina Khatun won silver and bronze respectively. The last medal of the day came from Arpinder Singh winning the bronze in Men's Triple Jump at the Commonwealth Games 2014
ATHLETICS
Arpinder Singh with his superb jump of 16.63m took the bronze medal in the track and field men's triple jump event. South African Khotoso Mokoena jumped a leap of 17.20 to take gold and Tosin Oke took silver with brilliant effort of 16.84m. This s third medal in the athletics by India at this Commonwealth Games 2014.
BOXING 
Vijender Singh Gets Silver after Losing Men's 75kg Boxing Finals against England's Anthony Fowler. India had a lot of hopes and expectations from its star pugilist but the tenth day at Commonwealth Games 2014 at Glasgow was not favorable to Indian boxers who has to settle for silver medals.
In the second of the power lifting event after Sakina Khatun, it was India's Rajinder Rahelu who bagged the silver medal after lifting the second highest 180.5kg in Men's Heavyweight event. The medals continued to shower as shuttler RV Gurusaidutt won the bronze medal in men's singles event. Earlier Mandeep Jangra lost the Men's Welter (69 kg) final bout against Scott Fitzgerald. He faced a heavy defeat in this one-sided affair where he was knocked down by the English player thrice. He lost the match in three rounds itself with Scott registering victory on points with unanimous decision coming in his favour from all the judges.
TABLE TENNIS
Paddler Achanta Sharath Kamal lost to Liam Pitchford 11-6, 11-8,4-11,11-9,6-11,12-10 in the men's singles bronze medal match. Sharath Kamal had won the men's doubles silver medal the previous day at Glasgow.
BADMINTON
PV Sindhu leaves her semi-finals loss disappointment to win 17th bronze medal for India. She registered a straight games victory over her Malaysian opponent in the Women's Singles Bronze Medal Match. She won 23-21, 21-9. She was troubled by the JY Tee of Malaysia in the first game 23-21 that lasted for 20 minutes. But she came back strongly to wrap it up in 12 minutes the second game.
Dipika Pallikal and Joshana Chinappa created history by winning India's first ever squash medal at the Commonwealth Games when they won the women's doubles final in straight games to clinch the gold at the Scotstoun Sports Campus here Saturday. The Indian combine had a rather easy outing by winning the summit clash 11-6, 11-8 against England's Jenny Duncalf and Laura Massaro, who once again failed in the final after having settled for the silver four years ago in New Delhi.
While, in a repeat of the 2010 final, India will take on defending champions Australia in Sunday's title clash after they stole a stunning come-from-behind 3-2 win over higher ranked New Zealand in the men's hockey semi-final of the 2014 Commonwealth Games at the Glasgow National Hockey Centre here Saturday. (IANS)
SQUASH
Dipika Pallikal and Joshna Chinappa have created history with the way they held their nerves in control to win the gold medal in women's doubles squash final event. India's dynamic duo in squash England's pair of Dunclaf and Massaro 11-6, 11-8 to win the first medal for squash in the Commonwealth Games.
BOXING
Second loss in a row for the Indian boxers as Devendro Laishram gets silver in the Men's Light Fly 49 kg event after his lost the final bout match against Paddy Barnes from Northern Ireland. He lost by an unanimous decision from the three judges as he lost to an experienced boxer from Barnes. With this win, India's boxing medal number goes up to 3 – 2 silver and 1 bronze.
BOXING
Wrestler Laishram Devi wins silver in Women's Lightweight (57-60kg) Final bout match. She took the opening round with a perfect score of 30 points to the Aussies 27 points. But Shelly Watts came back strongly in the second round against struggling Devi who collapse in the ring after the second round. The third round also went to the Australian as Devi's game was pushed to back foot.
DIVING
Indian diver Siddarth Pardeshi qualified for the men's 10-metre platform final at the Commonwealth Games here Saturday.
All 11 preliminary competitors made it to the final with England's Tom Daley topping the standings with 488.85 points at the Royal Commonwealth Pool. Pardeshi finished 11th and last with total points of 256.65. The final will be held later in the day. (IANS)
HOCKEY
Indian Men's Hockey Team produced an inspiring performance to win the semi-finals match against New Zealand. From India it was Rupinder Singh, Ramandeep Singh and Akshadeep Singh who scored three goals for the country. They will next face Australia in the gold medal final match who defeated England in their semis match 4-2.
HOCKEY
India's Ramandeep Singh strikes to level 2-2 against New Zealand in the Men's Hockey semi-final match. Just into the second half of the match, the Indian forward Ramandeep scored the first goal of the second half to bring the match to even-steven. India is very well in the competition.
BADMINTON
After the dismal ouster of Indian shuttlers RV Gurusaidutt and PV Sindhu in the respective singles events, it is India's most experieced pair on badminton court Jwala Gutta and Ashwini Ponnappa who win the Women's Doubles Semi-final against LY Lim and L Pei Jing of Malaysia. The Indian pair took the first game 21-17. They wrap up the second game and match by taking it 21-12. They assure another minimum of silver medal for India.
HOCKEY
The Indian side in the absence of their regular captain Sardar Singh who misses out after being suspended for this match during match against South Africa find themselves trailing 1-2 against New Zealand in the Men's Hockey Semi-finals match. New Zealand scoring the first goal within few minutes of the match have netted twice by S Child and N Haig. From India it is Rupinder Singh who scored goal to bring it 1-2. HALF TIME : India trails 1-2 against New Zealand
BADMINTON
Disappointment continues for the India shuttlers as RV Gurusaidutt followed PV Sindhu out of the race of gold medal. He lost his match 21-16, 19-21, 15-21 to Singapore's D Wong in the men's singles semi-finals match. He would now vie for the bronze medal and so would PV Sindhu in the women's singles bronze medal match.
TABLE TENNIS
In the men's singles semi-finals, paddler Achanta Sharath Kamal lost the match 11-6, 11-6, 11-6, 11-8 to Sinagporean Jian Zhan. Sharath Kamal along with Anthony Arputharaj claimed the silver medal in the men's doubles table tennis after they lost 1-3 against same countrymen Singapore's Hu Li and Ning Gao in the title clash of the 2014 Commonwealth Games on Day 9, Friday.
WEIGHTLIFTING
Sakina Khatun wins the first medal of day 10 as she won the bronze medal in Women's Lightweight group A category event. She lifted a total of 88.2kg while the gold medal went to Nigerian Esther Oyema who picked up a massive total of 136 kg. India with this latest addition of medal now has a medal tally of 52 including 13 gold, 23 silver and 16 bronze.
BADMINTON
Women's Singles Semi-final: PV Sindhu of India lost the the semi-finals match against Canadian Michelle Li after a long game by 22-20, 22-20. She will now play for the bronze medal.  Earlier in the Men's Singles Semi-final, Shuttler Parupalli Kashyap defeated England's Rajiv Ouseph by 18-21, 21-17, 21-18 to enter the  Men's Singles final. Parupalli assures a minimum of silver medal for India.
The Day 10 is not only important from boxing and squash point of view but also important for the Indian Men's Hockey Team as they will play against New Zealand for a place in the finals of  20th Commonwealth Games. It is also a big day for the Indian shuttlers and paddlers will play their respective semi-finals match to assure more medals for India. After a mixed day 9 in terms of athletics, Day 10 at the Hampden Park Stadium is also watched out for by India as  India's Arpinder Singh advanced to the final of the men's triple jump while javelin throwers Ravinder Singh Khaira and Vipin Kasana also made it to the final of their event at the 2014 Commonwealth Games here.
Catch all the action of the Commonwealth Games 2014 here as India is ready for another brilliant outing on Day 9 of the Glasgow Games 2014.
Get Commonwealth Games 2014 Complete Schedule of Indian Players Here