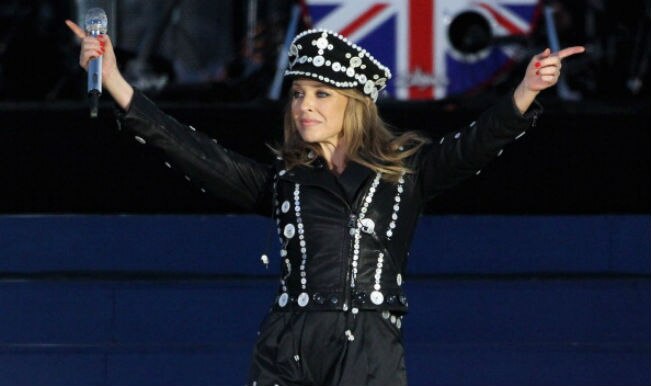 Kylie Minogue is one of the star performers at the 20th Commonwealth Games in Glasgow for the star-lit closing ceremony to be held at Hampden Park Stadium. The 2014 Commonwealth Games that started on July 23, 2014 with the magnum opus opening ceremony at the Celtic Park promises to end with an equally high closing ceremony.
With the presence of Australian singer, host nation Scotland promises a 'traditional Glasgow style' in the curtains down of the event on late Sunday night. The closing ceremony would follow after the wrap up of all the games played on Day 11. It is scheduled to start at 1.30 am (IST) or 9.00 pm (BST).
The star performer of the closing night, Kylie Minogue holds an important place as her presence marks the transfer of the Commonwealth Games to Australia, who is going to host the 21st edition of Commonwealth Games in 2018. Australia had also been host of Melbourne 2006 Commonwealth Games.
Apart from Kylie Minogue, the closing ceremony of Glasgow 2014 will also see performances from Scotland's most successful acts by Deacon Blue with twelve UK Top 40 singles, along with two UK number one albums. Scottish songwriter-singer Dougie MacLean will also be performing on the late Sunday night.
The organizer are sure of the closing ceremony of 20th Commonwealth Games to be one amazing affair as more than 2,000 volunteer performers will also take part in the ceremony. It is expected that the Hampden Park Stadium will be covered with more than 160 tonnes of staging, 3,000 props and 454 flags.
The Commonwealth Games ending on Sunday with England assured of top spot for the first time since 1986 but with deposed rivals Australia confident of a last hurrah before they host the 2018 edition.
England lead the medals table on 165 with 56 gold while Australia have 132 in total of which 45 are gold and with just 11 titles to be decided on the final day, the English can celebrate their best Commonwealth performance since the Edinburgh showpiece 28 years ago.
Get Commonwealth Games 2014 Complete Schedule of Indian Players Here