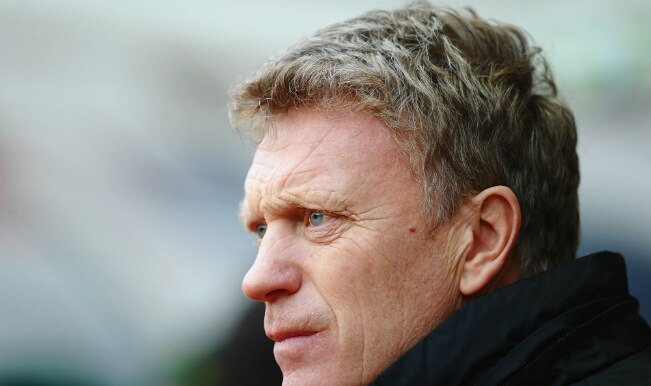 David Moyes has gone through a low season at his first season as Manchester United manager after replacing Sir Alex Ferguson in June 2013. The Scot has been under huge amount of pressure ever since Manchester United lost the top-four spot for Champions League qualification for the next football season. Add to that the loses against teams that Manchester United usually beat with ease and fans have started to have doubts in Sir Alex Ferguson's choice.
Everyone knew the potential for the job at Manchester United. No one believed it would be easy. David Moyes tried to keep his head high during his first months in charge, remaining positive in front of the press. But now he is evidently starting to sink, with his statements starting to sound repetitive and weak.
Manchester United currently sit in the sixth in the English Premier League with important fixtures against Manchester City and Liverpool still to go. Fans are losing hope of good things to come for the club anytime soon and sometimes rumours of the sack for David Moyes surface too. In the heat of it all, David Moyes has something to say to the Manchester United fans. Through a letter about the fans' growing feeling of discontent around Old Trafford.
The current Manchester United boss wrote:
"While I knew that this job would be a challenge when I took it on, the difficult season we have experienced was not something that I envisaged, which I am sure is the case as well for you supporters – and my players, staff and I am desperate to compensate for that.
"You are accustomed to seeing a successful Manchester United and the backing you have given the players and I throughout the season has been incredible.
"Away from home the traveling fans have remained the best in the country, while at Old Trafford your unwavering faith has been noticeable and hugely welcomed.
"Supporting your team when they are winning is easy, but much harder when things are not going as well, and the loyalty you have shown us has been magnificent.
"Everywhere we turn people outside the club have a lot to say about Manchester United , but we have all stuck together through some tough times this season and I firmly believe that, in the long run, we will all come out at the other end, stronger for the experiences.
"Everything we need have been through will make us a better, stronger team and club in the future.
"Over the years you have seen great winning sides here and, in time, I have
absolutely no doubt that we will see great winning sides here again.
"A big step towards that will be transforming Old Trafford back into the fortress it has long been renowned as, and we will do everything in our power to get the positive performances and results to do that, so that we can give you season ticket holders and all of our supporters something to shout about."