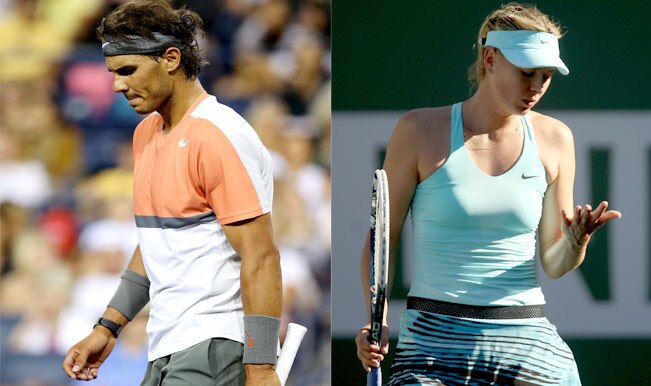 The day at BNP Paribas Open 2014 at Indian Wells had surprising results in store as both the defending champions Maria Sharapova and Rafael Nadal from the women's and men's singles side respectively were knocked out in the third round. Maria Sharapova lost to qualifier Camila Giorgi in three sets 6-3, 3-6, 7-6 (5), while Rafael Nadal lost to Alexandr Dolgopolov to 6-3, 3-6, 7-6 (5).
Maria Sharapova became the biggest casualty of the day when she was knocked out by qualifier Camila Giorgi in the third round of the BNP Paribas Open. She slumped to a new low when she was removed by the player outside top 30 in the world player since Wimbledon last year. She was defending champion this year at BNP Paribas Open, when she lost to Giorgi in three sets 6-3, 3-6, 7-6 (5).
Camila started off to a good start by capturing the first set 6-3. Maria pulled the next set back 3-6 to equalize the match to one set a piece before the tough neck-to-neck deciding set started. The match lasted for two and half hours saw not a great match from Maria's side that dropped her serve eight times and committed 58 unforced errors. Camila took advantage of Sharapova's shaky serves and inconsistent play to give the biggest upstage for the tournament.
Maria Sharapova has not been in the great form since making the comeback from the shoulder injury. World no. 5 was grounded by the 79th ranked Italian player Camila Giorgi. With this win the Italian posted her second win over the top 10 player. She had previously beaten former world no.1 Caroline Wozniacki in the US Open 2013.
From the men's singles side 2013 winner Rafael Nadal was outlasted by the Ukranian Alexandr Dolgopolov in an epic third set which looked to go either ways. The more aggressive of the two players won on the day. Rafael Nadal said of the loss to the 31st ranked player, "I had enough breaks to win the match, but I didn't play enough well from the baseline then to be solid with my serve," Nadal said. "I didn't go for the points. I played with too many mistakes."
Rafael Nadal had recently beaten the 31st ranked Alexandr Dolgopolov in the inaugural tournament of Rio Open. It was a sweet revenge for the Ukranian.