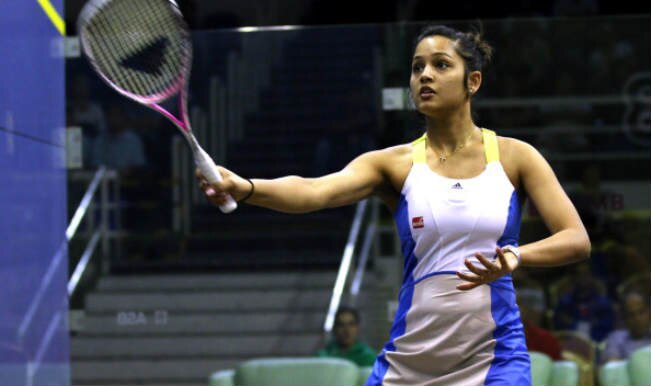 With Dipika Pallikal shot left not returned by the English pair, it was history made for India squash event. India's brightest singles stars Dipika Pallikal and Joshna Chinappa won the gold medal in the Women's Doubles final match against the English pair of Duncalf and Massaro. In a straight sets victory, Deepika and Joshna took it 11-6, 11-8.
The fifth seeds started well to take the first game 11-6 but found themselves 7-2 down with the Englishwomen starting to take control of the match. But in a surprising turnaround, they came back to not only level the second game but also wrap it in the second game of the gold medal match itself. Twenty first ranked in the world,  Joshna Chinappa was the more aggressive and effective of the Indian pair but the timely interception by Dipika Pallikal contributed in the making of history for the duo and squash.
In the semi-finals, Dipika Pallikal and Joshna Chinappa assured India of their maiden Commonwealth Games squash medal as they beat second seeds Kasey Brown and Rachael Grinham 11-9, 7-11, 11-4 victory to make the women's doubles final.
Earlier in the squash, the pairs of Saurav Ghosal-Pallikal and Harinder Pal Sandhu-Chinappa bowed out from their respective mixed doubles quarter-finals. Sandhu and Chinappa won the first game 11-7 but went on to lose the second 8-11 to New Zealand pair Martin Knight and Joelle King. Knight and King were more dominant in the last game, taking the decider 11-6 to proceed to the semi-finals.
Later, Ghosal and Pallikal lost their last eight clash in straight games to Australian duo David Palmer and Rachael Grinham 6-11, 9-11.
Get Commonwealth Games 2014 Complete Schedule of Indian Players Here