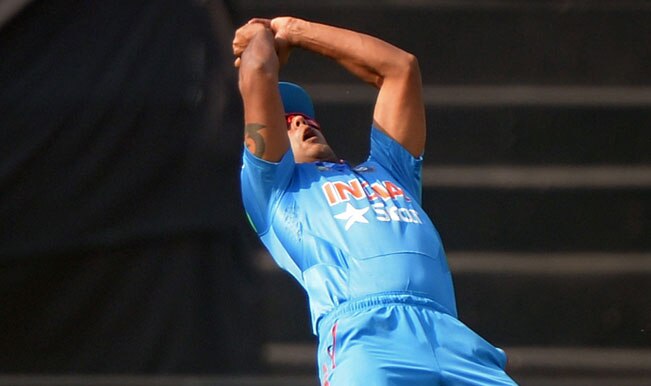 Nottingham, July 14: India survived a severe scare on the final day of the 1st Test of the current five-Test series against England to maintain a clean sheet before the second encounter at the home of the game, Lord's, later this week.
For this escape, the visitors have much to thank the debutante in their ranks, Stuart Binny, who, unfazed by the gravity of the situation, confidently coasted to 78, weathering in its wake the second new ball.
In fact, Binny may have recorded what would have been a memorable and well deserved 100 but for the dreaded finger cutting short his effort, which the International Cricket Council's Decision Review System (DRS) that the Board of Control for Cricket in India has spurned would have reversed.
Test cricket is as much about temperament as it is about talent and technique. It could, therefore, be said the rebuilt India, particularly Binny, passed the examination, not to mention the promise shown by Bhuvneshwar Kumar with the bat for a second successive outing.
The crisis set in when India deplorably snatched a first innings deficit from the jaws of a likely surplus. This deepened when openers Shikhar Dhawan and Murali Vijay got carried away against the innocuous off-spin of Moeen Ali to gift him their wickets on the penultimate day. So, the contest was in the balance on the fifth morning, when the quality of Virat Kohli was expected to guide India to safety.
But in the heaviest condition of the match, with the ball reverse swinging, both he and Ajinkya Rahane, the last of the specialist batsmen, departed early – the former lbw and the other caught behind off Stuart Broad. And soon the seasoned Mahendra Dhoni paid the penalty for being irresponsibly flamboyant against the very first ball of Liam Plunkett's spell.
This thrust Ravindra Jadeja into an unaccustomed match-saving role. He looked determined, but tense. It took him 38 balls to get off the mark. He often otherwise adopted this ploy to merely block the ball, an unfitting strategy at the Test level. He eventually perished to the new ball.
In summary, he's probably the best fielder in the Indian squad, but hardly turned ball in the England first innings and has batted unconvincingly in his first Test in England. India may have to turn to Ravindra Ashwin.
Binny's rearguard heroics ensured India's bowlers wouldn't have to exert themselves to save the match. This was welcome relief with the next Test looming Thursday. A strenuous workout may have left the quicker bowlers a tad exhausted. Nevertheless, the visitors must plan a rest and recuperation or rotation policy in the challenging circumstances of back to back Tests. In this context, it would be a mistake to ignore Varun Aaron's extra pace.
And why is Umesh Yadav, who impressed in England last year in India's successful campaign in the Champions Trophy, not in the touring party?