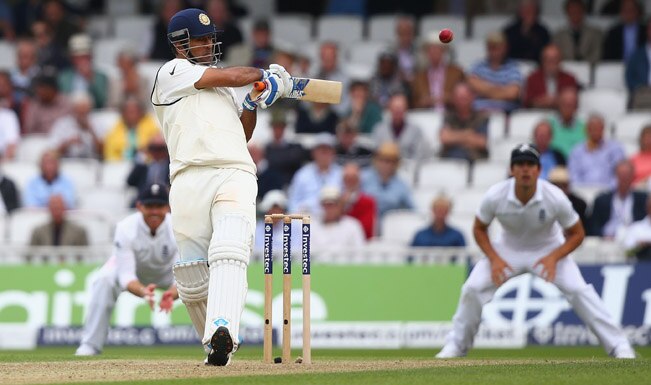 Mahendra Sigh Dhoni fought hard as India suffered a dramatic collapse in the opening innings of the fifth and final Test against England. The skipper smashed 82 runs at the Oval as the visitors ended the innings with 148 runs. Murali Vijay (18) and Ravichandran Ashwin (13) were the only other batsmen to stretch their personal tally to double digits.
Alastair Cook won the toss and elected for his side to bowl first. His bowlers continued from where they left off from the fourth Test at Old Trafford and Gautam Gambhir was the first to be dismissed. The left-hander's failed attempt to evade James Anderson's delivery nicked his bat and landed straight into the arms of Jos Buttler.
India found themselves four wickets down with just eight runs on the board in the previous game but the situation wasn't a lot different at the Oval. Cheteshwar Pujara (4), Virat Kohli (6) and Ajinkya Rahane (0) joined Gambhir back at the pavilion with just 28 runs on the board. M Vijay was the fifth one to join his compatriots as Duncan Fletcher's side were 43/5 with MS Dhoni and Stuart Binny on the pitch for the second session.
Binny contributed no more than five runs as Anderson struck for the second time. R Ashwin's 13 runs helped India cross the 50-run mark before Chris Woakes dismissed him in the 37th over. Tail-enders Bhuvneshwar Kumar and Varun Aaron scored 5 and 1 run(s) respectively leaving India with 90 runs on the scoreboard and just one wicket remaining. Dhoni went on to register his 33rd half-century in Cricket's longest format and helped his team crawl beyond the 100-run mark.
India managed 125 runs before the tea-break. Ishant Sharma remained unbeaten with seven runs as Dhoni smashed a total of 15 fours and one six. The 33-year-old wicketkeeper was out in the 62nd over as his attempted shot from Stuart Broad's delivery landed into the grateful hands of Chris Woakes at long leg.
Chris Jordan and Chris Woakes were the leading wicket-takers with three each to their account while Stuart Broad and James Anderson split four wickets evenly among themselves.
The Indian bowlers have a huge task of restricting the hosts in the 26 remaining overs for the day. It remains to be seen how they manage to pull it off as MS Dhoni attempts to salvage a 2-2 draw in the series by clinching this match.