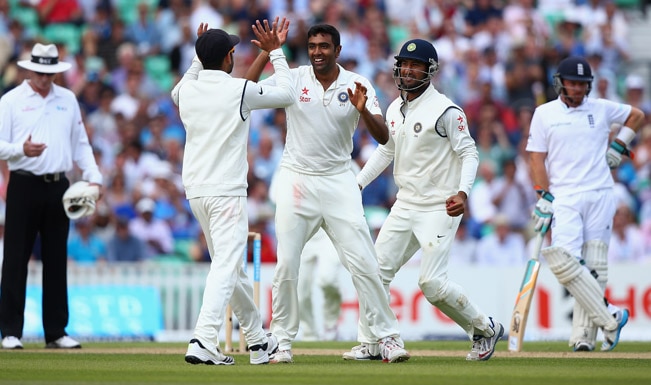 India end their five match Test series against England with a mortifying 3-1 defeat. After securing an early lead India missed out on an opportunity to dominate the proceedings and let England off the hook to bounce back in the series.Batsmen looked naïve, bowlers could not put up a spirited performance and India was poor in the field as well.As India end on a losing side we analyse the performance of 16 men who featured in the five Tests for India.
Batsmen
Murali Vijay: He is the India's highest run-getter with 402 runs at an average of 40.20. Vijay did exceedingly well in first two Test of the series notching a big hundred in the first Test and followed it up with two fifties. As the series progressed Vijay locked feeble against seam and scored only 85 runs in the six innings.
Remarks: Good
Shikhar Dhawan: Coming into the series with good performance on his back earlier in New Zealand, Shikhar Dhawan was disappointing and looked far from a technically sound batsman. He scored only 122 runs in six innings with 37 being his highest. Eventually after string of failures he was dropped for the last two Tests.
Remarks: Poor
Gautam Gambhir: India had picked three openers for England Test series and Dhawan's failure meant India had to use services of spare opener Gautam Gambhir, who had last represented India in Tests in 2012. On his comeback Gambhir failed to grasp the opportunity and managed to score only 25 runs in four innings. He looked rusty and aged as well.
Remarks: Poor
Cheteshwar Pujara: Filling in the void caused by Rahul Dravid's retirement at number three was and is no way an easy job. England series was Cheteshwar Pujara's big test outside Indian sub-continent, but the right-hander was below par in five Tests. No doubt he showed resistance in Lords Test, but all he could manage in 10 innings was 222 runs with just one fifty to his name. At such a pivotal batting position (number three) Pujara looked murky and perhaps one of the reasons why India suffered defeat.
Remarks: Poor
Virat Kohli: If Pujara was India's main hope playing second fiddle to him in batting department was Virat Kohli. The right handed batsman is unquestionably capable of winning matches on his own but in five matches he kept repeating mistakes and was no more a hard nut to crack for English bowlers. Kohli scored just 134 runs in 10 innings at an average of 13.40 and could not go past 50-run mark even once.
Remarks: Very Poor
Ajinkya Rahane: Just like Murali Vijay,Ajinkya Rahane too was impressive initially scoring a scintillating century at Lords and two half-centuries at Southampton. The right hander looked perfect solution to India's middle-order woes,but in last two Test matches he scored 29 runs in four innings. Rahane ended series with 299 runs from 10 innings.
Remarks: Good
MS Dhoni: Indian captain found himself in early at the middle and played some defiant innings. As a number six batsmen Dhoni relatively did a fine job batting with the tail. He is second on the list of most runs this series for India with 349 runs. Dhoni registered four fighting fifties at times when wickets kept falling from other end.
Remarks: Good
Rohit Sharma: He featured in just one Test during this series and could not dish out a solid performance. Rohit Sharma scored 28 and 6 in respective innings at the Southampton. 
Remarks:Poor
All-rounders
Ravindra Jadeja: He may be useful in limited overs cricket but in Tests Ravindra Jadeja has nothing to brag about. As a spinner he utterly failed to spin England batsmen in trouble and picked just nine wickets in six innings while Moeen Ali in rival ranks was running through the famed Indian batting line-up. As a batsman he scored a valuable fifty at Lords in second innings and helped India with few scores of 30s taking his tally to 177 in eight innings, but overall he failed to win accolades as an all-rounder.
Remarks: Poor
Ravichandran Ashwin: He may be ranked number two in latest ICC Test rankings for All-rounders, but Ravichandran Ashwin performs his duties in Indian side ironically as a lead spinner. After missing first three Tests, Ashwin was picked in the playing XI for the fourth Test at Manchester where he went wicket-less in the lone innings England batted, but he batted well coming in at number eight.At The Oval in fifth Test Ashwin bowled well for his three wickets.
Remarks: Average
Stuart Binny: Conditions in England tempted selectors to draft seaming All-rounder Stuart Binny in the squad. Binny in the first Test played a resilient knock of 78 runs to keep England team at bay, but he was far from effective with his bowling. Dhoni showed no confidence in him and in three innings he bowled only 32 overs. He went wicket-less in the series and was unlucky to see catches being dropped off his bowling, but one expected him to pick wickets and score consistently after being included in the side.
Remarks: Poor
Bhuvneshwar Kumar: One of the positives after such a long series for India was Bhuvneshwar Kumar. He was effective with both bat and ball and amassed three fifties in first two Tests and two five-wicket hauls to go with it. As a strike bowler he was India's leading wicket taker with 19 wickets and also scored more runs than Cheteshwar Pujara and Virat Kohli did.
Remarks: Very Good
Bowlers
Ishant Sharma: The most experienced bowler in the Indian squad Ishant Sharma had an ordinary first Test but he was instrumental in India's famous win at Lords by scalping his career best seven wickets. Indian then suffered a huge blow as Ishant was not 100% fit for following two tests. He finally took the field in all-important fifth Test,but could not finish on a high. In four innings the lanky fast bowler scalped 14 wickets.
Remarks: Good
Mohammed Shami: Going by his ability Mohammed Shami had poor outing in Test series. In five innings he picked just five wickets and was eventually dropped for the last two Test matches. India expected a lot from him given the seaming conditions in England, but he failed to put up a pulsating performance.
Remarks: Poor
Varun Aaron: Inclusion of Varun Aaron was perhaps a bit lateas the young bowler showed that his pace could have been used as a catalyst to trouble English batsmen. He featured in last two Tests and in two innings picked five wickets, giving India much needed breakthroughs at times.
Remarks: Average
Pankaj Singh: With an injury to Ishant Sharma, Pankaj Singh was handed debut. The sturdy fast bowler could not pick a wicket in his first Test and was expensive too, but captain backed him and played in Manchester as well. He did manage to pick wickets, but was leaking too many valuable runs.
Remarks: Poor