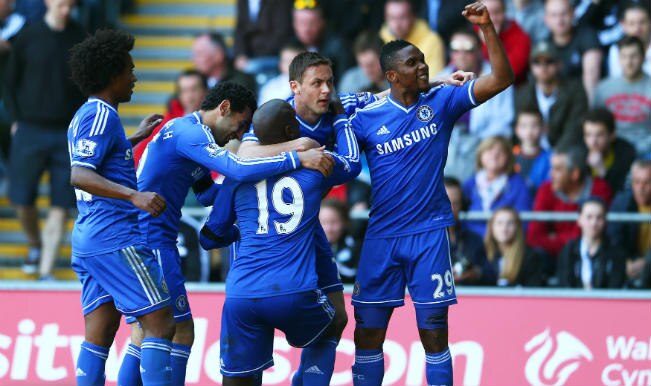 Jose Mourinho's Chelsea won 1-0 against Swansea City to keep themselves in the title race after Liverpool grabbed a vital 3-2 win over Manchester City. Demba Ba scored the winner, his second vital goal in only four days after he scored the second goal in the 2-0 win against PSG in the Champions League.
Chelsea knew they were to come up with a win after Liverpool beat third-placed Liverpool to stay on top of the English Premier League, 5 points ahead of the Blues. The London side were given an early advantage as Swansea were on the end of a harsh call from the referee as Chico Flores was sent off only in the 15th minute for a second yellow card in quick succession.
Swansea, who have dropped into the bottom six since sacking Michael Laudrup as manager in February, are only three points above the relegation zone. They knew they had to grab something and the sending-off didn't faze them too much. Chelsea were frustrated by Swansea's resolve to steal a point but were left for dead after Ba came to the rescue.
Even though Chelsea shared the lion's share of possession, they could not find the net, especially as Mohamed Salah spurned many chances.
The win took Chelsea two points behind Liverpool after 34 games each with Jose Mourinho's team due to travel to Anfield for a potential title decider in two weeks time.