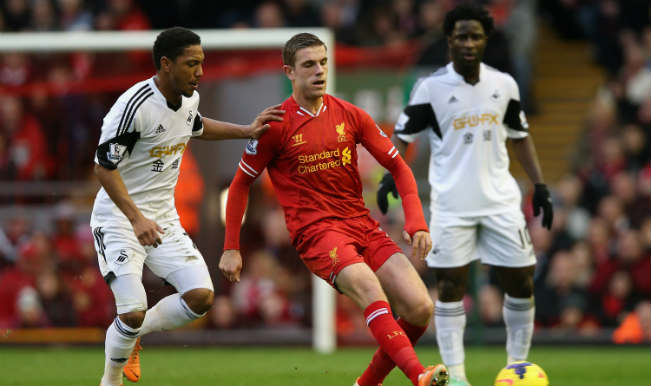 Jordan Henderson and Daniel Sturridge scored twice respectively to bailed out Brendan Rodgers and his side against much spirited  Swansea in 4-3 thriller at Anfield. Jordan's 74th minute goal helped his side to maintain a top four finish at the Premier league. The match accounts for an exciting first half as it comprised of five goals, with Liverpool leading 3-2. Sturridge third minute made him the only the second player after Manchester United's Ruud van Nistelrooy, to score in eight consecutive games.
Newcastle United ended their run of straight five home defeats, when Loïc Rémy scored against Aston Villa in the injury time, helping get much needed three points.
The matches played on Saturday witnessed an exciting dual between Chelsea and Everton. The match so looked to end in a draw, had it not been for Terry converting the free-kick taken by Frank Lampard into the nets for a goal. With this win Chelsea leads the pack with 60 points, followed by Arsenal with 59 points, both playing 27 matches each. Manchester City stands at the third position with 57 points in 36 matches and Liverpool is the last among top four with 56 points, courtesy their win over Swansea City.
Matches played on Sunday:
Liverpool 4 (Sturridge 3, 36, Henderson 20, 74) Swansea City 3 (Shelvey 23, Bony 27, 47-penalty)
Newcastle United 1 (Remy 90+2) Aston Villa 0
Norwich City 1 (Snodgrass 47) Tottenham Hotspur 0
Matches played on Saturday:
Arsenal 4 (Giroud 5, 31, Rosicky 42, Koscielny 57) Sunderland 1 (Giaccherini 81)
Cardiff City 0 Hull City 4 (Huddlestone 18, Jelavic 38, 57, Livermore 67)
Chelsea 1 (Terry 90+3) Everton 0
Crystal Palace 0 Manchester United 2 (Van Persie 62-penalty, Rooney 68)
Manchester City 1 (Toure 70) Stoke City 0
West Bromwich Albion 1 (Vydra 86) Fulham 1 (Dejagah 28)
West Ham United 3 (Jarvis 20, Cole 23, Nolan 71) Southampton 1 (Yoshida 8)
Chelsea remains on top but Arsenal, Manchester City and Liverpool are fighting it close the gap and move towards becoming the champions. Read this section for more Premier League actions.
Inputs from IANS