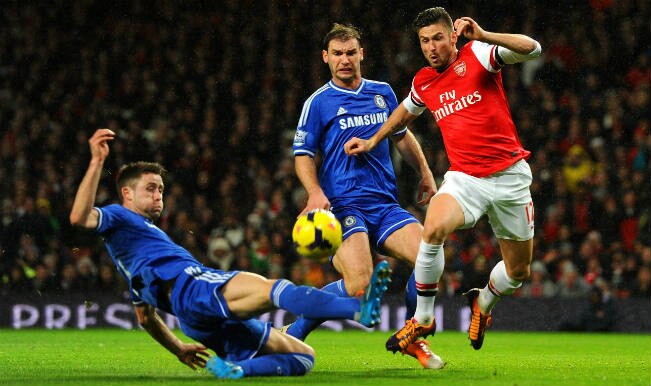 After a riveting week of Champions League fixtures in and the Champions League draw, everyone's attention is back to the English Premier League title race. In one of the fiercest race to win the EPL crown, Week 31 boils down to the table toppers Chelsea and third placed Arsenal. (Read: Why you should watch Arsenal vs Chelsea)
The Blues go into their meeting with Arsenal on the back of a 2-0 win against Galatasaray in the Champions League. But the game will be their first after the shock defeat to Aston Villa last weekend. Sitting four points behind Chelsea with a game in hand, Arsenal know their hopes of clinching their first title in 10 years would receive a huge boost with victory at Stamford Bridge. Arsene Wenger will be managing Arsenal for the 1ooth time.
Title contenders Liverpool travel to Cardiff City Stadium to fight EPL relegation candidates Cardiff City. Liverpool's 3-0 win at Manchester United last time out showed that Brendan Rodgers and Liverpool really mean business in the English Premier League.
Manchester United who were given a nightmare as they drew Bayern Munich in the Champions League quarter-finals, face West Ham on Saturday before playing Manchester City in the midweek. Manchester United bucked-up to beat Olympiakos 3-0 in the Champions League, and now be looking to gain some momentum on a season that has seen more lows than highs for manager David Moyes.
All the EPL Fixtures:
Saturday
Chelsea vs Arsenal (6:15 IST)
Cardiff City vs Liverpool (8:30 IST)
Everton vs Swansea City
Hull City vs West Brom
Manchester City vs Fulham
Newcastle vs Crytal Palace
Norwich City vs Sunderland (8:30 IST)
West Ham vs Manchester United (11:00 IST)
Sunday
Tottenham vs Southampton (7:00 IST)
Aston Villa vs Stoke City (9:30 IST)