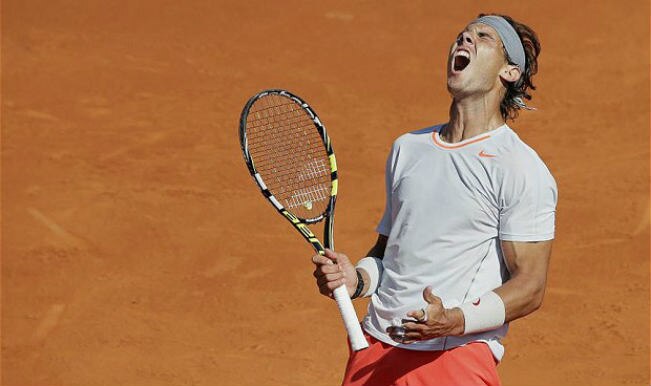 Without much surprise in store Rafael Nadal is given the top seed at French Open 2014. But unlike the previous years it does not look an easy ride for the World No. 1 with quite a rusty campaign on the slow red surface. And adding woes are his rivals second seed Novak Djokovic and third seed Stanislas Wawrinka that are closing the gaps by playing fierce competitive game at one of the toughest surface.
The clay season of 2014 was something not to boast of for the fifth time French Open defending champion Rafael Nadal. For the 27 year-old Spaniard lifting record ninth French Open crown is not going to be easy considering the torrid run he has had throughout the 2014 clay season. Barring the win at Madrid finals against Japan's sensational player Kei Nishikori pulling out owing to injury, Rafael Nadal had lost his way in Monte Carlo against fellow countryman David Ferrer, at Barcelona to Nicolas Almagro in the quarterfinals respectively. He also lost to Serbian Novak Djokovic in the finals at Rome last week.
Rafael Nadal who has eight French Open titles under his belt is suddenly under scanner with his below par performances at the ATP tour events where he has had record number of wins. Somewhere the dominance of Nadal at his favourite court seems to be missing.  He will be defending his French Open title for the record fifth time and is likely to face players who not only have grip on the clay-court but are the ones who have beaten him this season. He could face Nicolas Almagro or David Ferrer in the fourth round and quarterfinals respectively. He also has Scottish player Andy Murray in his half of the draw as well.
Rafael Nadal who has a career record of 59-1 at the Stade Roland Garros might have lost his way in the pre-Grand slam tournaments, but it would be his vast experience over the years that is going to count at the highest level of event. Novak Djokovic who defeated Nadal in the Rome finals has lost all his matches against Nadal at the French Open on five occasions. The Serb described winning against French Open champion is an "ultimate challenge". And true are his words as Nadal who lost his only match against Robin Soderling in 2009 remains to be the player to defeat when it comes to the red surface.