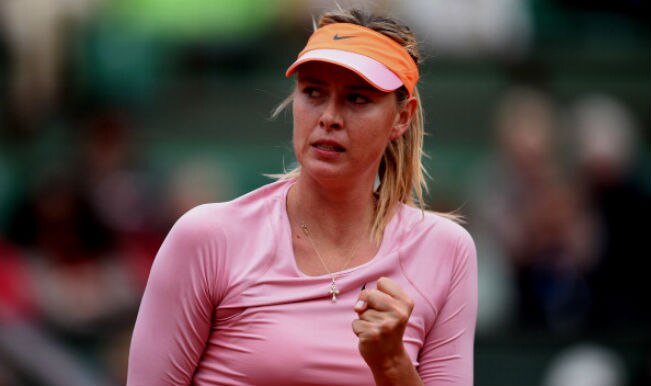 Seventh seeded Maria Sharapova continued her fine form in the second round of French Open 2014 as she defeated Bulgarian Tsvetana Pironkova in straight sets 7-5,6-2. The match started off on an even-steven note with both the ladies looking to make a match of it but it was Sharapova's powerful play and grit that proved too much for ailing Pironkova who suffered from nagging injury in left foot.
Maria Sharapova was stretched out by World No. 42 Tsvetana Pironkova as the Russian tennis ace failed to convert many of the break points in the first set. The set was level at 5-5 when Pironkova seemed to be struggling with her run. Sharapova drew the first blood with perfect serve to take 6-5 lead and with the luck favouring on seventh seed side, Maria Sharapova won the first set 7-5 in 55 minutes.
The beginning of second set was delayed with Pironkova taking the medical time out with trainer attending to her injured foot. The match resumed with Maria Sharapova swinging in full flow with whipping forehands down the baseline. She displayed top-spin and wonderful ground-strokes to take the second set 6-2.
Sharapova led 4-0 head-to-head against Pironkova before the start of this match and she continued her dominance over the Bulgarian.
Earlier on the day, biggest shocker came in form of defending champion bowing out in the second round against Spanish player Garbine Muguruza. The straight set 6-2, 6-2 loss was Serena's earliest defeat at the majors in last two years.