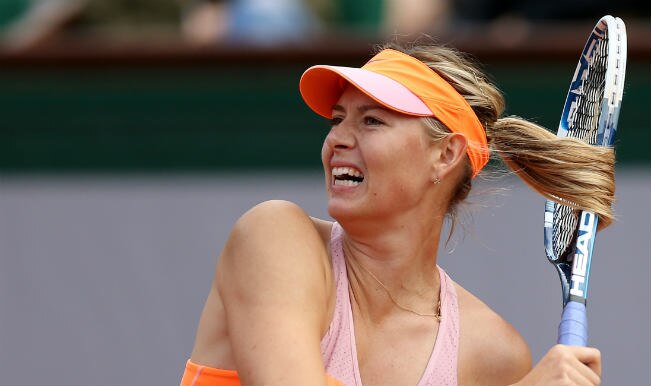 Maria Sharapova handed Paula Ormaechea of Argentina a double bagel 6-0, 6-0 as the seventh seeded Russian beauty advanced to the fourth round of French Open 2014 in style. She defeated a hapless Paula Ormaechea in a one-sided affair in mere 51 minutes.
Seventh seed Maria Sharapova and World no. 75 Paula Ormaechea walked into the center court of Philippe Chatrier and soon rain interrupted in the first game of the match for 30 minutes. It was a nervous start for the 2013 finalist saving three break points. Maria Sharapova then went on to play a supreme game that saw the first double bagel of the French Open 2014.
It was Maria Sharapova's brilliant display of cross-court backhands, superb ground-strokes that led her to the fine victory. As for Paula Ormaechea, it was nightmarish performance where the Argentine player failed to win a point on her second serve in the whole match and won only 37 percent of points on her first serve.
With the kind of form Maria Sharapova has shown and the continous tumbling of the top seeds in form of top seed Serena Williams, second seed Li Na and third seed Agnieszka Radwanska, the Russian play is hot favourite to lift the French Open 2014 trophy.
Maria Sharapova next faces Samantha Stosur from Australia who squandered Australian Open 2014 finalist and ninth seed Dominika Cibulkova's hope of moving forward at Roland Garros in straight sets 6-4, 6-4.