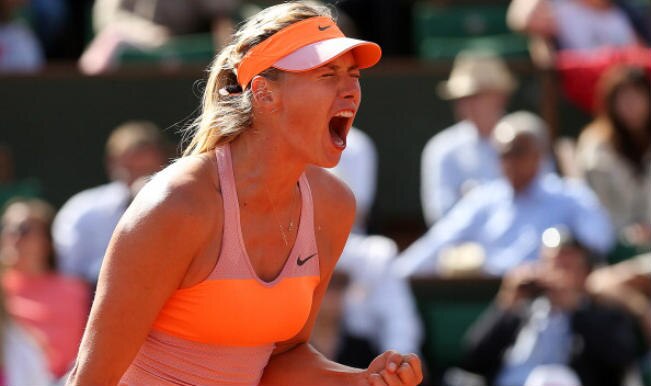 Seventh seed Maria Sharapova clenched her fist and turned to look at her supporters as she hit a forehand winner to win a nail-biting match against Eugenie Bouchard at French Open 2014. And with this win, the World No. 8 reached her third successive final at Roland Garros. The match with score-line of 4-6, 7-5, 6-2 in favour of the Russian, finished just close to two and half hours.
When Maria Sharapova and Eugenie Bouchard walked to the Philippe Chatrier Court, not many would have expected such a close affair. Sharapova started against a jittery Bouchard by holding her service game easily. Playing only her second semi-finals in her short career, Bouchard had to be nervous, but the brightest face on tour marked her arrival with her powerful game.
[Also Read: Maria Sharapova: 7 greatest victories of the Russian tennis ace]
Bouchard started off by not only holding her service but also breaking Sharapova's serve in the next game to take a 3-1 lead in the first set. Maria Sharapova was clearly struggling with her first serves throughout the match. She managed to break Bouchard in the first set but could not hold her own game to hand the first set to Bouchard 6-4.
And not for the first time, one has seen Sharapova lose the first set and come back strongly in the next. As expected the Russian started off by getting early break of point to go 2-0 up in the second set. But Sharapova squandered a 5-2 lead and allowed Bouchard to level the game 5-5 in the second set. At this point time Sharapova served big to go 6-5 up, riding on her ground strokes. She next managed to finally square the semi-final match by taking the second set 7-5 as Bouchard's forehand found the net.
Maria Sharapova who has had a fantastic record of playing three setters had an advantage over Eugenie's inexperience. Just like her last round matches against Garbine Muguruza and Samantha Stosur, she overrun Bouchard in the deciding set to go 4-1 up. But this rising star from Canada looked in no mood to give up the fight so easily and it took five match points before the seventh seed's forehand winner clipped the baseline to win the match.
Eugenie Bouchard with her great hitting, smart play impressed all including her opponent who considered herself lucky to be winner on Thursday. Sharapova with this win made to her third consecutive finals at Roland Garros.  She will be playing winner between fourth seed Simona Halep from Romania and Andrea Petkovic from Germany.