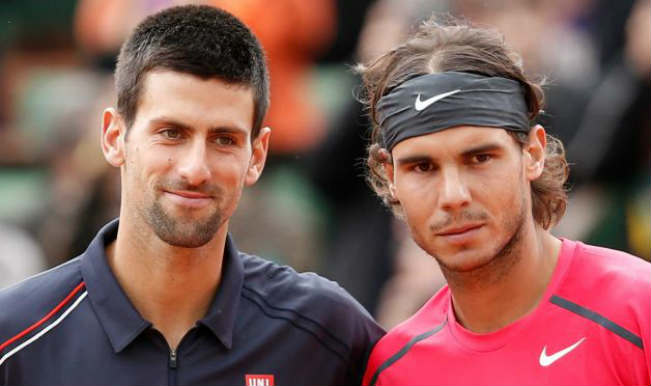 The French Open 2014 final will see top seed Rafael Nadal take on second seed Novak Djokovic as the last men standing for the glorious Roland Garros title. Nothing could be better the contest between the contests between the top two players of the tournament. Nadal who is aiming to go down the record books as the man with nine Roland Garros title finds a serious challenger in form of Novak Djokovic. As for Djokovic himself, the win at Paris would mean the completion of his Career Grand Slam.
With rare feat in sight, Rafael Nadal dusted his opponent, seventh seeded Andy Murray from Great Britain to advance to record ninth final of French Open. The Spaniard posted a straight set 6-3, 6-2, 6-1 win on Court Philippe Chatrier. Rafael Nadal stretched his lifetime record on clay to magnificent 65-1 and also maintained phenomenal head-to-head record to 15-5 over Andy Murray.
Coming into the match, not many would have expected such a lop-sided affair between Nadal and Murray. But the top seed dispatched Murray and did not allow the player to settle the player on the court. Nadal gave one of the finest performance in the ongoing tournament has certainly brushed aside the questions regarding his dominance.
Earlier on Friday, Novak Djokovic from Serbia became the first finalist of the French Open 2014. But the road was not very rosy as he faced a little difficulty in brushing off the challenge from Ernests Gulbis. The Serb downed Gulbis in four sets 6-3, 6-3, 3-6, 6-3 playing the first semifinal.
The six times grand slam winner easily romped ahead with a two set lead before the unconventional Gulbis bounced back to quickly take the third set, leaving many surprised. But Djokovic made sure there was no fairy tale ending to Gulbis story and made short work in the fourth set advancing to his second Roland Garros final.
Rafael Nadal and Novak Djokovic have met each other in French Open on five occasions, with the Spaniard leading undefeated 5-0. But Djokovic has beaten the world no. 1 in their last four meeting that include a win on the clay court in the final of the 2014 Rome Masters.