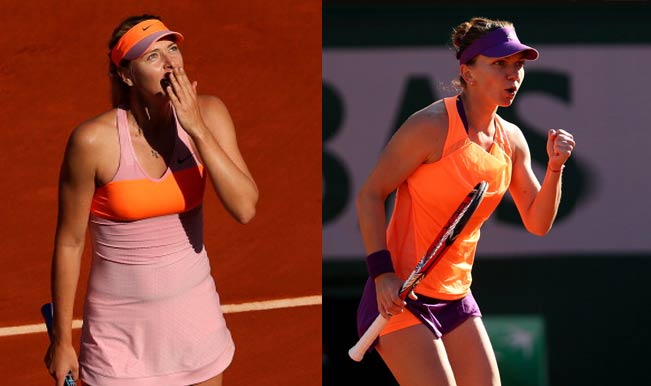 The battle ground is set for the biggest match of the women's singles to be played at Roland Garros. And the two players making it to the end is the fourth seed Simona Halep from Romania and seventh seed Maria Sharapova from Russia. Simona Halep is aiming to be the first Romanian to win at Roland Garros after Virginia Ruzici, her manager. As for Sharapova, she has her eyes set on her second Roland Garros title and fifth overall.
Sharapova who loves to play groundstrokes and dictate points from the baseline goes into the final with an upper edge. One of the toughest and competitive players on tour, it is not going to be an easy play for Halep. Halep who is swifter of the two,  will have to take advantage of Sharapova's scrappy movement on the surface.
In what has been a glorious run for both the players in the French Open 2014, Simona Halep has come up as a dominating player on the red clay court, who is yet to lose a single set in the tournament. On the other side is the Russian Maria Sharapova, who has suddenly become an epitome for gritty play. She made her third successive comeback in the tournament, in her semifinal match against Eugine Bouchard after losing the first sets. She earlier defeated Garbine Muguruza and Samantha Stosur in similar fashion.
Maria Sharapova, 27-year-old, and Simona Halep 22-year-old, road to final at Roland Garros has been an interesting tale of contrasts. One is known for her determination; the other has brought grace and elegance to the game. But playing the Final is an all-together different game for the players. At this stage, experience of Sharapova will come handy over her opponent who is making her first final appearance. Sharapova is making her 9th final appearance, with a win-loss record of 4-4 at present.
Sharapova leads a 3-0 head-to-head contest over the fourth seed, with the last win coming on the clay court in the Madrid Open finals. Maria Sharapova has won two clay court titles while Simona Halep has been in great form to win seven titles, second only to Serena Williams since last year.
Sharapova who has won record 19 three-set matches on clay confessed about how much she would love to win matches in two sets. This final at Roland Garros is expected to be a close affair but should see Sharapova winning through in two tough sets.