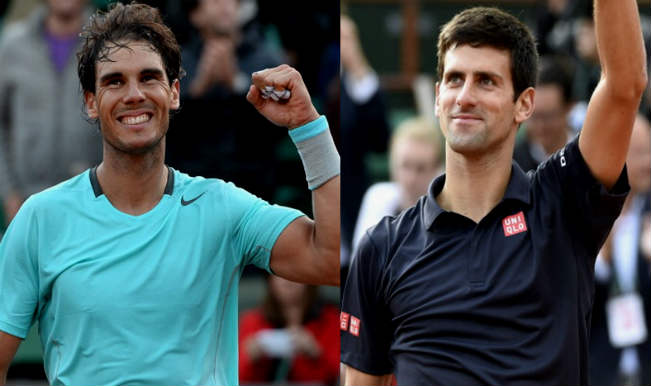 The last day of Roland Garros has all the ingredients to become the blockbuster Sunday – No. 1 seed Rafael Nadal will be taking on the No. 2 seed Novak Djokovic for the French Open glory. If this was not better, the two players are also known for not sharing cordial relationship and that adds to the drama. Once good friends, now do not quite see eye-to-eye off court just like they are fierce rivalries on court, post Senior Djokovic's comments on Rafael Nadal.
In today's final at Roland Garros, a lot is at stake for both the players. On one hand, there is an eight time champion – Rafael Nadal, looking forward to defend his title for record five times. And the other side sees a determined Serbian ace Novak Djokovic, who wants to get his hands on his first Roland Garros title to complete his Career Grand Slam. This magnificent feat was achieved by his opponent at the age of 24 and the youngest to do so. One more thing that is highly on stake is the crowning of World No. 1. The player, who wins the French Open 2014 title, wins it all.
Rafael Nadal and Novak Djokovic's rivalry is one of the prominent ones in the Open Era. The two have played each other record 41 times, with the Spaniard leading head-to-head contest 22-19 over Djokovic. They have played each other in 16 finals since 2011, with six of them coming at the Grand Slams.
For the first time, coming into the tournament Rafael Nadal was not seen as the favourite to lift the trophy. This had more to do with his inconsistent performances during the entire clay-court season and also because of his injury scares. With his contemporaries closely following Nadal's heels, 2014 French Open looked a tough outing for the eight time champion. But the Spanish player has come out very strongly in his last match against the seventh seed Andy Murray to become crowd's favourite for the title once again.
As for Novak Djokovic, the Serb has been quite consistent with his performance and was stretched by Ernests Gulbis in four sets before the Latvian was dispatched. Novak Djokovic enjoys a psychological advantage over Rafael Nadal, after the former has beaten World No. 1 in their last four outings. The most recent victory was on the clay court to lift the Rome Masters title.
But for Nadal, who calls Court Philippe Chatrier his favourite stadium in the world enjoys undefeated 5-0 win-loss record over Djokovic at the French Open. And with his much improved game and execution, it looks like Rafael Nadal should stretch his winning record on clay for his ninth French Open title in four sets over Djokovic. He currently stands at 65-1 win-loss record on clay in his career.