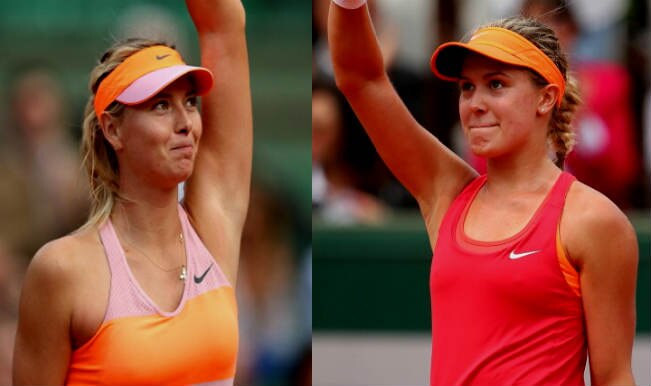 Maria Sharapova and Eugenie Bouchard fought their ways out to make to the semi-finals of French Open 2014. The two players were tested both physically and mentally by their respective opponents in their last round matches. On one hand where seventh seed Maria Sharapova had to fend off rising star in form Spanish Garbine Muguruza, Eugenie Bouchard played another player from Spain, Carla Suarez Navarro. And this is not the only thing common between the two players meeting in the semi-finals at Roland Garros 2014.
Both Maria Sharapova and Eugenie Bouchard are gritty players on field and posses great looks that add to their popularity. These ambitious NIKE girls do not boast of great peers on tour and keep more to them. Sharapova who has played Bouchard at the Roland Garros last year in the second round enjoys an undefeated 2-0 head-to-head meeting.  But over the course of a year, Sharapova would find an improved, matured Bouchard that is making her second consecutive grand slam semi-finals appearances. She had earlier been to Australian Open 2014 semis, losing to eventual champion Li Na.
For Maria Sharapova, Eugenie Bouchard's growing prominence may not be a problem but one cannot deny she is a serious threat to her both on and off court. The young Canadian is enjoying the spotlight for her improved display of tennis with every match. She came back well against Carla Suarez Navarro after falling 4-1 behind in the deciding set. It talks about her mental toughness.
As for Sharapova herself, she has shown the reason for being called the Queen of Comebacks. In her last two matches, firstly against Samantha Stosur and later against Garbine Muguruza, Maria fought well to comeback after losing the first set.
It would be extremely interesting to watch two of the fiercest players on tour, who depend a lot on their big service games. Maria Sharapova is a known baseliner and so is Eugenie. Sharapova will need to cut down on her double-faults and unforced errors as Bouchard loves to play long rallies and can be extremely frustrating for the opponent. But overall it looks like Maria Sharapova will make her way through her third consecutive French Open final in straight set victory over her eighteenth seeded opponent.