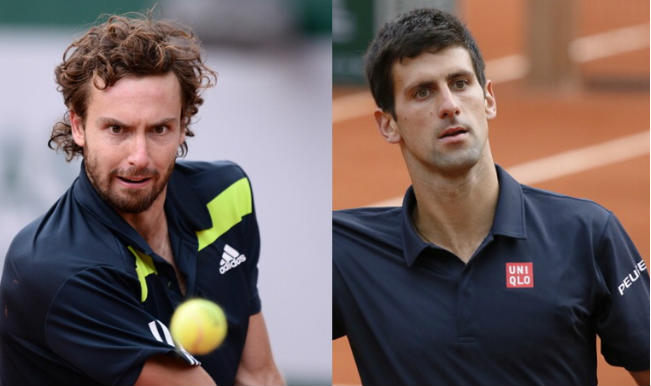 Roland Garros have reached its later stages with semi-finals stages set up. Among the best four players making through to the semi-finals of French Open 2014 are second seed Novak Djokovic and eighteenth seeded Ernests Gulbis. Djokovic  has a good record of 4-1 win-loss against Gulbis.
Both the players have goal in sight at one of the most toughest tournaments on the tour – Novak Djokovic will look forward to moving an inch closer to winning the only grand slam title eluding from his set. While for Latvian player Gulbis, it is more than moving to his first grand slam final appearance. It is about displaying his commitment and seriousness towards the game.
Over the last ten days since the French Open 2014 have started, Ernests Gulbis has surprised many with his impeccable performances. He removed fourth seed and 17 times grand slam winner Roger Federer in the fourth round after a tough five sets match. He later continued his march by easily posting a victory over the sixth seeded Tomas Berdych of Czech Republic in comfortable 6-3, 6-2, 6-4 win. He has been on a roll and would be serious challenge to the second seed Novak Djokovic.
On his route to the semi-finals for the 2012 French Open finalist has been a smooth ride barring the match against Marin Cilic where the Djokovic dropped his only set so far in the tournament. Despite being stretched by his opponents, Djokovic has not dropped the sets and that talk about his dominance at the clay court.
Both Djokovic and Gulbis are seen as the funnyman of the ATP tour. Apart from sharing jokes and having the audience in splits with their jokes, the two are very different in their approach. On one hand Djokovic is an-all court player who enjoys playing deep ground strokes and is an aggressive baseliner. While for Gulbis, he is more consistent with his backhand and depends a lot on drop shots.
Well it will be interesting to watch whether Ernest Gulbis can continue with his fairy tale run or reality in form of second seeded Serbian Novak Djokovic will finish his game off. As for the semi-final between the two looks like, it will be Serbian Djoker winning in four sets.