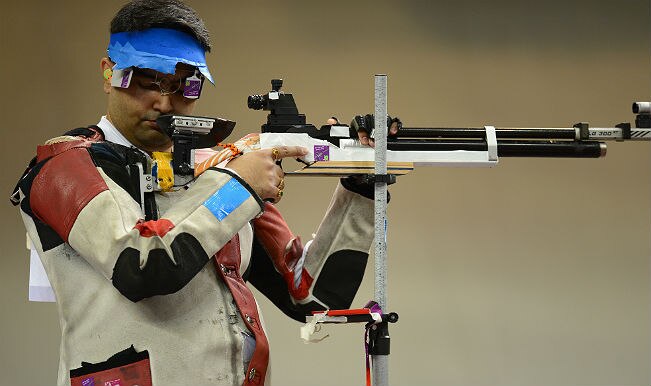 India, which is currently struggling at thesixth position in the 2014 Glasgow Commonwealth Games, would easily have been at more respectable fourth position had some of the renowned athletes performed to their potentials. These athletes delivered much lesser than what was expected from them. They simply failed to repeat their performance of 2010 Delhi Commonwealth games, let alone improving it. Let's now have a look at the four reasons why India is not in the top four in 2014 CWG –
1. Gagan Narang
The 31 year Air rifle shooting sensation was not able to repeat the success of his previous commonwealth games and had to settle for disappointing silver and a bronze in his 3rd CWG. The Olympic bronze medal winner had won 4 gold each in his previous two appearances in these games in 2006 and 2010. Gagan won a bronze medal in men's shooting in 50m Rifle 3 Positions Individual event, which was a very disappointing result for India considering his standards. He had won gold in this event in the last two CWG. Had he replicated his past performances India would have been comfortably placed at 5th position with 12 gold medals edging past New Zealand!
2. Anisa Sayyed
Anisa won a silver in women's shooting 25m pistol event. Supported by Anglian Medal Hunt Company, her performance was a letdown and was totally unexpected. She had won gold in 2006 SAF games and was coming to 2014 Glasgow CWG on the back of her gold medal winning performance in the same event four years back. She had won 2 gold medals in 2010 Delhi Commonwealth games and was expected to win gold here as well. Her gold in 2014 CWG would have taken India's tally to 13 gold medals, which was good enough to edge past Scotland!
3. Katulu Ravi Kumar
The 26 year old ace wrestler who won a silver medal in men's wrestling in 77 kg category must have been disappointed by his performance. The whole nation was looking for a repeat of his heroics from Delhi CWG; however, that was not to be as he finished 2nd in these games. He had won a gold four years back in 69 kg category. His gold would certainly have consolidated India's position at number 4 in medals tally!
4. Harpreet Singh
The champion shooter from Haryana won a silver medal in men's shooting in 25m rapid fire pistol event. Harpreet who serves as a sailor in Indian Navy could not repeat his performance from 2010 CWG where he won 2 gold in 25m centre fire pistol pairs and individual event. His better performance here could have given the country some respectability at fourth position in the medal tally.