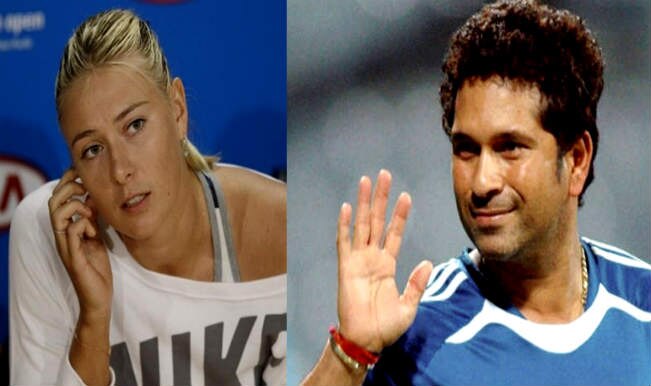 Master Blaster Sachin Tendulkar finally talked about the controversial episode involving Russian tennis star Maria Sharapova's 'ignorance' about the cricketer. The former Indian cricketer Sachin Tendulkar clarified that the comment made by tennis star Maria Sharapova was not 'disrespectful'. He said it could be because maybe she does not follow cricket.
Speaking to one of the leading news channels, Sachin Tendulkar showed why he remains to be one of the humblest and gentleman in the sporting world as he backed the tennis star's comments. The controversy between two of the biggest names in their respective games started during the Wimbledon 2014 when Maria Sharapova during her post-match conference was asked about Sachin Tendulkar being present during her match.
Maria Sharapova when was asked by one of the media persons, "Sachin Tendulkar was the other person who came in at the same time as David (Beckham). Do you know who Sachin is?" The 2014 French Open champion flatly replied that she has not heard of him.
This ignorant attitude was not liked by Sachin Tendulkar fans all around the world with many of them posting several unsavoury posts on Maria Sharapova's Twitter and Facebook account. The anger among the pro-Sachin groups was so much that it led to start of trending topic #WhoIsMariaSharapova. The pin-up girl of tennis maintained a stoic silence over the whole episode. But we are sure this gesture by gentleman Sachin Tendulkar has surely touched the hearts of many and proved why he remains to be the greatest person ever seen.
And hopefully now Sachin Tendulkar fans can let bygones be bygones!