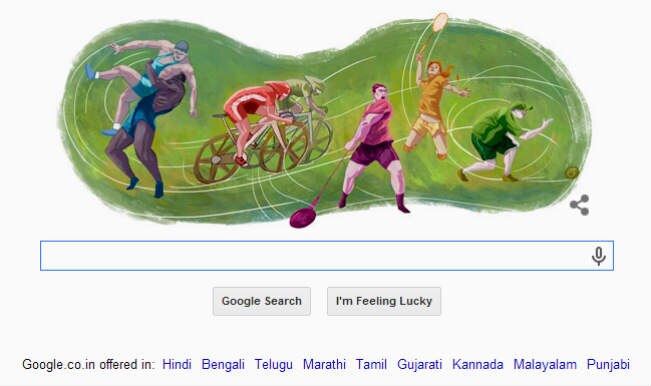 The Glasgow 2014 Commonwealth Games starting today on July 23 were paid first tribute by never late Google doodle. The search engine giants Google marking the respect of one of the biggest multi-event sporting tournament doodled in its colourful fashion. But the viewers were in for a surprise as Google cut down on the much loved animation in the doodles that is kind of expected during such big events. We some how loved the letters dancing around during the FIFA World Cup 2014 forming Mexican waves, animal oracles and so much more. But sad Commonwealth Games doodle did not have letters swimming, throwing shot puts! Sigh.
Animation or no animation, Google doodles are always great dash of colours for the users. In this doodle they have used a dark green background representing the huge stadiums of Glasgow probably referring to the Celtic Park. For representing the letters GOOGLE, there is a picture of two wrestlers as G, two cyclists, one shot putter, one badminton player and a person lawn bowling.
The 2014 Commonwealth Games or the XX Commonwealth Games will be held in Glasgow, Scotland, from 23 July to 3 August 2014. The 20th edition of Commonwealth Games being hosted by Scotland for the third time after hosting in 1970 and 1986 earlier but in Edinburg. It will see a participation of 4,947 athletes with 261 events taking place in 17 sports.
The opening ceremony will take place at the Celtic Park while the events will wrap up on August 3 with the closing ceremony taking place in Hampden Park.