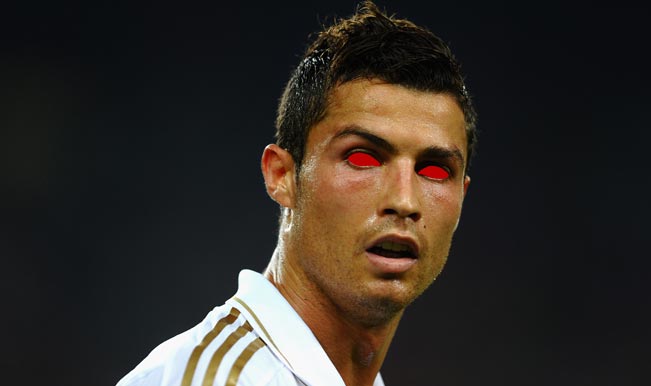 Cristiano Ronaldo celebrates his birthday on February 5. The Real Madrid winger is now currently regarded as the best football player in the world after recently winning the Ballon D'Or. He has gone a long way to win the most coveted football prize after religiously improving himself.
But apart from starring in football advertisements and scoring the most outrageous goals, the world's best football player has also shown a dark side.
The talented player was once remembered as an arrogant, obnoxiously confident and selfish player has entertained all football fans with his tantrums on the field and his stupid red cards. Let's recall the times the Real Madrid star has either seen the occasional red card or seen himself to become the devil:
Cristiano Ronaldo gets red carded in Manchester derby: The Portuguese international was shown a straight red card by referee Steve Bennett for a lunging tackle on Andy Cole midway through the second half. Man City won 3-1.

Cristiano Ronaldo shows Benfica fans the finger: The star showed the middle finger to the Benfica fans after being substituted in a Champions League match. The winger was fined £4,000 and suspended for one European game for the middle-finger salute. Manchester United lost 2-1.

Ronaldo gives birth to the most infamous wink: Probabably one of Cristiano's biggest controversy, in the 2006 World Cup he complained aggressively to the referee after Wayne Rooney stamped on Ricardo Carvalho during an England-Portugal quarter-final. The Portuguese winger winked at the bench after Rooney was given his marching orders leading to much media speculation that he had influenced the decision to send the England player off.

Cristiano Marcelo grabs Marcelo's throat: In a heated meeting with Brazil, Portuguese winger Cristiano Ronaldo lost his cool and laid his hands on the Brazil's left-back's throat. Ronaldo joined Marcelo in Real Madrid next year.

Cristiano Ronaldo pushes Barcelona manager Pep Guardiola: During the heated El Clasico, Cristiano Ronaldo wanted the ball back from Guardiola but the coach instead dropped the ball down. Cristiano instinctively shoved the Barcelona coach which drew angry Barcelona players towards Cristiarno Ronaldo. Crisitano's Real Madrid were thrashed 5-0 at the Nou Camp.

Ronaldo gets sent off against Athletico Bilbao: In his most recent controversy, that too after winning the Ballon D'Or, the Portuguese reacted terribly by showcasing his catty scratches! Ronaldo was sent off for reacting to a shove by Carlos Gurpegi and then a confrontation with Ander Iturraspe in the 75th minute. Although he was harsh sent off, Ronaldo shouldn't have reacted in such a manner.