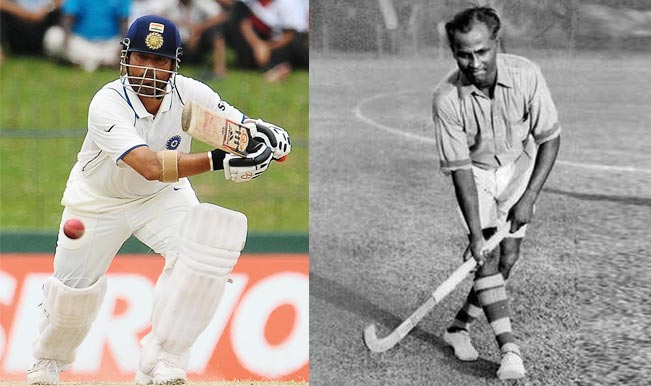 In a last minute change that was made by the Manmohan Singh-led UPA government, cricket legend Sachin Tendulkar was chosen over hockey champion Dhyan Chand for Bharat Ratna, according to an exclusive report by Headlines Today. The channel found a set of e-mails, which involved Prime Minister's Office and showed how the government ignored Dhyan Chand to favour Sachin Tendulkar.
According to an amendment made in 2011, sportspersons were eligible for the highest Indian civilian honour – the Bharat Ratna. On July 16 last year, Sports Minister Jitendra Singh had recommended the hockey champ's name for the Bharat Ratna which was later acknowledged by the Prime Minister. According to the Headlines Today report, PMO note revealed that Dhyan Chand's name was making rounds for the award till early August 2013.
Although Singh approved scientist CNR Rao for the award on October 24, PMO asked the Ministry of Youth Affairs and Sports to send Sachin's bio-data within a day. On the day of last day of Sachin's cricket career, approval for Rao and Tendulkar came the same day from the Election Commission.
Dhyan Chand's son commented on the issue saying, "It is a matter of great disappointment for crores of Indians that Dhyan Chand's name was excluded and Sachin Tendulkar's name was brought forward. It was a political game played against Major Dhyan Chand."
The great hockey player, Dhyan Chand had helped India win three Olympic golds in the 1928, 1932 and 1936 Olympics. Congress MP and BCCI vie-president Rajeev Shukla commented on the issue saying that comparison should not be made between Sachin Tendulkar and Dhyan Chand.