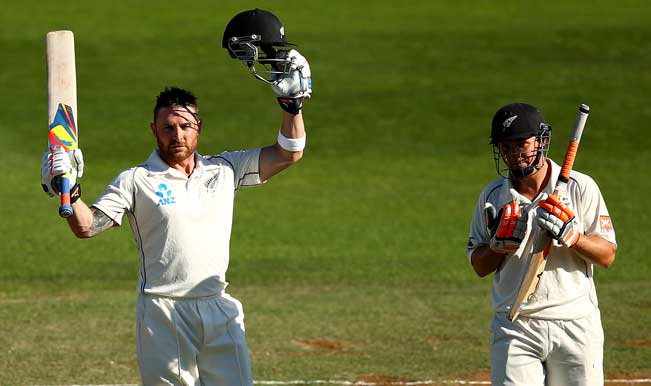 New Zealand ended day 3 at 252 for five, leading India by 6 runs in the second and final Test on Sunday. Skipper Brendon McCullum and B.J. Watling shared a 158-run stand for the sixth wicket to bail New Zealand out of trouble.
Only four wickets fell on day 3. Three wickets in the morning session and one wicket fell in the second session. It was a disciplined performance considering the Indian bowlers picked up the three wickets giving away just 63 runs from 25.1 overs. The bowlers kept up the pressure in the post lunch period as well with some tight bowling but only managed one wicket as New Zealand fought their way to 146 for five at tea on the third day of the second and final cricket Test.
The post-tea session began with New Zealand at 146 for five. Brendon McCullum managed his 29th half-century in Test cricket. If you look at it, it was a completely different type of innings than one usually associated to McCullum. He was happy to play without taking too many risks.
The day saw Watling complete 1,000 runs in Test cricket on his 21st Test match. He is the only New Zealand player to do so. While McCullum reached 5,000 runs in Test cricket. He is also only the fourth New Zealand player to reach the 5,000-run mark. Later, he also scored his 9th century in Test cricket.
Watling soon got his seventh half-century in Tests with a four through third-man. New Zealand then took the lead against India in the 94th over. New Zealand keeping the match interesting for sure, heading into the fourth day.
To checkout the action in pics, click here…