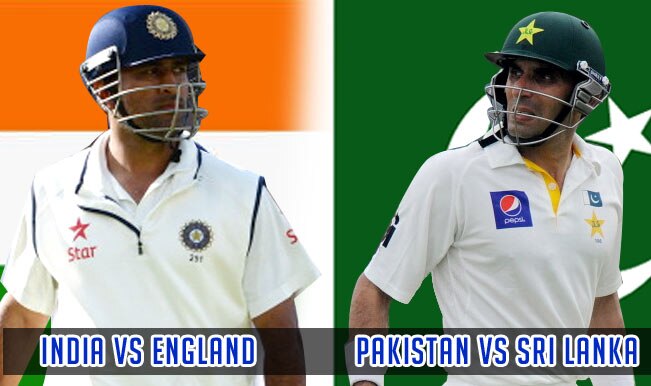 While neighbouring countries Pakistan and India will be celebrating their respective Independence Days on consecutive days, cricket teams from both the Nations will take field for their respective Test assignments. Both India and Pakistan cricket teams are currently on their away-tours, India is battling it out against England while Pakistan is busy competing with Asian neighbour Sri Lanka. Both the Asian giants, India and Pakistan are trailing in their respective Test series. India are 1-2 down in a five-match Test series meanwhile Pakistan too are 0-1 behind in a Two match series.
India after their historic triumph at Lords failed to continue with the momentum and lost two following Test matches abjectly to see England gain an unassailable lead and go up in the Series. India lost their last Test inside three days and were handsomely outplayed by England in all the departments. On the other hand Pakistan after piling up huge total in their 1st innings of first Test match fell apart in 2nd innings and lost nine wickets on day five, eventually losing the match against hosts Sri Lanka. Both India and Pakistan now find themselves in similar situation and in last Test match of their respective series will hunt for a win to at least level the series, as winning is unattainable now.
Apart from lagging behind there is another trace of similarity between the two teams. As Pakistan and India will be celebrating their Independence Day on 14th and 15th August respectively, the cricket teams from both the Nations will be facing utmost challenge on their respective Independence days. Pakistan is scheduled to play second and last Test of series on 14th August i.e. Pakistan's Independence Day and India will play England in an all-important fifth Test beginning 15th August. For both teams after being trounced in their preceding Test match it is a perfect opportunity to get their act right and make respective Nations proud.