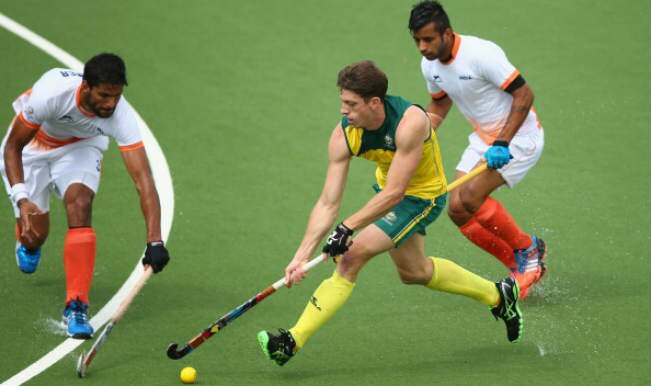 India men's hockey team could not produce the miracle that was required from them to win the Men's Hockey Final match against Australia. Sardar Singh's Indian side could not handle the pressure of supremely talented Australian as they went 4-0 down to the five times Champion. The results did not quite surprise many as India lost convincingly to Australia at theGlasgow National Hockey Centre here Sunday. Nevertheless, their final's appearance assured India another silver medal in kitty, who now stands with 63 total medals including 15 gold, 29 silver and 19 bronze.
India's hapless condition could be understood by the fact that they had 6 shots on target compared to Australia's 16 out of which they converted 4. Three of the four goals were made on the penalty corners provide. The main wrecker-in-chief was drag flicker Chris Ciriello, who scored a hat-trick of penalty corner goals while Eddie Ockenden chipped in with one.
Australia had beaten India 8-0 in the final in Delhi four years ago, resulting in India's only previous hockey medal, a silver, in the Commonwealth Games. In the second match of the day for the bronze medal, England beat New Zealand on the penalty strokes.
Get Commonwealth Games 2014 Complete Schedule of Indian Players Here