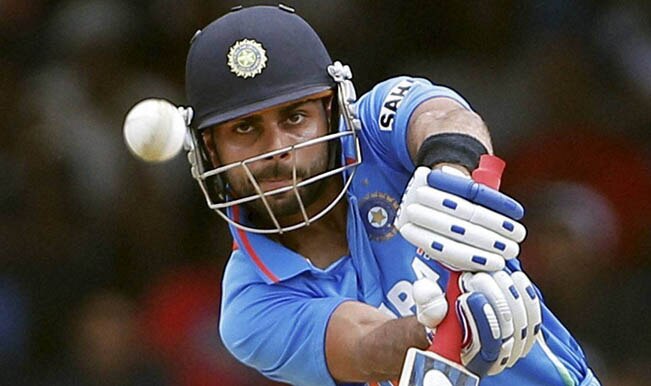 India romped home to a comfortable six-wicket win over Bangladesh in the second One-Day International (ODI) of the Asia Cup at the Khan Shaheb Osman Ali Stadium on Wednesday.
Chasing 280, the visitors achieved the target with one over to spare. India captain Virat Kohli scored a match-winning knock of 136, his 19th century in the format. Ajinkya Rahane supported him well with his 73.
Earlier, Bangladesh skipper Mushfiqur Rahim scored his second century, making 117. Here is a breakdown of the most key elements of the match that decided the outcome
Was Virat Kohli's decision to put Bangladesh in a correct one?
Over the past few seasons India's strategy on flat subcontinent tracks has been to put the opposition in, let them post a total, go in being fully aware of the target, and bludgeon their way to the target. This match ended up following a similar pattern.
Rayudu over Pujara – Was it the right selection?
Though Ambati Rayudu hasn't exactly taken the world by storm, he has done a decent job. Of course he deserves more chances, but the problem is — Cheteshwar Pujara is too good a batsman to be left out. You may be good, but if there is someone better than you, you have to stretch yourself beyond your usual limits to keep him out. Unless Rayudu pulls off something exceptional one cannot see him being picked ahead of Pujara on a consistent basis.
India were off to a good start.
The initial overs from Bhuvneshwar Kumar and Mohammad Shami weren't bad: they kept on asking questions, bowled a decent line and length, and picked up two early wickets.
Then Mushfiqur Rahim walked out.
 Yes. It is difficult to believe that he is only 25: he has been leading Bangladesh, and his batting skills have gone up by manifolds since he has taken over. In fact, he averages 34.45 in ODIs where he has led while the in other matches the number has been 25.68. The corresponding numbers in Tests have been 42.52 and 27.15 respectively.
Having said that, let us not take anything away from Anamul Haque's innings. He has produced some of the cleanest hits today, and had he stayed till the end India might have found them chasing something in excess of 320. Despite Ziaur Rehman's late blitz they were confined to 279.
And the Indian bowling woes continue.
The spinners did a tidy job, as did Shami in the slog overs. The real problem lies elsewhere, though: are these men capable of delivering on a consistent basis? Varun Aaron's pace did not come good as he was all over the place. If he does not come good in the next couple of matches one might think it would be apt to give Ishwar Pandey a break.
Ashwin changed his run-up.
 True. But did that confuse the batsmen? He bowled better than he had done in the past few overseas matches, but on familiar territories he is back to his containing self. It could have to do with the improvised run-up, but it would be too soon to pass a verdict on that.
A change in run-up has ended up ruining careers in the past. Remember Maninder Singh?
The Indians were cautious in their approach…
With Shakib Al-Hasan out, Shikhar Dhawan and Rohit Sharma had probably decided to play out Mashrafe Mortaza. Unfortunately, both batsmen got out just when they were ready to accelerate. But then, they had Virat Kohli…
How special is Virat Kohli?
When he had started scoring these hundreds we had all thought that it was a flash-in-the-pan, but they just keep on happening, don't they? 19 hundreds from 124 innings is not a matter of joke: barring injuries he may end up breaking records of all sorts.
The biggest thing about Kohli is the fact that once he gets in a zone, he seems to be able to hit a boundary whenever he wants to: he has been gifted with the ability to place the ball at will, which means that the line, length, and field placement all become redundant when he gets going. In the end it took the best ball of the match to dismiss him.
The other noticeable aspect of Kohli today was his non-Kohliesque reaction on his reaching his hundred. The helmet had come off, but the usual volatile outburst was not there: maybe captaincy will change the brash 25-year old we know.
There was also the small matter of Rahane.
Oh, with Ajinkya Rahane it was always going to be a matter of time. He was always going to be one for the future — he just needed one good season to get going. The selectors have finally decided to give him a break, and he has responded magnificently in both South Africa and New Zealand. Watch out more from him in future.
After scoring 279, did Bangladesh miss out?
Not really. The Indian line-up is good enough to pull off such targets with ease. In fact, the only surprising aspect was the number of overs they took to pull off the chase. Shakib may have made a difference with both the bat and the ball, but without him Bangladesh loses the advantage of playing the extra player.
Cricket Consultant: Abhishek Mukherjee
With Agency Inputs