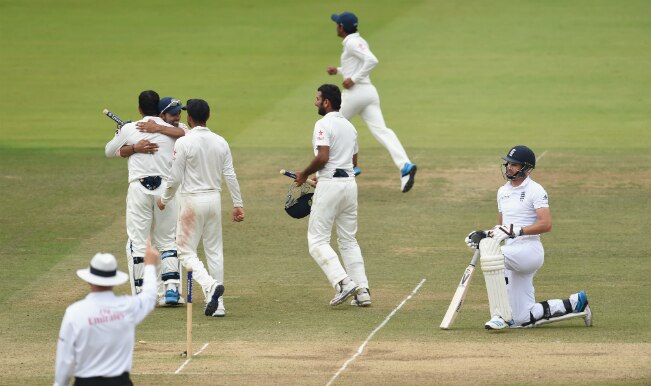 (India takes on England in the 3rd Test match in India's Tour of England at  Southampton. Catch all the Live Score Updates and Live Cricket Action here.)
England 247/2 after 90 overs. Gary Ballance 104*, Ian Bell 16*
England have managed on to pull a great day after the humiliating loss at Lords. they have scored at a slow but assured rate and have made sure that they don't lose too many wickets on the first day. They are set for a huge total here in the 1st innings and they are definitely moving in the direction of getting a huge first innings total meaning that they will be in a very safe position as far as this test match is concerned.
England 219/2 after 78 overs. Gary Ballance 92*, Ian Bell 0*
India has been able to find the much awaited wicket here as they have managed to get rid of Alastair Cook just short of a century. they will look to get a couple of more quick wickets with the new  ball and get back into the game.
England 201/1 after 71 overs. Alastair Cook 92 *, Gary Ballance 77*
England have reached the 200 mark with the loss of only only one wicket. Alastair cook is just a few runs away from a memorable century while Gary Ballance is nearing the 80′s as well. England are moving real smooth with the proceedings and the match is heavily in their favour as of now.
England 186/1 after 63 overs. Alastair Cook 82 *, Gary Ballance 72*
It has been rather slow proceedings here by the English team so far on day 1 here, and the Indian bowlers have been toiling hard. Alastair cook is slowly moving towards his 100 here, while Gary Ballance is looking equally good. this has been a great session for the hosts and India are looking in deep trouble here unless there is some sort of magical resurgence for them.
England 126/1 after 44 overs. Alastair Cook 67*, Gary Ballance 28*
England have rode on their luck so far and have managed to kept the scoring rate at par with 3 RPO. one feels that this might just be the time when they break lose and start bringing on the big shots. Dhoni needs to bring in his luck to play with at this point of time of the English batsmen will bat them out of the match here.
England 109/1 after 37 overs. Alastair Cook 59*, Gary Ballance 19* 
Another 7 overs of play has passed and India despite all their effort has not been able to recreate the magic of the 1st 2 tests in the series. All the seamers have battled hard and have given nothing away to the English Batsmen. Alastair Cook has looked in good touch and so has Gary Ballance. The batsmen have been hardly disturbed by the movement from the pitch so far. It looks like a long day for the Indian bowlers.
England 78/1 after 29 overs. Alastair Cook 48*, Gary Ballance 4* 
 India has bowled extremely well so far and has been able to pick up the wicket of Sam Robson in that last hour of play, but luck has hardly been on their side given the line and length that they have bowled. They have maintained the line in the corridor of uncertainty and are expecting the batsmen to make the mistake. They have found the edge on more than 1 occasion from cooks bat but the ball has not carried to to the fielders.
England 55/0 after 20 overs. Alastair Cook 29*, Sam Robson 26*
The Indians bowlers have tried hard so far and are yet to find the first break. this has been an excellent start so far by the English batsmen as they have added 50+ for the first time in this series for the opening wicket. India desperately needs a wicket here and if they fail to so, the day is going to be long and hard for the bowlers with Alastair Cook looking in ominous form.
England 33/0 after 13 overs. Alastair Cook 18*, Sam Robson 15*
India have still not been able to find the breakthrough that they would have expected after their first look at6 the pitch that is still pretty green. Cook and Robson have played exceptionally well so far and it doesn't helps India case that Ravindra Jadeja has already dropped a catch at third slip.
England 18/0 after 6 overs. Alastair Cook 14*, Sam Robson 4*
England have started well this morning as they have faced the new ball well without any major trouble. The Indian bowlers have not been able to provide the magic that they did in the first 2 matches. Bhuvaneshwar is struggling a bit here as well. Hopefully the Indians will bounce well in time.
When India was in their backyard the last time around, the English team played all over the Indians and managed to pull off a whitewash, a result that the Indian team suffered in 2 successive overseas series. It is pretty evident that things have changed considerably in the past three years, and the Indian team that is touring the British Isles this time around seems to be a lot more comfortable against pace, bounce and swing than the team that toured the last time around.
India come into this game after their historic win the Lords test. They are on an all time high as the new blood of Indian cricket has taken the responsibility that was handed to them by the fabulous four. They delivered a thumping win amidst all the controversy and showed the world that they are capable of performing in adverse conditions as well.
This match at Southampton is important in the context of this series as one false move by both the teams can result in a loss or a step backwards from a series victory. India are the prime favourites going into this game, but England themselves would be looking to grasp every opportunity that they will get to deliver a revenge victory.