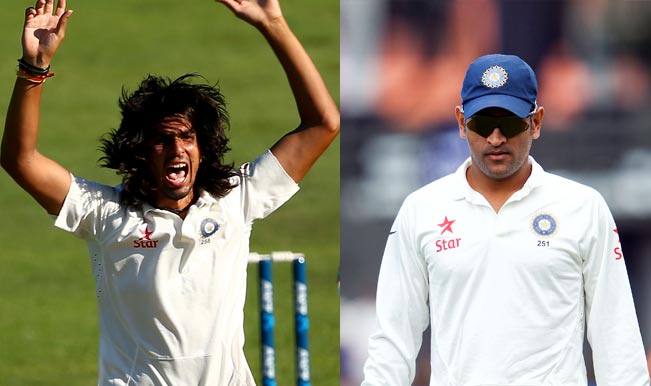 (India takes on England in the 3rd Test match in India's Tour of England at  Southampton. Catch all the Live Score Updates and Live Cricket Action here.)
India 25/1 after 14 overs. Murali Vijay* 11, Cheteshwar Pujara* 4
At stumps, India have lost the early wicket of Shikhar Dhawan but Murali Vijay and Cheteshwar Pujara have the role of building the innings so that the target set by England in almost 2 days of batting can be brought down. The second day was all about England as they powered through the Indian bowling attack.
India 17/1 after 8 overs. Murali Vijay 11*, Cheteshwar Pujara 0*
Murali Vijay and Cheteshwar Pujara have the role to stabilize the Indian innings after the early dismissal of Shikhar Dhawan for 6 runs. India has a big task ahead of themselves with 552 runs still left to be scored before India can get the lead.
England 569/7 declared after 163.4 overs. Jos Buttler 85, Chris Woakes* 7
England was going pretty well but with the wicket of Jos Buttler as an inside edge off of his bat ends his hopes of getting a century before declaring the England innings. Very sad news for England fans but good news for Indian fans as India can finally start batting and start on the monumental task of toppling the runs to get past the set target of 569 runs.
England 524/5 after 158 overs. Ian Bell* 166, Jos Buttler* 49
England is racing ahead at the moment with 56 runs being scored in the last 8 overs to take them further ahead in the first innings. Ian Bell looks menacing out on the pitch as he crosses 150 runs in style. Jos Buttler is supporting him plenty as he is just a run away from reaching his half century.
England 468/5 after 150 overs. Ian Bell 139*, Jos Buttler* 23
We join the action yet again as the players take the field after the Tea Break and the sun is shining brightly on the field which is a good thing for anyone who loves a good game of cricket. England is in the driving seat of the match at the moment with quick runs coming off the bat as the first innings total inches towards 500 runs.
England 452/5 after 145 overs. Ian Bell 133*, Jos Buttler 13*
The English Batsmen have raced to another 100 odd runs in the second session, something that will greatly bother the Indians. Ian Bell is nearing his 150 as we go into tea and with the conditions getting cloudy, it might just not be as easy to bat on this pitch as it was for the English batsmen.
England 426/5 after 138 overs. Ian Bell 121*, Jos Buttler 0*
India has picked up yet another wicket but their main concern will be the form of Ian Bell who is going at the rates of Knots and is looking in very ominous touch for them. The batting has been getting some momentum as in Bell dispatched Jadeja for 21 runs in a single over. Seems like yet another long day for the Indian bowlers here.
England 388/4 after 132 overs. Ian Bell 91*, Moeen Ali 4*
India struck with their Mr Dependable with the ball and got rid of Joe Root early in this session, but they still have Ian Bell batting in his 90′s at the crease along with another formidable batsman in the form of Moeen Ali. Bowling has been delivered in bits and pieces here by the Indian Bowlers and they will need much more than just that to be successful here.
England 372/3 after 126 overs. Ian Bell 80*, Joe Root 3*
Although they got the lucky wicket of Ballance just before lunch, it seems that all the English batsmen have decided that they will grind the Indian bowlers out in this test match. The bowling has been quite wayward from the Indians in this session, but it's just a matter of time as 1 wicket can change everything as it can start a collapse considering the nervous breakdowns of the English team that we have seen in the past.
England 358/3 after 119 overs. Ian Bell 68*, Joe Root 2*
India was finally able to pick up a wicket in that last session, although with a bit of luck but they wont mind any of it. Gary Ballance departed after playing a gem of an innings and Rohit Sharma got his first test wicket. With still 2 sessions left in the game, India will be chasing the English in this game as 350+ with 7 wickets in hand is still a more than decent score in the ever changing English conditions.
England 329/2 after 113 overs. Gary Ballance 141*, Ian Bell 60*.
This has been the story right throughout this test so far, that being the India  bowlers toiling hard to get wickets. Gary Ballance is nearing his 150 while Ian Bell is equally close to his first century in quite some time.
England 312/2 after 107 overs. Gary Ballance 134*, Ian Bell 50*.
It seems like the Indian bowlers have forgotten the art of picking up wickets here at Southampton as they are dearly missing Ishant Sharma's services here at a point when the chips are completely against them. Dhoni has once again let a game slip right out of his hand and there seems to nothing that he can do to stop the flow of runs in England's favor. England has already scored runs in excess of 300 with still the whole middle order to come in and bat.
England 291/2 after 102 overs. Gary Ballance 124*, Ian Bell 38*.
The Indian bowlers have created chances but you have to say that the English batsmen have batted with great discipline here. They have batted with great patience and determination, waited for lose balls and scored of them. this is ideal test batting from the English batsmen so far this morning and the scoring rate has also been more than decent as far yesterday's batting was concerned.
England 275/2 after 97 overs. Gary Ballance 119*, Ian Bell 29*.
England has yet again got off to a great start this morning with both the Overnight batsmen scoring at a good rate. The Indian bowlers bowled a tight line to start this morning but it seems that the English bowlers are prepared for whatever challenge that is coming their way. India desperately need a wicket or 2 here, because if they fail to do so, this might just be nightmare of a test after the golden win at Lords.
England managed to score at a slow but steady rate yesterday and even though they still have less than 250 runs in the bag, they have not lost too many wickets. They would look to increase the scoring rate this morning and put the Indian pressure early in this test.
India aims at extending their lead after a historic win at Lord's against England and winning a Test Match at Lord's after 28 long years. The star of the match was the unlikely hero, Ishant Sharma, who bowled his career best 7 wickets for 74 runs as he tore through the England batting.
When India was in their backyard the last time around, the English team played all over the Indians and managed to pull off a whitewash, a result that the Indian team suffered in 2 successive overseas series. It is pretty evident that things have changed considerably in the past three years, and the Indian team that is touring the British Isles this time around seems to be a lot more comfortable against pace, bounce and swing than the team that toured the last time around.
India come into this game after their historic win the Lords test. They are on an all time high as the new blood of Indian cricket has taken the responsibility that was handed to them by the fabulous four. They delivered a thumping win amidst all the controversy and showed the world that they are capable of performing in adverse conditions as well.
This match at Southampton is important in the context of this series as one false move by both the teams can result in a loss or a step backwards from a series victory. India are the prime favourites going into this game, but England themselves would be looking to grasp every opportunity that they will get to deliver a revenge victory.