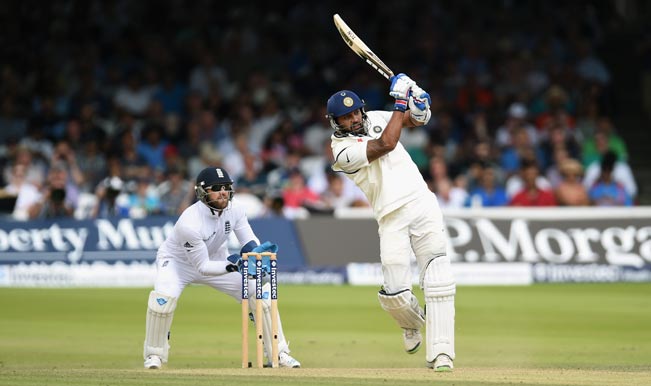 (India takes on England in the 3rd Test match in India's Tour of England at  Southampton. Catch all the Live Score Updates and Live Cricket Action here.) 
India 112/4 after 42 overs. Ajinkya Rahane 18*, Rohit Sharma 6*.
India have done after the fall of those 4 wickets in this last session. Although Rohit Sharma and Ajinkya Rahane have managed to play well within themselves not giving chances to the opposition, but India still are in huge bit of trouble at this point in this match and only a miracle can save this match as far as India is concerned.
India 90/4 after 35 overs. Ajinkya Rahane 2*, Rohit Sharma 1*.
India have lost yet another wicket here on day 4, something that they were hoping they won't do. This is a very bad situation for the Indians and if they save the match from here onwards, it will be nothing less than a miracle.
India 86/3 after 30 overs. Virat Kohli 26*, Ajinkya Rahane 1*
This dismissal was the last thing India wanted. Shikhar Dhawan walking back into the pavillion (after scoring valuable 36 runs) was not exactly the pleasant bit news for the visitors.
India 76/2 after 27 overs. Virat Kohli 18*, Shikhar Dhawan 36*. 
With 369 runs to win India need to ensure now that they don't lose a wicket and bat mindfully. Just 15 more overs to go from here, for the session to end,  Kohli and Dhawan look resolutely steady.
India 42/2 after 17 overs. Virat Kohli 4*, Shikhar Dhawan 20*. 
With just 25 overs left for this session-and the day's play-to end, India surely doesn't want any unwanted surprises in the form of a wicket or two now. After Murali Vijay's run out, Pujara's dismissal only made things difficult for India. Moeen Ali's sharp and quick turn is only troubling the Indians even further
India 28/1 after 12 overs. Pujara 2*, Shikhar Dhawan 10*. 
The English celebrate with pomp as they see Murali Vijay fail to make his ground, falling short by inches from the crease. Vijay walks back into the pavillion with an expression that tells the saga of his dismissal in no uncertain way. Murali consumes 35 balls only to make 12 runs.
India 13/0 after 5 overs. Murali Vijay 2*, Shikhar Dhawan 7*.
The start has been rather decent for the Indian team so far as they have managed to not lose a wicket with the new ball yet. They need to go just like this and play as many over as possible without losing any wickets today. If they play out the overs today without losing any wickets and score some decent runs, then the pressure would be right back on England with the Pitch still offering plenty to the batsmen
England 205/4 declared
England have declared their innings after the Dismissal of Joe root. India are set a target of 445 to win in approximately 4 sessions or 130 overs.
England 196/3 after 40 overs, Alastair Cook 65*, Joe Root 52*.
The English team has been piling up run after run in that last session and are now very much safe as far as this match is concerned. With Root and Cook going hung ho on the bowlers, the declaration might just come at tea, or maybe when Cook gets his hundred. Root too has brought up his 50 in no time at all and seems like nothing is going well for the India bowlers in this Test match.
England 161/3 after 35 overs, Alastair Cook 55*, Joe Root 28*.
England have now started to completely get after the Indian bowlers although they are giving the Indians chances to pick up wickets, The Indian bowlers have not been able to create something extra ordinary. The lead is now 400 and you might just see the declaration coming rather soon here.
England 124/3 after 30 overs, Alastair Cook 42*, Joe Root 9*.
Ravindra Jadeja has struck once again, this time picking up the wicket of the dangerous Ian Bell as he was scoring run at will. Looks like a tough game to win for the Indians, but stranger things have happened in cricket.
England 98/2 after 24 overs, Alastair Cook 31*, Ian Bell 15*
India has given away a huge lead to the English batsmen and now they are failing to do a decent job with the ball. England are batting at a brisk pace and it seems like they will give India a lead of more than 400 before declaring and Inviting the Indians to bat again.
England 80/2 after 20.5 overs, Alastair Cook* 29, Gary Ballance 38 – Lunch Break
England has picked up the pace now after a few slow overs following Robson's wicket. Alastair Cook and Gary Ballance  have given a good stand but it doesn't continue as one ball before the stipulated time for Lunch was set, Ballance gets caught out to Ravinder Jadeja's delivery.
England 48/1 after 13 overs, Gary Ballance* 13, Alastair Cook* 18
England has suffered its first blow in the form of Sam Robson who departs for 13 runs off of 20 balls. Gary Ballance is taking the attack to the Indian bowlers as he hammers Mohammad Shami and Bhuvaneshwar Kumar for multiple boundaries.
England 17/0 after 5 overs, Sam Robson* 7 and Alastair Cook* 7
England has chosen to take their second attempt at batting as they further their lead and will mostly declare the innings by the end of the day if they are not bowled out by then. England is off to a good and steady start as Robson and Cook are taking the non-risky runs as they play the day out and get as many runs as they can.
India 330 all-out after 106.1 overs
James Anderson starts the day on a positive note as he takes the two remaining Indian wickets with excellent deliveries. Dhoni and Mohammad Shami fell in similar fashion. England has chosen not to give India the follow-on and the roller on the pitch confirms that England will bat their second innings to further their lead over India and try to bowl them out quickly.
MS Dhoni and the Indian team will have had a sleepless night after a dismal batting performance especially after the brilliance shown at Lord's in the 2nd Test Match. India has lost a total of 8 wickets at the end of day's play on Day 3 and are still 47 runs behind the 370 run mark; failing to do so will result in a follow-on which is very humiliating for any team.
The main reason that a follow on will not be enforced is that England will not like to be the team chasing a target on the final day's pitch according to Sunil Gavaskar. The final days of the Test Match help the spinners which will restrict England's scoring to under 200 which is not favourable for the match to have a positive result for the hosts.
Spinners like Ravindra Jadeja along with the likes of Murali Vijay, Rohit Sharma and Shikhar Dhawan, will trouble the England batting order and scoring will not be an easy task on Day 5.
India will have to be wary of part time spinner Moeen Ali who seems to be quite the spinner with his control over the ball as he bowled a good spell especially to the unsuspecting Indian batsmen like Ajinkya Rahane and Rohit Sharma who could have stayed on for a longer haul in the innings.
Catch the Live Stream of India vs England, 3rd Test Match, Day 4 here.