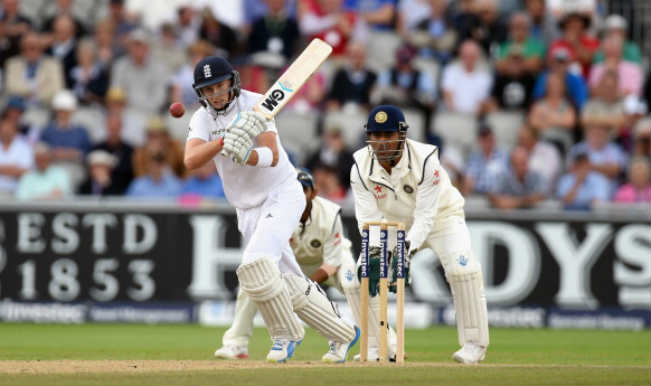 (India takes on England in the 4th Test match in India's Tour of England at  Old Trafford. Catch all the Live Score Updates and Live Cricket Action here.)
England crushed India by an innings and 54 runs to win the fourth Test at Old Trafford on Saturday. Victory, achieved with more than two days to spare, put England 2-1 up in the five-match series ahead of next week's concluding Test at The Oval. India lost six wickets for 52 runs as they suffered a spectacular collapse after tea on Saturday's third day, with off-spinner Moeen Ali taking four for 39. Pace bowling all-rounder Chris Jordan took the last two Indian wickets in as many balls, yorking last man Pankaj Singh for a golden duck as India were bowled out for 161 in their second innings.
England won by an innings and 54 runs
England have won the mach by an innings and 54 runs. One of the most disappointing losses that India have ever faces. Ashwin got strangled at one end while wickets kept falling at the other end. Amazing display of cricket from the English team. Dhoni would be very disappointed by his team after this match. Shambolic performance by the Indian batsmen cost India the fourth Test match at Old Trafford. They lost the match by an innings and 54 runs. Ashwin remained the last man standing with a well made 46 runs as he kept losing partners on the other end.
 India 161/10 after 43 Overs. Ravi Ashwin 28*, Pankaj Singh o

Ashwin here has been showing exactly how they should have batted. He has struck Moeen Ali for a six and a boundary in the previous over and among all the other disappointments has turned out to be the star batsmen so far. But India lost their ninth wicket as Varun Aaron is OUT after being caught by Buttler on Jordan's delivery. Varun Aaron 9 (18m 13b 2×4 0×6). Jordan does not delay the victory proceedings for England as he gets Pankaj Singh BOWLED in the very next delivery. Pankaj Singh 0 runs.
India 141/8 after 41 Overs. Ravi Ashwin 28*, Varun Aaron 8*
Looks like India are not even planning to take the game into the 4th day as you can make out from their batting display. This performance has been at the best shameful as you just don't expect a world class batting lineup to be bowled out on two occasions in the same test.
India 133/8 after 38.2 Overs. Ravi Ashwin 27*, Varun Aaron 0*

Party does not last long for the Indian tail enders as Bhuvneshwar Kumar will have to take the long walk back to pavilion. He is RUN OUT by Moeen Khan. You simply cannot keep this English bowler out of picture in today's game. Bhuvneshwar Kumar 10 (15b 2×4 0×6)
India 126/7 after 36 Overs. Ravi Ashwin 27*, Bhuvneshwar Kumar 5*
With the top order back in pavillion, Indian tail seems to be enjoying on crease. Bhuvneshwar Kumar joins the party along with Ashwin. He hits an extra cover FOUR off the best bowler Moeen Khan.
India 121/7 after 35 Overs. Ravi Ashwin 26*, Bhuvneshwar Kumar 1*
An innings defeat is looming over India as Ravi Ashwin who may have been ineffective as bowler is doing his bit as batsman in second innings as well. Ashwin punched a beautiful boundary in through backward point to lessen India's total deficit.
India 105/7 after 33.1 Overs. Ravi Ashwin 13*, Bhuvneshwar Kumar 1*

India lose their captain and last hope Mahendra Singh Dhoni is OUT as Moeen Ali strikes again. Mahendra Singh Dhoni 27 (22b 4×4 0×6). Dhoni and Ashwin's partnership of 39 runs helped India but man-in-form Moeen Ali takes his fourth scalp to clip the budding partnership. Mahendra Singh Dhoni departs after making 27 runs. He was caught by Ballance on Moeen's delivery.
India 88/6 after 30 Overs. Mahendra Singh Dhoni 13*, Ravi Ashwin 9*
The Indian pair Mahendra Singh Dhoni and R Ashwin are trying to delay the inevitable massive defeat in the fourth Test Match at Old Trafford. Since the last fall of wicket the duo have adopted an aggressive game and are hammering English bowlers for few boundaries and that does not look a matter of concern for the England side as they very well know the match is under their control.
India 68/6 after 26 Overs. Mahendra Singh Dhoni 0*, Ravi Ashwin 2*

Another wicket goes for India as Ravindra Jadeja is OUT by Moeen Ali's delivery. Ravindra Jadeja 4 (5b 1×4 0×6). He is caught at the slips by Jordan. This is brilliant stuff by Moeen Ali who picks up his third wicket. Just when it looked like things are going right for the Indians, England struck back with 4 wickets in a span of about 8 runs, that number again, 8/4 as they are now not only in deep trouble but also in trouble of losing this math by an innings. This has been one of the most disastrous batting performances from India in the last 2 years.
India 65/5 after 25 Overs. Mahendra Singh Dhoni 0*, Ravindra Jadeja 4*

India now definitely in danger of bowling out once again cheaply as first Ajinkya Rahane and now Virat Kohli losing their wickets cheaply. Virat Kohli is OUT after being caught by Ian Bell on James Anderson's delivery. Virat Kohli 7 (11b 1×4 0×6). This is another failure by Virat on this disastrous tour. Virat Kohli seems to be very eager to go back to the dressing room, why is he been coming in to bat if he just has to get out?
India 61/4 after 24 Overs. Virat Kohli 7*, Mahendra Singh Dhoni 0*

Thanks to Kohli's boundary in Anderson's last over, India's run at scoreboard moved but another strike by Moeen Ali leaves India huffing and puffing. Ajinkya Rahane is OUT by Moeen Ali as he brilliantly takes catch on his own delivery in front of stumps to take India's fourth wicket. Ajinkya Rahane 1 (9b 0×4 0×6)
India 55/3 after 22 Overs. Virat Kohli 1*, Ajinkya Rahane 1*

This is terrible stuff from Indian batsmen as they do not learn from their first innings mistake. After Gautam Gambhir's wicket in the previous over, India loses Cheteshwar Pujara OUT in successive over by Moeen Ali. Pujara was bowled before wicket. Cheteshwar Pujara 17 (38b 2×4 0×6)
India 53/2 after 21 Overs. Cheteshwar Pujara 17*, Virat Kohli 0*

Seems like the Indians have come with the mindset of playing the day out and leave the balls that are not posing any danger. So far the strategy looks rather effective, but how long would this strategy has to be the question. And just as we were talking about it, Gautam Gambhir was dismissed to a short delivery by James Anderson. Looks like the commentators curse has worked in England's favor. India in deep trouble here.India loses their second opener as well as James Anderson strikes taking Gautam Gambhir's prized scalp. Gautam Gambhir is OUT after making 18 runs. Gautam Gambhir 18 (53b 3×4 0×6). James Anderson takes his first wicket of the second innings. He has been bowling a brilliant line and length and has given just 9 runs in his 7 overs quota so far.
India 33/1 after 15 Overs. Gautam Gambhir 12* Cheteshwar Pujara 3*
Although India's performance with the bat has been considerably better than their first innings, the session will still go in the favour of the English team as they not only added runs but also picked up the all important wicket of Murali Vijay. India are still 182 runs behind, something that will keep them under constant pressure throughout this innings.
India 27/1 after 13 Overs. Gautam Gambhir 8* Cheteshwar Pujara 1*

England tastes first blood in form of Murali Vijay's wicket. Vijay is OUT Chris Woakes gets him out before wicket. Murali Vijay 18 (36b 3×4 0×6). India is in deep trouble as they find themselves 215 runs behind England's 1st innings and another shabby start of the 2nd innings by their openers leaves Dhoni's side in lurch.
India 25/0 after 10 Overs. Murali Vijay 18*, Gautam Gambhir 7*
Considerably better start for the Indians so far in the second innings. Both the batsmen have begun their innings cautiously and if they can continue the good job and see of the new ball, India might just excell with the proceedings in this innings considering that Stuart Broad is missing from the attack.
India 4/0 after 5 Overs. Murali Vijay 3*, Gautam Gambhir 1*
India begin their 2nd Innings as openers Murali Vijay and Gautam Gambhir get ready to face the English pacers minus first innings English hero Stuart Broad who has been retired hurt and has a hurt nose after being struck by Varun Aaron's bouncer. Indian openers can breathe a sigh of relief as now they have to face only James Anderson and it would not be a two way attack on them for time being.
End of England's 1st Innings:  England 367/9 after 105.3 Overs
Ravindra Jadeja once again gets rid of James Anderson, making an end to the English innings. England have a lead of 215 runs and seeingbthe condition of the Indian batting in the first innings, this might just prove to be enough for a win for England. But then again, Stuart Broad is injured, so India might still have a chance.
England 367/9 after 105.3 Overs. Chris Woakes 23* James Anderson 9
It is sweet revenge as Ravindra Jadeja gets James Anderson OUT. James Anderson 9 (19b 1×4 0×6). Once again England has started well after the Lunch break and once again India is finding it tough to get past the English tail. Varun Aaron got rid of Stuart Broad by injuring him and if that injury proves to be serious, that could be the sole reason for India being happy from this period of play as runs are coming heftily for England.  Stuart Broad is retired hurt 12 (6b 0×4 2×6).
England 359/8 after 103 Overs. Chris Woakes 21* James Anderson 7*

After removing danger batsmen Joe Root and Josh Buttler but England has managed to maintain the dominance over India and taken a lead of more than 200 runs. With Woakes and Anderson playing well on crease, India is in trouble of losing the plot early on in the match. Pankaj Singh saved from being in the worst wicketless records with two wickets on day 3 but will need to work harder in the Old Trafford Test Match.
LUNCH: England 325/8 after 97 Overs. Stuart Broad 0* Chris Woakes 6*
England were 325 for eight in reply to India's first innings 152, a lead of 173 runs, at lunch on the third day of the fourth Test at Old Trafford on Saturday. Chris Woakes was six not out and James Anderson nought not out after India's Pankaj Singh ended his long wait for a maiden Test wicket by dismissing both Joe Root (77) and Jos Buttler (70). The five-match series is level at 1-1.
England 325/8 after 97 Overs. Stuart Broad 0* Chris Woakes 6*
Pankaj Singh managed to pick up his back to back wickets of both the set batsman Joe Root first and then Josh Buttler. First test wicket in this last passage of play as he had Joe Root caught behind OUT. Joe Root 77 (161b 7×4 0×6) But one feels that its a bit too late for India as the lead has already chalked up to nearly 200. Josh Butler is caught by Pujara as he tries to go for uppish drive but is OUT Josh Buttler 70 (130b 10×4 0×6) England look strong, very strong in this test as the lead is climbing every single over while they still have good batsmen sitting in the pavilion and ready to come out and bat.
England 295/6 after 91 Overs. Joe Root 69*, Jose Buttler 55*
This has been a rather disappointing outing for the Indians so far, bowling wise. India needs to be patient here, the two batsmen are batting with vigour here and that has to be appreciated. Its been a story of missed chances and controlled aggression from the English batsmen. India in deep deep trouble here.
England 273/6 after 85 Overs. Joe Root 63*, Jose Buttler 45*
The scoring rate has increased considerably now and the new ball has been dealt with equal precision. India desperately needs wickets here. Bhuvaneshwar India's first true chance of the morning but Virat Kohli failed to grab a sharp chance. Looks like a long long day for the Indian bowlers.
England 246/6 after 78 Overs. Joe Root 55*, Jose Buttler 22*
England once again are off to a good start as Joe Root and Jose Buttler have once again started to score runs at will and while the Indian bowlers look almost helpless on the pitch. Although the conditions seem to be helpful for the bowlers, the consistency of the Indian bowlers has been awful so far today. Also the rare occasions where they have managed to put the balls in the right area, luck has been deserting them.
An unbeaten 68-run stand between Joe Root and Jos Buttler took England to 237 for six with a 85-run lead at tea against India but rain halted their progress shortly after lunch on day two of the fourth cricket Test at Old Trafford. England's batsman Joe Root and Jos Buttler batting at 48 and 22 respectively are currently on crease would look to take the lead over India as much as possible.
India's fate in this match is concerned on the bowling spell in the first session of the day three provided how the weather plays its role today. Apart from Bhuvneshwar Kumar, India will also be eyeing good show from Varun Aaron after India excluded Umesh Yadav from the Test squad. Varun has managed to trouble the English batsmen with his faster deliveries. Both Bhuvneshwar Kumar and Varun Aaron grabbed three wickets each to lead India's fightback after the dismal start to the fourth Test match by the batsmen.
India after being bowled out for a shambolic 152 in their first innings have been looking forward to some dramatically motivating performance to boost the side in the the fourth Test at Manchester. To some extent the paceman Bhuvneshwar Kumar showed a glimpse of good form as managed to keep the England batting tied at 237 for six. England that has taken a lead of 85 runs in the first innings look in commanding position but some great spells and right intervention from the weather gods could see India save their back in Old Trafford.