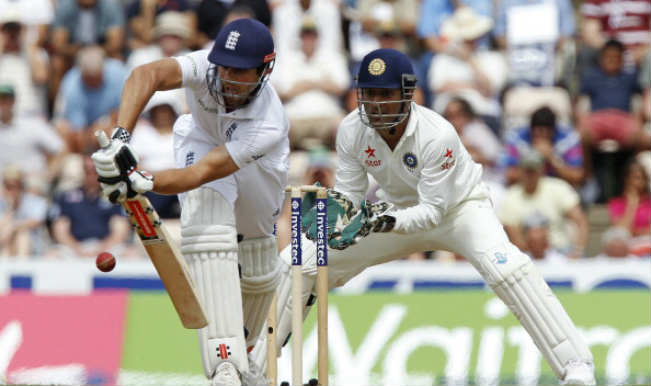 (India takes on England in the 5th Test match in India's Tour of England at The Oval. Catch all the Live Score Updates and Live Cricket Action here.)
England were 62 without loss in reply to India's first innings 148, a deficit of 86 runs, at stumps on the first day of the fifth Test at The Oval on Friday. Alastair Cook, the England captain, was 24 not out and Sam Robson 33 not out. England lead the five-match series 2-1. Earlier, India captain Mahendra Singh Dhoni stood alone as the tourists suffered yet another batting collapse to make 148 runs and hand England the advantage on the first day of the fifth and final Test at The Oval.
England 62/0 after 19 overs at the End of the Day 1: Alastair Cook 24*, Sam Robson 33*
The last session also went in England's favour as Alistair Cook and Sam Robson ensured a safe and solid batting display against a frustrating bowling side. They knocked boundaries at will and never looked in any sort of trouble from the Indian bowlers. Overall the Indian side flopped as unit both in their bowling and batting department.
England 48/0 after 15 Overs. Alastair Cook 16*, Sam Robson 27*
England captain Alastair Cook ensures a solid batting along with Sam Robson to not allow India with any kind of comeback. As for the Indian bowlers, they have not been to pull off a miraculous delivery to get the first scalp.  The surprising thing is that MS Dhoni introduced Varun Aaron, their fastest bowler so late in the innings.
England 20/0 after 10 Overs. Alastair Cook 12*, Sam Robson 7*
In order to make any sort of buzz after the dismal performance by the batting side, there has to be some quick wickets coming, quick and fast. Bhuvneshwar and Ishant will have to do the damage just like Stuart Broad and James Anderson did for England.But except barring few occasional close calls not going India's way, Indian pacers have not been able to trouble the Cook and Robson. Still your heart goes for the close LBW decision turned down by Bhuvneshwar Kumar letting Alastair Cook off the hook.
England 8/0 after 5 Over. Alastair Cook 3*, Sam Robson 5*
Ishant Sharma and Bhuvneshwar Kumar starts off the proceedings for India and have done well to keep some sort of pressure on the England openers after a small total of 148 runs put up in the first innings.
England 2/0 after 1 Over. Alastair Cook 1*, Sam Robson 1*

England Openers Alastair Cook and Sam Robson took field as Bhuvneshwar Kumar takes the first over. Among the two openers, Sam Robson has struggled in the entire series and would be looking to make amends just like Woakes and Jordan came good in the bowling department for England.
India bowled out for 148 after 61.1 Overs in the first innings of The Oval Test

Mahendra Singh Dhoni fails to get his maiden century outside sub-continent as Stuart Broad get the captain OUT. Mahendra Singh Dhoni 82 (209m 140b 15×4 1×6). The Indian innings with his falter wraps up at 148 all out. The last wicket partnership of 58 runs between Dhoni and Ishant gets Indian innings cross 100 runs mark. This was Stuart Broad's second wicket.
India 139/9 after 60 Overs. Mahendra Singh Dhoni 74*, Ishant Sharma 7*
Ishant Sharma and MS Dhoni continue to frustrate the English side as this partnership reaches close to 50 runs. Dhoni has scored more freely than other partnerships as for Ishant Sharma looks confidence as batsman with every delivery. He is defending, bringing bat to ball, leaving the outer ones. He should give a tip or two to the top order.
India 129/9 after 57 Overs. Mahendra Singh Dhoni 69*, Ishant Sharma 2*
Mahendra Singh Dhoni resumes his batting from where he has left before tea as he hits nice boundary off James Anderson. It sends a great message to the side as a skipper. And giving him company is lanky pacer and number 11 batsman Ishant Sharma.
India 125/9 after 56 Overs. Mahendra Singh Dhoni 65*, Ishant Sharma 2*
During the entire day of play, India seems to be enjoying a small psychological advantage over their opponents. England captain also brings in the spin attack in form of Moeen Ali as India's Captain Cool plays without his helmet on. Dhoni carves one run before the tea.
India 124/9 after 55 Overs. Mahendra Singh Dhoni 64*, Ishant Sharma 2*
MS Dhoni and Ishant Sharma's last wicket partnership has now started frustrating the England side who were on a rampage. Mahendra Singh Dhoni also hit the first SIX of the innings as he takes India's score to 124 with the loss of 9 wickets. He is definitely giving some the Indian fans at The Oval reason to smile.
India 118/9 after 53 Overs. Mahendra Singh Dhoni 58*, Ishant Sharma 2*
The 11th wicket partnership of Ishant Sharma and Mahendra Singh Dhoni has been the best for India in their first innings of the fifth Test at The Oval. Captain Cook called James Anderson back in order to wrap things up for England. Since 2011, MS Dhoni has scored 833 runs from no. 8 batsmen onwards.
Mahendra Singh Dhoni hits half-century, India 113/9 after 51 Overs
Mahendra Singh scores his half-century, very timely 50 coming off the Indian captain. Knocking his third half century of the series as he first hits a lofted shot off to a four against Chris Woakes. He follows it with two runs, and fine boundary down the off side. The kind of temperament he showed is simply to be learned by others in the side.
India 103/9 after 50 Overs. Mahendra Singh Dhoni 43*, Ishant Sharma 2*
Mahendra Singh Dhoni played 100 deliveries, almost the same number of deliveries the entire team played! None apart from him have showed the character and will to perform and the occasional typical Dhoni shots lighten up otherwise gloomy day at The Oval. He is nearing his half-century as there was a huge appeal of LBW turned down and Ishant Sharma survives.
India 100/9 after 48 Overs. Mahendra Singh Dhoni 40*, Ishant Sharma 2*
After so much struggle on pitch, Indian captain ensures India reaches the 100-mark. Mahendra Singh Dhoni brings one fractionally small but a smile to Indian fans as he cuts one from Jordan to hit a flashy boundary to bring up the 100 runs.
India 95/9 after 47 Overs. Mahendra Singh Dhoni 36*, Ishant Sharma 1*
It could not have gone worse for India as the last Test match's main wrecker Moeen Ali was not even called by Alastair Cook. One one hand Stuart Broad and James Anderson did the early damage, it was another English pair of Chris Woakes and Chris Jordan who found themselves among wickets.
India 90/9 after 45 Overs. Mahendra Singh Dhoni 32*, Ishant Sharma 0*

Getting wicket is not amusing for the English and so is losing for India as another wicket stumbles in form of Varun Aaron getting OUT. His uncomfortable stay at the pitch was brought to end by Chris Woakes who picked up his third wicket. Varun Aaron 1 (17b 0×4 0×6). Mahendra Singh Dhoni can only ponder over this worst situation of India.
India 83/8 after 42 Overs. Mahendra Singh Dhoni 26*, Varun Aaron 0*
Thanks to the Indian batting side, the bowlers find themselves on field much before their bowling starts. Dhoni has played 73 deliveries so far and scored 26 runs including 5 boundaries. The only other batsmen to feature with double figures are Murali Vijay with 18 and R Ashwin with 13. Indian team is in shambles!
India 79/8 after 40 Overs. Mahendra Singh Dhoni 17*, Varun Aaron 0*

At the end of the 4oth over, India loses yet another wicket in form of Bhuvneshwar Kumar OUT after edging to wicket-keeper Buttler on Chris Jordan delivery. Bhuvneshwar Kumar 5 (11b 1×4 0×6). This marks loss of eighth wicket for India. It is just getting bad to worse for Indian batting.
India 68/7 after 36.4 Overs. Mahendra Singh Dhoni 17*
R Ashwin does not stay for long at the crease this time around at the Oval as Joe Root takes his second catch of the day to get him OUT. Ashwin 13 (17b 1×4 0×6). It is a brilliant low diving catch by the English player off Chris Woakes delivery. Root was very confident of the catch but Ashwin did not leave his ground and the decision went upstairs to the third umpire who ruled in favour of the England.
India 65/6 after 35 Overs. Mahendra Singh Dhoni 17*, Ravi Ashwin 10*
MS Dhoni and Ravi Ashwin take India to 65/6 after 32 Overs. Ravi Ashwin has been more consistent with the bat than the ball this tour of England. Dhoni will hope more from Ashwin in this particular innings that is currently in doldrums. The duo are facing James Anderson and Stuart Broad pair with more confidence in this start of the session. As for the Oval stadium there seems to be some uninvited guests as in the pigeons sitting in groups in the ground.
India 56/6 after 32 Overs. Mahendra Singh Dhoni 14*, Ravi Ashwin 4*

Mahendra Singh Dhoni is opting bat more freely, something the Indian side has not done in their entire innings. The credit goes to some tight overs and spells by the English bowlers but also to the crass approach of the men in blue.
India 48/6after 31 Overs. Mahendra Singh Dhoni 6*, Ravi Ashwin 4*

When runs dry up, it signals the wickets in sight – and this exactly happened as an inevitable delivery by James Anderson got Stuart Binny OUT. A full delivery by James Anderson got a thick outside edge of Binny's bat and straight to Captain Alastair Cook. Stuart Binny 5 (30b 0×4 0×6)
India 44/5 after 30 Overs. Mahendra Singh Dhoni 6*, Stuart Binny 5*
With Broad-Anderson pair bowling in tandem, there is not much room for India to score freely. They have just scored one run in the last five overs since they have resumed batting after lunch.
India 43/5 after 27 Overs. Mahendra Singh Dhoni 6*, Stuart Binny 4*
The wrecker-in-chief James Anderson takes the next over. India have hit just two boundaries so far in the 27 overs can explain their sorry state as for James Anderson he has taken 377 wickets in 99 Test matches only next to Ian Botham in the leading Test wickets from England.
India 43/5 after 26 Overs. Mahendra Singh Dhoni 6*, Stuart Binny 4*
India resumes after lunch, with Stuart Broad taking the first over post lunch. Stuart Binny faced him quite well despite getting no runs from that over.
India, after losing the toss, were 43 for five at lunch on the first day of the fifth Test against England at The Oval on Friday. India captain Mahendra Singh Dhoni was was six not out and Stuart Binny four not out. England captain Alastair Cook won the toss and elected to bowl against India in the fifth and the final Test at The Oval here Friday. India made two changes with Ishant Sharma and Stuart Binny coming in place of Pankaj Singh and Ravindra Jadeja. England are fielding an unchanged side that includes a fit-again Stuart Broad.England lead the five-match series 2-1.
India 43/5 after 25 Overs. Mahendra Singh Dhoni 6*, Stuart Binny 4*

Since the India's famous win at Lord's, one wuld be surprised to know they have just won one session off 20 played till this Test. India's poor form only deteriorates as the all the English bowler have dominated the first session of the Day 1 at the Oval Test and lunch has been called.
India 36/5 after 20 Overs. Mahendra Singh Dhoni 4*, Stuart Binny 0

India has again put a lot of pressure on itself as England found themselves in ideal position after winning the toss. They have sent half the side in the dressing room and would like to wipe out the Indian innings before they reach three figures mark, a feat that looks very much possible with the way India and England's performances have been.
India 36/5 after 19 Overs. Mahendra Singh Dhoni 4*, Stuart Binny 0

Murali Vijay OUT; Vijay who was running out of partners does not bother scoreboard as he is packed by a brilliant low catch by Joe Root off Chris Woakes. Murali Vijay 18 (64b 0×4 0×6). Half Indian side are already in the pavilion. The top order has been blown away by English pacers – all contributing in India's downfall.
India 36/4 after 18 Overs. Murali Vijay 18*, Mahendra Singh Dhoni 4*

Murali Vijay has witnessed wickets tumbling from the other end – Gautam, Pujara, Virat and Rahane. Terrible start for India who are playing a do-or-die battle at the Oval. Hope some consolidation is brought in by Dhoni and Vijay pair.
India 33/4 after 17 overs. Murali Vijay 15*, Mahendra Singh Dhoni 4*
Wickets are tumbling from the other end as Ajinkya Rahane departs for Chris Jordan gets him OUT. Ajinkya Rahane 0 (8b 0×4 0×6). He is gone after brilliant effrt of caught and bowled by Chris. This brings the end of India's fourth wicket and captain Mahendra Singh Dhoni takes the guard.
India 28/4 after 16 overs. Murali Vijay 14*, Ajinkya Rahane

Virat Kohli finds his way back to the pavilion as he is found leg before wicket OUT by Chris Jordan. India is again tottering at 26/3. Virat Kohli looked unconvinced by the umpire Dharmasena's decision. Virat Kohli 6 (18b 1×4 0×6). Ajinkya Rahane walks in to bat.
India 18/2 after 10 overs. Murali Vijay 9*, Virat Kohli 1*
Another tidy over by Stuart Broad with just two runs given. After the Pujara's scalp, Stuart Broad is very high on confidence! Virat and Muray Vijay are trying to consolidate the early damage done by the English pacers.
India 16/2 after 9 overs. Murali Vijay 6*, Virat Kohli 0*
Virat Kohli coming in place for Pujara who was removed by blue-blackish looking but very effective Stuart Broad. Stuart Broad and James Anderson make a compatible pair who have taken more than 500 wickets for England. As for the shaky top order, looks like another gloomy day for them. Playing Broad and Anderson looks like an uphill task for the Indian players, especially the kind of form players like Virat and Pujara are in.
India 10/2 after 6 overs. Murali Vijay 6*, Virat Kohli 0*
Curse of the commentator perhaps!  Cheteshwar Pujara is OUT. The right-handed batsman misses Stuart Broad's delivery and the ball finds the gap through the player and the bat to knock the bails off the stumps. Cheteshwar Pujara 4 (19b 0×4 0×6). Now Virat Kohli steps on to the pitch.
India 10/1 after 5 overs. Murali Vijay 6*, Cheteshwar Pujara 4*
Some relief for India as Murali Vijay and Cheteshwar Pujara have held their ground. The visitors have touched the double digit mark and will hopefully avoid the collapse like in the previous two matches.
India 3/1 after 1 Over. Murali Vijay 3*, Cheteshwar 0*

There were talks of Shikhar Dhawan coming in place of Gautam Gambhir but MS Dhoni retains the left-handed batsmen. So from India, Murali Vijay and Gautam Gambhir walk in for the fifth Test match at The Oval. There is a tinge of greenery on the wicket. Gautam Gambhir is OUT as he tries to leave the delivery from James Anderson. Gautam Gambhir 0 (1b 0×4 0×6) The batting woes continues for Gautam Gambhir and India as James Anderson gets a lucky wicket. Terrible start for India.  Cheteshwar Pujara walks in to bat on number three.
England won the toss and have elected to bowl first at The Oval. India has made two changes in the side as Ravindra Jadeja and Pankaj Singh make way for Stuart Binny and Ishant Sharma in the final Test. Gautam Gambhir retains the place as the opener. The match would begin at local time 4.oo p.m.
The Playing XI of India and England at The Oval
India XI: M Vijay, G Gambhir, CA Pujara, V Kohli, AM Rahane, MS Dhoni (C & WK), STR Binny, R Ashwin, B Kumar, VR Aaron, I Sharma
England XI: AN Cook (C), SD Robson, GS Ballance, IR Bell, JE Root, MM Ali, JC Buttler (WK), CR Woakes, SCJ Broad, CJ Jordan, JM Anderson
Indian team led by their Captain cool Mahendra Singh Dhoni will play England in the fifth and final Test at The Oval on a very historic day of August 15, 2014 when India celebrates its 68th Independence Day. Indian captain Mahendra Singh Dhoni not in his wildest dream would have thought of losing the way in this tour of England after getting the upper hand at the Lord's in the second Test match. But from there it has been a soppy story of downslide, with the Englishmen coming back in the following Tests at Southampton and Old Trafford are now leading the series 2-1. With the return of their frontline bowler Ishant Sharma in the final test, nothing can be more inspiring than this for India to cause a twist in the final tale!
Mahendra Singh Dhoni who has come into the eye of storm after his controversial remarks after the Old Trafford defeat will have to fight it out with his English counterpart Alaistair Cook to save the series for India. India is staring at yet another away series loss if it fails to get a positive result at the oval in the final match of the series.  Stung by the failure of their batting line up on the tour so far how the fans wish for their stars to finally come to the party on English soil.
The likes of Virat  Kohli, Cheteswara Pujara  who have been woefully out of form must contribute if India has to exert any pressure on the home side. Good news for Dhonis men is the return of Ishant Sharma who trained with the side ahead of the fifth test in England. The hero of Lords has been absent for the last two matches which has had a negative impact on the side. If India is to make a last ditch effort to save their campaign in England, they must try and bat out their Opponents.
For England, a first series win of 2014 could well be a possibility as they have shown tremendous character in grinding out two good results after going down early. Alaistair Cook and his men are looking good in all departments and the bowling partnership of Stuart Broad and James Anderson has literally run through the opposition line up at times. The wily spin bowling of Moin Ali has surprised one and all. After a disastrous Ashes campaign and total overhaul of the management, English cricket will surely be back on the right track if it manages to hold onto its lead or even better it.