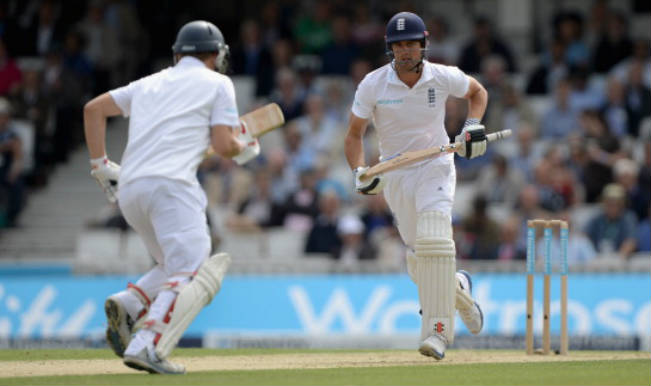 England were 385 for seven in reply to India's first innings 148, a lead of 237 runs, at stumps on the second day of the fifth Test at The Oval on Saturday. Joe Root was 92 not out and Chris Jordan 19 not out, with the pair having put on an unbroken 67 in just 62 balls for the eighth wicket. England lead the five-match series 2-1.
England 385/7 after 105 Overs, Joe Root 92* and Chris Jordan 19*
Joe Root and Chris Jordan make sure England reach Day 3 with no more fall of wickets. They remain at 385/7 with Joe Root batting at 92 and Chris Jordan at 19. The Indian pacers trio Ishant Sharma, Bhuvneshwar Kumar and Varun Aaron could not bring in any more wickets for India.
England 370/7 after 102 Overs, Joe Root 80* and Chris Jordan 16*
Suddenly, England's scoring has found a swiftness as both Joe Root and Chris Jordan are hitting the Indian bowlers around the park. Joe Root has special liking for the third man area, and Indian bowlers are also contributing to the England's total by giving many extras.
England 352/7 after 100 Overs, Joe Root 70* and Chris Jordan 9*
With the help of Joe Root's fine and confident knock, England crosses 350 run mark and with this they have also taken a lead of over 200 runs against India. Root and Jordan are playing with ease, they are scoring freely with timely boundaries and rotating strikes. Great strategy adopted by these English batsmen. Indian bowlers still find no clue to get the last three wickets.
England 342/7 after 98 Overs, Joe Root 64* and Chris Jordan 7*
It is all about Joe Root even after Indian bowlers managed to take two wickets in this session of play. He hits Ishant Sharma two FOURs, the last over saw half-chance of a run out, an appeal for caught behind the wicket but Joe Root survives all to take England's lead to 194 runs.
England 327/7 after 96 Overs, Joe Root 53* and Chris Jordan 3*
Joe Root looks unstoppable as he takes England's lead over India to 179 runs as he seems to score freely. Even After the fall of back to back wickets of Jos Buttler and Chris Woakes wickets, Joe Root continued to maintain England's momentum as he takes three runs off Ishant Sharma's delivery to reach his 50 runs mark.
England 318/7 after 94.5 Overs, Joe Root 38* and Chris Jordan 0*

Joe Root has evolved as batsman and has shown temperament in this particular series. He hits Bhuvneshwar Kumar for a great looking SIX. He sweeps Kumar for more runs bringing new batsman Chris Woakes on strike and he is OUT on the very first delivery of Kumar. He is caught well by Mahendra Singh Dhoni. Chris Woakes 0 (3b 0×4 0×6). Chris Jordan comes in to bat.
England 309/6 after 93.3 Overs, Joe Root 38* and Jos Buttler 45*
An edge off Jo Butller's bat on Bhuvneshwar Kumar's delivery flies between the third slip and gully as frustration continues for the Indians. Another half-chance for India as Joe Root came a long way down to Buttler's drive; had it been a direct hit, Root was a goner. Jos Buttler OUT! Ishant Sharma takes out Jos Buttler at the right time when the partnership seemed to destroy the miniscule chances of an Indian comeback. A sloppy flick by Buttler finds short midwicket. JC Buttler 45 (73b 9×4 0×6).
Rohit Sharma on as substitute as R Ashwin is off the field.
England 296/5 after 90 Overs, Joe Root 38* and Jos Buttler 33*
Ishant Sharma brought into the attack. Will Sharma instill some hope in the Indian camp as the match swishes away from them? A couple of maiden overs may bring in some luck for bowlers, but credit to England's middle order batting as Joe Root and Jos Buttler continue to tick the scoreboard. England lead by 148 runs.
England 285/5 after 85 Overs, Joe Root 36* and Jos Buttler 24*
Bhuvneshwar Kumar and Varun Aaron begin the proceedings with the new ball for India. England look calm and composed as the duo of Joe Root and Jos Buttler continue their patient batting pattern. England's lead marches on to 137 as India's miser bowling resurface. Not much impact with the new ball as England score runs at their will.
India have taken the new ball
England 265/5 after 80 Overs, Joe Root 26* and Jos Buttler 14*
Stuart Binny brought back in to the attack as Joe Root and Jos Buttler stem any further damage. Binny and Ashwin  bowl in tandem as Joe Root and Jos Buttler have ensured that England haven't lost another wicket after a brief scare. The Indian bowlers continue to toil hard as England's lead reaches 117.
Tea Break! England 246/5 after 73 Overs, Joe Root 11* and Jos Buttler 12*
A rare fruitful session for Indians as they got four priced wickets and sparked a mini middle-order batting collapse in the English ranks. R Ashwin got two wickets while Varun Aaron, Ishant Sharma shared a wicket each. The England team are comfortably placed with a lead of 98 runs even after the mini-collapse. India need to carry forward the good bowling in the post-tea session if they want to have any chance of coming back in the match.
England 229/5 after 69 Overs, Joe Root 0* and Jos Buttler 0*
R Ashwin returns from Vauxhall End. Moeen Ali OUT! Ashwin delivers a off-break delivery from over the wicket and catches Moeen Ali in two minds. Looking to defend and in the last moment thinks to live the ball. The ball catches the edge off the bottom part of the bat and disturbs the timber. The post-drink session seems to be doing a world of good for Indians. In comes Jos Buttler. Moeen Ali (24b 2×4 0×6).
England 220/4 after 65 Overs, Joe Root 0* and Moeen Ali 12*
A couple of boundaries by Moeen Ali off Varun Aaron shifts the momentum which was in India's favour. Moeen Ali continues to trouble the Indian side, this time with his batting. 11 runs come in Aaron's over as England's lead reach 72. Ishant Sharma to continue from Pavillion end.
England 209/4 after 64 Overs, Joe Root 0* and Moeen Ali 1*
Ishant Sharma into the attack and takes the crucial wicket of Ian Bell on the second delivery of his over. Lovely inswinger from Ishant Sharma that straightened a bit, enough to take an edge off Bell's bat. Bell OUT! as Dhoni pouches another catch and England lose two wickets in consecutive overs. Left-hander Moeen Ali is the new man at the crease. England will look upto Moeen Ali and Joe Root to ensure there's no batting collapse and that they extend their lead. IR Bell (16b 0×4 0×6)
England 201/3 after 63 Overs, Ian Bell 5* and Joe Root 0*

R Ashwin to Ballance and OUT! A simple catch for Cheteshwar Pujara at silly point. It seems the Drinks break has worked in favour of India. It was a rather lazy shot from Ballance as he prod forward to a defensive shot. The ball flew to Pujara and Indians didn't drop the catch. Joe Root is the new man in. GS Ballance (117b 13×4 0×6).
Drinks break! England 197/2 after 61 Overs, Ballance 64* Ian Bell 1*
India got a wicket to savour in the post lunch session as Varun Aaron got Alastair Cook caught in the slip cordon. England is at a formidable position currently with the lead of 49 runs. India would be expecting a batting collapse from the English side, but looking at the current scenario, it seems like a distant dream. With 48 overs left for Stumps, lets look what is in store.
England 191/2 after 58 Overs, Ballance 59* Ian Bell 0*

Varun Aaron brings in the second wicket glory for India as he gets the English Captain Alastair Cook OUT. He departs after a well made 79 runs. This wicket comes after Murali Vijay takes a low catch at first slip after dropping it earlier. Alastair Cook 79 (183b 9×4 0×6).
England 179/1 after 55 Overs, Ballance 55* and Cook 71*
Another catch Dropped! The culprit this time being Ajinkya Rahane. Alastair Cook tried to force a shot of R Ashwin's regular off-break, but the thick edge flew to Rahane's right at first slip. The catch wasn't as easy as the previous drop but was catchable. India lets away another chance of getting back in the match.
England 172/1 after 50 Overs, Ballance 53* and Cook 66*
Seems like the shambolic fielding on the tour by the Indians haven't ended. Murali Vijay drops a regulation catch at first slip. Varun Aaron bowled a peach of a delivery round the wicket, drew Cook into playing and the edge was Dropped! The match seems to be going off India's hands with each passing moment. England continue to toy with Indian bowling line-up, as only Aaron seems to trouble the duo of Ballance and Cook in the middle.
England levels score; 148/1 after 45 Overs at Lunch
England were 148 for one in reply to India's first innings 148, leaving the scores level at lunch on the second day of the fifth Test at The Oval on Saturday. Alastair Cook, the England captain, was 56 not out and Gary Ballance 40 not out, with their unbroken second-wicket partnership so far worth 82 runs. England lead the five-match series 2-1.
England 148/1 after 45 Overs, Ballance 40* and Cook 56*
At the moment it is only one team that is racing away with the match as Cook and Ballance look completely in command to knock the Indian bowlers all around the park. R Ashwin on this tour has developed his batting skills as for his bowling woes remain to be a cause of worry. The Indian bowling unit do not look as lethal as their counterparts were on Day 1 against India.
England 140/1 after 43 Overs, Ballance 36 and Cook 52
Captain Alastair Cook reached his half century and giving him company is Gary Ballance. The two have stitched a well made partnership of 74 runs with healthy run rate of 3.49. As for India, they are still in hunt of the second wicket after dislodging sole wicket of Sam Robson in the first over of the Day 2.
England 103/1 after 31 Overs, Ballance 21 and Cook 37
England aim to further their control over the match despite losing an early wicket in the first session of play. Robson was the first wicket in the England innings to fall but Ballance and Cook seem to maintaining a good scoring rate.
India takes on England in the fifth and final test match of the 5 test match series which England leads 2-1. India has no chance of winning the series but they can win the test match and level the series 2-2 only if we see a brilliant bowling performance at the Oval today. India has really thrown the series away after a 1-0 lead following the historic win at Lord's and is now desperately trying to square the series to come back to India with some dignity.
India got a rude wake-up call when they were bowled out for 152 runs in the first innings of the fourth Test Match but to add to the sore defeat in the previous match, the Indian team was bundled out for a mere 148 runs with MS Dhoni scoring 82 runs and the remaining batting line up suffering a catastrophic failure. Murali Vijay's 18 runs and Ravichandran Ashwin's 13 runs were the next highest scores by the Indian batsmen in what can be described by every synonym of an abject betrayal for the fans.