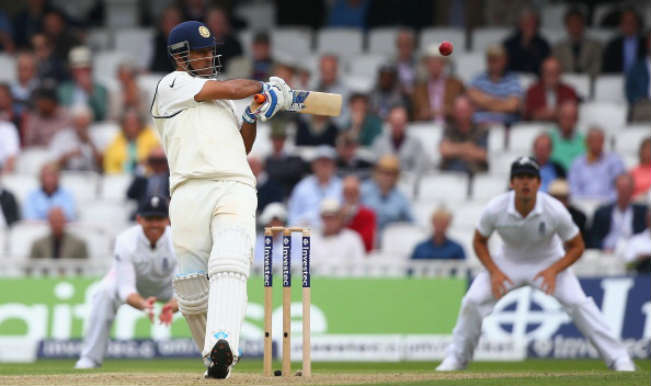 (India takes on England in the 5th Test match in India's Tour of England at The Oval. Catch all the Live Score Updates and Live Cricket Action here.)
Presentation Updates:

England Captain Alastair Cook to speak now: Today's performance was an amazing one. After what happened at Lord's, the players and staff  can take a lot of credit. We gave good performances in patches and let the advantage slip away. It was a good toss to win at Southampton. It becomes tough for the opposition, with the amount of score being scored and the quality bowling attack we have. It's good when you have support of your teammates in tough times and then enjoying the good times. The support has been fantastic from the families as well.
Indian Captain MS Dhoni to speak now: The players lost a lot of confidence in the five-Test series and that is disappointing. Not many Tests are played away from home, and there'll be lot of experiences the youngsters will learn. The top-order batsmen never clicked and the lower order had to bail out. Scoring a mere 150-160 runs would never put pressure on the home team. England bowlers were consistent in their bowling. A bit more of responsibility shown from our batsmen would have helped. We have newer players in the squad and it is important we leave the Test series performances here and enjoy the ODI series and T20I.

Bhuvneshwar Kumar is India's Man of the Series: We hoped that we would win the five match Test series but it is tough to maintain your performances consistently. It was a good experience playing in England and I hope that I fare well in the future. I'm pleased with whatever amount of success I had here.

James Anderson is England's Man of the Series:  Credit to the guys; It has been a hard work as it was a long series. We fought back well after the Lord's loss and there have been many good performances throughout the series. The batsman did their job greatly. Personally, I was worried over my fitness, but good that it has gone all right.
We have two Man of the Series Awards
Joe Root is presented with the Man of the Match award: It feels nice to score as many run and the way we played the match-to-finish today was quite pleasing. We needed to comeback strong after the Lord's Test match and dig deep. It was an exciting match, and I hope it's a beginning for a really strong English side to come.
Presentation in sometime!
India all out on 94
Ishant Sharma OUT! Chris Jordan bowls a second shorter delivery which props Ishant Sharma to hit the bowl. The ball flies in the air as Moeen Ali runs in from silly point to complete an easy catch. India has lost out on other battle sheepishly and slumps to 3-1 defeat. Stuart Binny remains not out on 25. I Sharma 2 (4b 0×4 0×6).
India 84/9 after 27 Overs. Stuart Binny 18* and Ishant Sharma 0*
Varun Aaron OUT! India's fast bowler Varun Aaron run out in comedy of errors. India's dismal Test series to be ended soon. Moeen Ali was missing on the scoreboard, but he gets his name on the scoreboard here. Aaron hit the bowl towards fine leg and the non-existent second run costs India the wicket. England a wicket away from the win. The match seems to fold, way earlier than it was expected to. VR Aaron 1 (3b 0×4 0×6).
India 74/8 after 26 Overs. Stuart Binny 13* and Varun Aaron 0*

Another wicket falls. Bhuvneshwar Kumar OUT! Chris Jordan has two wickets in a over. After a flashy boundary from Bhuvneshwar over the point region, he falls prey to an full pitched delivery by Jordan. Ian Bell takes a regulation catch in the slip cordon as India look to push themselves out of the games speedily.
India 70/7 after 25.2 Overs. Stuart Binny 13* and Bhuvneshwar Kumar 0*

R Ashwin OUT! as India continue to falter in the last Test match. A careless shot from Ashwin sees his wicket being taken by Chris Jordan. The catch is spilled by Gary Ballance but Ian Bell ensures that the rebound is not missed. Bhuvneshwar Kumar is the next man in.
India 70/6 after 25 Overs. Stuart Binny 13* R Ashwin 7*
R Ashwin continues to carry his fine batting skills in the second innings as he hits a boundary to an overpitched delivery by Chris Jordan. Stuart Binny continues to survive as the 'pair of Chris' (Jordan and Woakes) give no relief to the lower order Indian batsmen. Seems like the Indian side are moments away from a defeat in this match.
India 62/6 after 23.2 Overs. Stuart Binny 6* R Ashwin 0*

A shameful tour for the Indian batting mainstay Virat Kohli ends as he is OUT! for the final time in this Test Series. A peach of a delivery by Chris Jordan sees Kohli trying to smash the bowl towards midwicket. The late swing ends up making Kohli nick the ball which flies to Cook in the slip cordon. With Kohli's wicket, India's already dim chances are now extinguished. R Ashwin is the new man in. V Kohli 20 (54b 2×4 0×6).
DRINKS break India 55/5 after 22 Overs. Virat Kohli 19* Stuart Binny 6*
Chris Jordan in the attack. The match has virtually ended for the Indian side as half of the side is back in the pavilion. If only Kohli and Binny could form a mammoth partnership, India could survive another day. As for now, Binny and Kohli seems to drive the sinking Indian ship.
India 53/5 after 20 Overs. Virat Kohli 17* Stuart Binny 6*
England fast bowlers are on a rampage. The in-form batsmen Ajinkya Rahane and MS Dhoni are gone in successive overs as India drifts to yet another loss. Stuart Binny joins Virat Kohli in the middle to draw some pride before the curtains are pulled down on the game. Binny powers an off-drive off Broad's bowling which sees the boundary ropes.
India 46/5 after 18.4 Overs. Virat Kohli 16* Stuart Binny 0*

MS Dhoni fails to deliver in the second innings after a valiant effort in the first innings. The Indians would have hoped to see their captain put another fighting display but the Captain Cool has disappointed. The wickets continue to fall as MS Dhoni is OUT! caught at short leg, bowled by Chris Woakes. The match may end earlier than expected. Will India survive another day? MS Dhoni 0 (5m 5b 0×4 0×6).

India 45/4 after 17.5 Overs. Virat Kohli 16* MS Dhoni 0*

Stuart Broad continues to rattle the Indian middle-order batting as he picks up another wicket. Ajinkya Rahane OUT! as Broad bowls a length ball, luring Rahane to play. Ballance, at third slip, dives to his left to catch the dipping ball at second slip. The edge didn't look like it will carry to the slip. The catch is a visual delight. MS Dhoni is the next man in. AM Rahane 4 (15b 0×4 0×6).

India 43/3 after 17 Overs. Virat Kohli 16* and Ajinkya Rahane 2*
Ajinkya Rahane and Virat Kohli keep the scoreboard ticking as India try to stem the flow of wickets. A drive from Virat Kohli beats the man at mid-on which sees a rare boundary in recent overs. A bowling change for England as Chris Woakes in introduced in the attack.
India 34/3 after 15 Overs. Virat Kohli 12* and Ajinkya Rahane 2*

Ajinkya Rahane is the new man in. The Indian batting line-up is seen dancing to James Anderson's and Stuart Broad's seaming and swinging tunes (deliveries). Currently, in shambles India will look up to the duo of Ajinkya Rahane and Virat Kohli to see through the post-lunch session. Nervous moments for India as Broad and Anderson exhibit some spectacular bowling display.
India 30/3 after 12.5 Overs. Virat Kohli 10*

Just when Cheteshwar Pujara was looking at ease, he is dismissed by James Anderson. An inswinger from Anderson that kept it's line and eventually Pujara is OUT! as he nicks it to the wicketkeeper. The Indian batting looks haywire as another wicket falls. James Anderson seems to do all the talking at the moment. India need to dig in deep to draw the match. CA Pujara 11 (19b 2×4 0×6).
India 20/2 after 9 Overs. Virat Kohli 4* and Cheteshwar Pujara 7*
Cheteshwar Pujara scores a boundary on a rare loose ball by Stuart Broad. Virat Kohli in for yet another battle as James Anderson continues to trouble him. The seaming deliveries have unsettled Virat Kohli and there's a nice contest between the two. Will Virat Kohli survive or will we see an early departure again? Meanwhile, Cheteshwar Pujara is faring better than he did in first innings.
India 20/2 after 9 Overs. Virat Kohli 4* and Cheteshwar Pujara 7*

Virat Kohli and Cheteshwar Pujara score a boundary each off James Anderson bowling as the Indian batsmen begin with caution in the post-lunch session. While Pujara seemed at ease as he flicked away to boundary, Kohli's boundary came off a flying edge which went wide of gully. Anderson and Broad giving no loose balls to the already nervous middle-order batsmen.
Play Resumes
The England Team are out in a huddle and Indian batsmen Virat Kohli and Cheteswar Pujara walk on the field to begin the proceedings after a brief delay by rain. The number of overs will not be reduced and if needed, the game will be played for an extra half hour. James Anderson to complete his over as Virat Kohli takes guard.
Rain update III
The umpires have decided to begin the match in half hour time i.e. at 7.00 p.m. The rains have stopped and the fieldsmen and super soppers are working hard to get the play started at the scheduled time. The rain delay has caused the Tea break to be postponed by half hour. We expect some fightback from the Indian side as match resumes in some time.
Rain update II
The scheduled Lunch time is over but the players aren't out on the field. The covers are still on. The good news is the Sun is out and shining. Super Soppers out on the field and working to drain the water off the playing field. An official inspection is scheduled at 06.30 p.m.
Rain update I
Will the weather be a match saver for India as the rains at Oval continue to downpour. India in their second innings were nine for two, a deficit of 329 runs, when the rain arrived and the on-field umpires decided to call for an early lunch. The latest update is that it is still raining and the covers are still on at the ground. Cheteshwar Pujara was nought not out after Gautam Gambhir was run out for three before rain forced an early lunch. England lead the five-match series 2-1
LUNCH Break – The Umpires have called on for early Lunch as the rain gods are pouring heavy at The Oval. Indians began to a faltering start yet again as Gautam Gambhir and Murali Vijay got out cheaply. The Indian side is in a tight spot as England look to wrap the series in some style. Will the Indian Captain consider a re-jig in the batting order? Will Virat Kohli be the 'Man Of The Hour' for India? Catch us back in a while as India are staring to another defeat.
India 9/2 after 6.1 Overs. Gautam Gambhir 3 and Cheteshwar Pujara 0*
Stuart Broad and James Anderson keep bowling on tighter lines and cramping the Indian batsmen for room. Gautam Gambhir OUT! as he plays a defensive shot on the leg side and is off for a quick single. Murali Vijay rightly denies and a direct-hit from Chris Woakes finds Gambhir short of crease. The Indian openers are back in the in the hut as the Indian team is tottering at 9/2. G Gambhir 3 (28m 19b 0×4 0×6).
India 6/1 after 4.4 Overs. Gautam Gambhir 0* and Cheteshwar Pujara 0*

James Anderson draws first blood as Murali Vijay OUT! to a lovely inswinger. Murali Vijay was troubled by the England spearhead in the previous over too. India still trail by 332 runs and England marches on to win the match. Cheteshwar Pujara is out on the crease. Can he do a Rahul Dravid here? M Vijay 2 (16b 0×4 0×6).
India 6/0 after 4 Overs. Gautam Gambhir 0* and Murali Vijay 2*
Stuart Broad asking questions from Gautam Gambhir with magnificent swing bowling. A close LBW call, an inside edge on the box, a couple of close shaves as Gambhir is beaten twice in the over. Probing deliveries by James Anderson and Stuart Broad early in the innings pose serious questions in the early hour of India's second innings.
India 6/0 after 2 Overs. Gautam Gambhir 0* and Murali Vijay 2*

Gautam Gambhir who has been retained by MS Dhoni in this match after the disappointing loss at Old Trafford will have to repay the faith shown by his Captain. The big concern for India in this Tour has been the openers not clicking but Gautam Gambhir gets 4 runs as leg byes.
India 1/0 after 1 Over. Gautam Gambhir 0* and Murali Vijay 1*

Gautam Gambhir and Murali Vijay face James Anderson in the first over the second innings. Gautam Gambhir and Murali Vijay take field as England lead by 338 runs after getting all out for 483 runs. Thanks to Joe Root's well built 149 runs as England lead by 338 runs in the first innings. India will have to look forward to sheer miracle of this match has to be saved. This looks impossible as Indian openers Mural Vijay and Gautam Gambhir take ground. Gautam Gambhir went out for none in the first innings, should make amends for the first innings misfire!
England 483 all out after 116.3 Overs, Joe Root 149*
Ravi Ashwin gets the last wicket of James Anderson OUT to finally bring the England innings to an end. James Anderson 1 (5b 0×4 0×6). India has conceded 98 runs in the 11 overs of play on Day 3. Joe Root remains unbeaten on 149 runs mark. We have seen Joe Root play some unbelievable cricket as he gets a relive from Ishant Sharma's no ball. Joe Root is soon approaching 150 mark. He has had some great moments in this series as for Ishant Sharma despite taking four wickets could have done better had he kept the extras in control.
England 477/9 after 115 Overs, Joe Root 141* and James Anderson 0*
Every time there is a fall of wicket, one expects slow-down of the run scoring but Joe Root ensures nothing of that sort happens. He targets spinner R Ashwin right from the first delivery of the over. He take two runs and three boundaries of the over.
England 463/9 after 114 Overs, Joe Root 127* and James Anderson 0*

Ishant Sharma has taken three wickets in this innings as he targets Stuart Broad with some short deliveries. Something to deter Stuart who will be soon going under knee surgery post the series. But Stuart Broad seems to be on a mission as he is targeting all the bowlers but Ishant has the last laugh as Stuart flicks one to get OUT. The constant peppering of short deliveries by Ishant Sharma gets the fall of ninth English wicket. Stuart Broad 37 (21b 5×4 1×6).
England 449/8 after 112 Overs, Joe Root 115* and Stuart Broad 35*
It does not look like Stuart Broad is coming off a broken nose as he is taking special care of his Nemesis Varun Aaron as after a previous expensive over, he smashes a SIX off the bowler. The new pair Stuart Broad and Joe Root are plummeting the Indian bowlers all around the park. Stuart Broad has moved on to 35 runs as he takes England lead across 300 runs now. This little cameo is helping England big time!
England 440/8 after 111 Overs, Joe Root 113* and Stuart Broad 28*
Ishant Sharma has had trouble with the frontliners and that has hurt the side on numerous occasions. Varun Aaron has also been quite expensive and this shows the lack of disciple from the Indian pacers and area that still not been worked upon by the management.
England 433/8 after 110 Overs, Joe Root 111* and Stuart Broad 23*
India has given 33 runs in extras so far in the match. Ishant Sharma gets Joe Root OUT on No-Ball, England 427/8. This is shameful for both Ishant Sharma and India as they have lost such chances as he bowls these extras that cost India crucial moments.
England 423/8 after 109 Overs, Joe Root 104* and Stuart Broad 21*
Stuart Broad faces Varun Aaron for the first time after the latter got Broad injured in the last Test at Old Trafford. And he looks like in some revenge time mood as he hits the bowler for three FOURs off Varun Aaron. This should make Broady a bit happy after he got his nose hurt in the last Test.
England 407/8 after 108 Overs, Joe Root 103* and Stuart Broad 6*
Just after the celebration of Joe Root's century, Ishant Sharma strikes with the first wicket of the day. Chris Jordan is OUT after making 20 runs. Jordan and Root shared a 82 runs partnership. Chris Jordan 20 (33b 2×4 0×6). One can understand with the kind of impact Joe Root had in this partnership that takes England miles ahead India. With this fall of wicket brings Stuart Broad on the pitch.
Joe Root on 99 on strike pushed Ishant Sharma delivery for single but gets more than that.  Joe Root hits his fifth century in his career. Joe Root started the say with the overnight score of 92 runs.
England 397/7 after 107 Overs, Joe Root 99* and Chris Jordan 20*
Varun aaron comes with his first over of the Day and is straight away hit for a FOUR, but good delivery by the fastest Indian pacer in the team. Runs have come freely for the English batsmen as one could see from the explosive run rate of over six has been maintained by the Root and Jordan pair!
England 390/7 after 106 Overs, Joe Root 93* and Chris Jordan 19*
Joe Root begins straight away with a single off Ishant Sharma under slightly overcast conditions and no sun up as of now. Joe Root has kept himself busy with partnership of 72 runs off 66 balls.
The Day 3 begins with English batsmen Joe Root and Chris Jordan coming out to bat at The Oval.
There seems to be no end to the miseries of Mahendra Singh Dhoni and his men as England took a stronghold of the final test match in Oval with an enormous lead of 237. The Home side ended the second day on 385/7 and the writing is on the wall for the Indians as yet another embarrassing defeat looms large. In reply to India's first inning of meager total of 148, England extended a massive lead of 237 runs, at stumps on the second day of the fifth Test at The Oval on Saturday. Young batsman Joe Root with 92 not out and Chris Jordan 19 not out, stitched an unbroken 67 in just 62 balls for the eighth wicket. England lead the five-match series 2-1.
The Indian bowlers for once threatened a mini revival of sorts taking four wickets in  a short span but Joe Root and Jos Buttler put on a 80 run stand  to seal India's fate on the second day of the match itself. England who still has three wickets remaining may look to add on their already massive lead and pile on more agony on the frustrated Indian bowlers.
The Indian batsmen will then have the enormous task of batting a possible 8 sessions to save the test match which at the best of times is virtually impossible. Alaistair Cook determination to put India to the sword is paying dividend as the visitors shambolic performance has them certain to loose yet another away test series.
The English captain would look to unleash his pacers to try and replicate their performance in Old Trafford. The fiery pace combined with impeccable line and length of Stuart Broad and James Anderson has been virtually unplayable at times and they are the contenders for the man of the series.  Mahendra Singh Dhonis words may come back to haunt him again as the visitors look set to are all set to have  days to rest again.