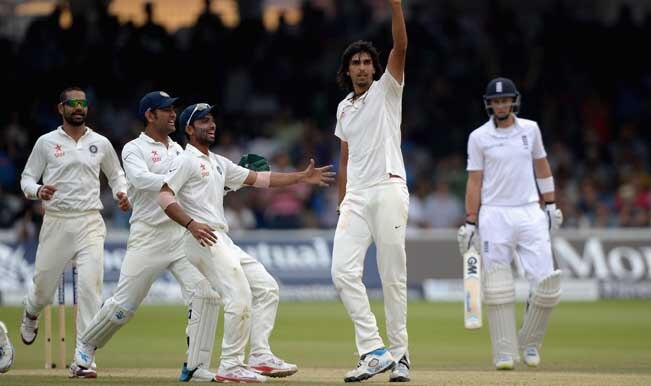 (India takes on England in the 2nd Test match in India's Tour of England at Lords. Catch all the Live Score Updates and Live Cricket Action here.)
England 223 all-out after 90 Overs: Liam Plunkett 7* (19), James Anderson 2 (6)
Ishant Sharma is back in the attack and he is looking menacing as he attacks Stuart Broad with an arsenal of bouncers. Stuart Broad gets a top edge and Ishant Sharma gets punished for no fault as the ball races away for a 4. Ishant Sharma claims another wicket as his bombardment of high bouncing deliveries pays off as the ball grazes against Stuart Broad's gloves and carries to MS Dhoni.
Ishant Sharma is relentless now as he continues the torturous attack on James Anderson who manages to keep his wicket. Ravinder Jadeja takes the last wicket as India win a Test Match at Lord's after 1986.
England 212/8 after 85 Overs: Liam Plunkett 3 (11), Stuart Broad 4 (8)
Ishant Sharma is back in the attack and MS Dhoni's decision seems to have made sense after all the bad buzz Ishant Sharma was generating following his over when Joe Root slammed him for 3 boundaries. Ishant Sharma has now taken 6 wickets in the second innings for the Indian bowling. India can taste victory and the few wickets have given a new sense of motivation to the side as they are playing a more aggressive game now. India needs 2 more wickets to win the Test Match.
England 198/6 after 80 Overs: Joe Root* 64 (139), Ben Stokes 0 (1)
Ishant Sharma is back in the attack and the difficult decision seems to have paid dividends for the Indian skipper as Ishant Sharma is bowling a very different line in this spell. India is just 3 wickets away from winning the test match.
England 173/5 after 80 Overs: Joe Root* 52 (126), Moeen Ali 39 (147) – Lunch Break
Ishant Sharma is back in the attack despite having a disastrous previous over where he got slammed around the park for 4s. Ishant Sharma is bowling dangerous bouncers to Joe Root in a good attempt to intimidate the batsmen. Ishant Sharma's bouncers have paid off as Moeen Ali gets an edge and gets caught out by Cheteshwar Pujara. With the 76th over done and Moeen Ali's wicket, the game stops for lunch on the final day of the 2nd Test match between India and England. England needs another 146 runs to win with 5 wickets left while India aims at bowling out the English side to take victory.
England 172/4 after 75 Overs: Joe Root 52 (123), Moeen Ali 39 (144)
Ravinder Jadeja starts another over with a near chance that got rid of Moeen Ali but the replay shows that the ball did not carry to Virat Kohli.  Bhuwaneshwar Kumar bowls another tidy over with a single given off the last ball of the over to Joe Root. Ravinder Jadeja gets another over and he starts off right on the target. England needs another 164 runs from this point to win the game and India has to bowl the England team out before that or restrict them as the overs permitted in the day run out.
Ishant Sharma comes back into the attack to try and get a wicket but he gets slammed right off the first for a 4 down the wicket by Joe Root. Ishant Sharma was clearly the wrong choice by MS Dhoni at this point as he gets slammed for 3 boundaries as Joe Root reaches his half century. Ravinder Jadeja comes back into the show to try and uproot the set players but fails to do so.
England 151/4 after 70 Overs: Joe Root 35 (104), Moeen Ali 35 (133)
Bhuwaneshwar Kumar has been a star with 12 runs given in 13 overs with accurate bowling on the stumps making the batsman play a defensive shot or pitch it right where the shot will inevitably go to a fielder but Joe Root manages to get a 4 as the stadium chants his name in a frenzy. Ravinder Jadeja races his over with a single given to Joe Root. Bhuwaneshwar Kumar is on a maiden over spree as he bowls another one, to Moeen Ali this time. Ravinder Jadeja comes back into the attack as he bowls over the wicket and sails through the over without giving a run. Bhuwaneshwar Kumar's maiden over spree comes to an end with Moeen Ali slapping a 4 to third man.
England 142/4 after 65 Overs: Joe Root 31 (90), Moeen Ali 30 (117)
Mohammad Shami bowls a brilliant over to restrict the scoring to naught and he is followed by Bhuwaneshwar Kumar who is also not letting the runs flow for the hosts with just a single sliding down the leg side. Ravinder Jadeja comes back into the attack as India is losing the momentum and it is showing on the field but Jadeja doles out a quick single run over.
England 140/4 after 62 Overs: Joe Root 29 (84), Moeen Ali 30 (105) – Drinks Break
Mohammad Shami bowls a brilliant over to Joe Root with just 3 runs given followed briskly by a maiden over by Bhuwaneshwar Kumar to Joe Root. The drinks break has been called which will give the plays some time to recuperate after the first session of play.
England 137/4 after 60 Overs: Joe Root 26 (72), Moeen Ali 30 (105)
Ravinder Jadeja and Ishant Sharma are bringing down the heat on the English side with just 10 runs scored in the last 3 overs. The line and length has been impeccable and on the stumps which is the right thing to do as the Indian bowlers wait for the batsmen to make a mistake. England needs 179 runs from this stage to win the match.
England 119/4 after 52 Overs; Joe Root 20 (58), Moeen Ali 23 (71)
England is inching their way to the target with exactly 200 more runs required by the hosts to win and 84 overs left in the day to do it in with 6 wickets remaining. The Indian bowling attack has been bang on target with very little getting by the fielders except for the lucky outside edge otherwise it looks like the Indian side is committed to play their hearts out today and clinch the match.
England 105/4 after 47 overs; Joe Root 14 (45), Moeen Ali 15 (54)
Day 5 begins with Ravinder Jadeja bowling the first ball of the day to Joe Root. Ravinder Jadeja starts the day off with a wonderful maiden over as India is on the verge of a historic win against England.
After a day of scintillating Test cricket when the balance tipped in India's favour when they managed to take 4 wickets and leave England in a difficult yet competitive position with an entire days play left to decide the fate of the test match at Lord's.
India could have been at a more commanding position with 5 English wickets but Moeen Ali is a lucky man as he bats on the 5th day. A point of major concern for India is the wicket keeping by MS Dhoni which has deteriorated throughout the course of the match.
India is on the verge of creating history by defeating England. The statistics are in India's favour with only one team successfully chasing down a target of 319 or more at Lord's in the past.
Mohammad Shami and Ishant Sharma will try and bundle off the England side along with the speedy spin attack from Ravinder Jadeja. MS Dhoni played the role of a more active captain rather than stick to a more mellow approach which had its shortcomings but has proved fruitful. It is down to the Indian bowling attack to slam through the England side and start the party.